13 Apr /

Help Young Readers Understand the Refugee Experience with Picture Books [in The Booklist Reader]
This is the first in a two-part series of recommended books for youth about the refugee experience. For a list of middle grade and YA titles, click here.
The Office of the United Nations High Commissioner for Refugees (UNHCR), also known as the United Nations Refugee Agency, defines refugees as people
who are outside their country of origin and
whose life and or human rights are seriously at risk because of
who they are (e.g. their race, nationality, social group), or what they believe (e.g. their religious beliefs or political opinion); and
their governments will not or cannot protect them
With all the fear, uncertainty, and difficulties that adult refugees face, a young child's experience is likely to be exponentially more challenging. In encouraging understanding and empathy – especially in schools and other kid-centric institutions – picture books can be especially useful as validation for the refugee child in seeing her/ him/ themselves reflected in the pages, and as portals for their new classmates and friends to learn more about the refugee experience.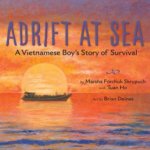 Adrift at Sea: A Vietnamese Boy's Story of Survival by Marsha Forchuck Skrypuch with Tuan Ho, illustrated by Brian Deines
Canadian author Skrypuch presents Tuan Ho's real-life odyssey, one filled with urgency, fear, and ultimately hope. Tuan, his mother, and two sisters leave their home in Ho Chi Minh City in the darkness of night, and dodge gunshots to board a fishing boat. After six days of drifting – the sun relentless, the boat leaking, without enough drinking water – an American aircraft carrier brings the passengers to safety.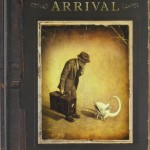 The Arrival by Shaun Tan
In an unnamed, troubled land, a man leaves his wife and young daughter behind to look for freedom in a new country. His adjustments initially overwhelm and disorient him, but with the help of new friends, he slowly finds his way and eventually reunites with his family. Tan's spectacular book traces a family's migration story with brilliant imagination – all without words.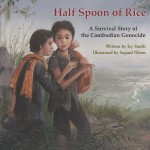 Half Spoon of Rice: A Survival Story of the Cambodian Genocide by Icy Smith illustrated by Sopaul Nhem
What Americans call the Vietnam War spread through Vietnam, Laos, and Cambodia. Although the horrifying details and statistics of war are not age-appropriate for the youngest readers, children can, however, understand the story of one 9-year-old boy separated from his family, yet ultimately reunited and able to start a new life.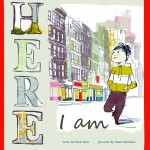 Here I Am by Patti Kim, illustrated by Sonia Sánchez
A young boy boards an airplane with his family and arrives in a new city. When he enters a virtually empty apartment, he longs for his brightly lit family home somewhere far away. He treasures his one memento, a red seed that holds within its tininess all the wonderful, comforting memories of back home. His strange and unfamiliar new life improves dramatically when he finds his first friend. A wordless wonder suitable for all ages.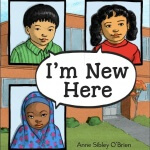 I'm New Here by Anne Sibley O'Brien
Meet Maria, Jin, and Fatimah. They're new – not only to their classroom, but to the language, culture, and country that is our United States. Feelings of being "alone … confused … sad" are soon transformed into the camaraderie of a soccer game for Maria, the satisfaction of learning to read with a friend for Jin, and the relief of sharing her experiences through drawing for Fatimah. Encouragement and companionship help each child toward being able to say, "Here is a new home."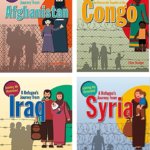 Leaving My Homeland (series):
A Refugee's Journey from Afghanistan and A Refugee's Journey from Syria by Helen Mason
A Refugee's Journey from the Democratic Republic of the Congo and A Refugee's Journey from Iraq by Ellen Rodger
Working with members of the Centre for Refugee Studies at York University in Toronto, Canada, educational indie Crabtree Publishing introduces younger readers to the refugee experience, from leaving, to surviving, to adapting in new homes. Woven through the contextual history of each country – cultural, socioeconomic, political – is a child's journey: Sonita, whose parents are Afghan refugees; Etienne, who was stolen from his family in the Democratic Republic of the Congo and forced into being a child soldier; Zainab, whose prosperous family in Iraq must start again in the U.S.; and Roj, displaced by war in Syria, who escapes to a refugee camp in Turkey before finally being granted asylum in Germany.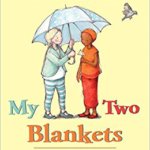 My Two Blankets by Irena Kobald, illustrated by Freya Blackwood
War causes Cartwheel and her Auntie to leave their home for a new country "to be safe." The strangeness all around her is only alleviated by wrapping herself in her old blanket, filled with the comfort of her past. As familiarity grows, she realizes that her past and present can both envelop her like 'two blankets.'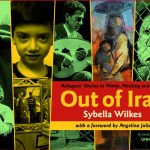 Out of Iraq: Refugees' Stories in Words, Paintings and Music by Sybella Wilkes, foreword by Angelina Jolie
Through a mosaic of history, politics, statistics, and true stories from Iraqi refugees, author and UNHCR Senior Communications Officer Sybella Wilkes provides a window into the everyday lives of war survivors. The struggles that the children – the youngest, most tragic victims – must face are the most disturbing and challenging of all.
Stepping Stones: A Refugee Family's Journey by Margriet Ruurs, illustrated by Niza Ali Badr, translated by Falah Raheem
Captivated by images she saw on the internet, Ruurs' search for the artist "who can breathe such life into solid rock" led her to Badr, who works and still lives in a small village in Syria. Together, they created this remarkable story of young Rama and her family, who are forced to flee across oceans and lands, to arrive "[a]t last … to our future," finally free of war, guns, bombs, and fear. The dual languages (English and Arabic) make stupendous Stones especially timely and accessible.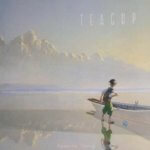 Teacup by Rebecca Young, illustrated by Matt Ottley
"Once there was a boy who had to leave his home … and find another." With a book, a bottle, a blanket, and a teacup "that held some earth from where he used to play," the boy makes an epic journey in his small boat to a new life somewhere far, far away. Gorgeously illustrated with minimal text, readers are reminded "how things can change with a whisper" until nothing is familiar, and home is something new to be created in an unknown land.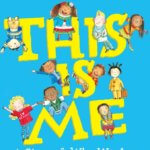 This Is Me: A Story of Who We Are & Where We Came From by Jamie Lee Curtis, illustrated by Laura Cornell
Writ large across a classroom blackboard is, "Where did you come from because it wasn't here." As the teacher shares her own family tale ("My great-grandmother came from a far, distant place. She came on a boat with just this small case"), she beckons her students to look into an empty suitcase, inviting each child to imagine such a journey: "How would you know in this case what to pack and that once you had left there'd be no coming back?" An interactive, effective reminder that we are indeed a nation of migrants – whether immigrants, slaves, refugees, sojourners, travelers – who all came from somewhere else.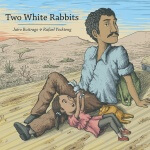 Two White Rabbits by Jairo Buitrago, illustrated by Rafael Yockteng, translated by Elisa Amado
A young girl and her father, each with just a backpack, make a perilous journey toward a better life. The titular rabbits are exchanged as a gift of friendship between the little girl and a young boy she meets along the way. As father and daughter's trek continues, the rabbits transform into symbols of something beloved (companions), something sacrificial (purity), something hopeful (freedom), and even the threat of something sinister (two ghosts?).
Published: The Booklist Reader, April 12, 2017
By African, Arab, Arab American, Australian, Bilingual, Biography, Cambodian, Cambodian American, Canadian, Children/Picture Books, Fiction, Iraqi, Korean American, Latin American, Lists, Nonethnic-specific, Nonfiction, Repost, Southeast Asian, Southeast Asian American, Syrian, Translation, Vietnamese, Vietnamese American, Young Adult Readers
in
Tags > Adrift at Sea, Angelina Jolie, Anne Sibley O'Brien, Arrival, BookDragon, Booklist, Booklist Reader, Brian Deines, Civil rights, Elisa Amado, Ellen Rodger, Falah Raheem, Family, Freya Blackwood, Half Spoon of Rice, Haves vs. have-nots, Helen Mason Refugee's Journey from the Democratic Republic of the Congo, Here I Am, Historical, I'm New Here, Icy Smith, Identity, Immigration, Irena Kobald, Jairo Buitrago, Jamie Lee Curtis, Laura Cornell, Leaving My Homeland, Margriet Ruurs, Marsha Forchuck Skrypuch, Matt Ottley, My Two Blankets, Niza Ali Badr, Out of Iraq, Patti Smith, Politics, Rafael Yockteng, Rebecca Young, Refugee's Journey from Afghanistan, Refugee's Journey from Iraq, Refugee's Journey from Syria, Refugees, Religious differences, Series: Leaving My Homeland, Shaun Tan, Sonia Sánchez, Sopaul Nhem, Stepping Stones, Sybella Wilkes, Teacup, This Is Me, Tuan Ho, Two White Rabbits, War