06 Nov /

Here I Am by Patti Kim, illustrated by Sonia Sánchez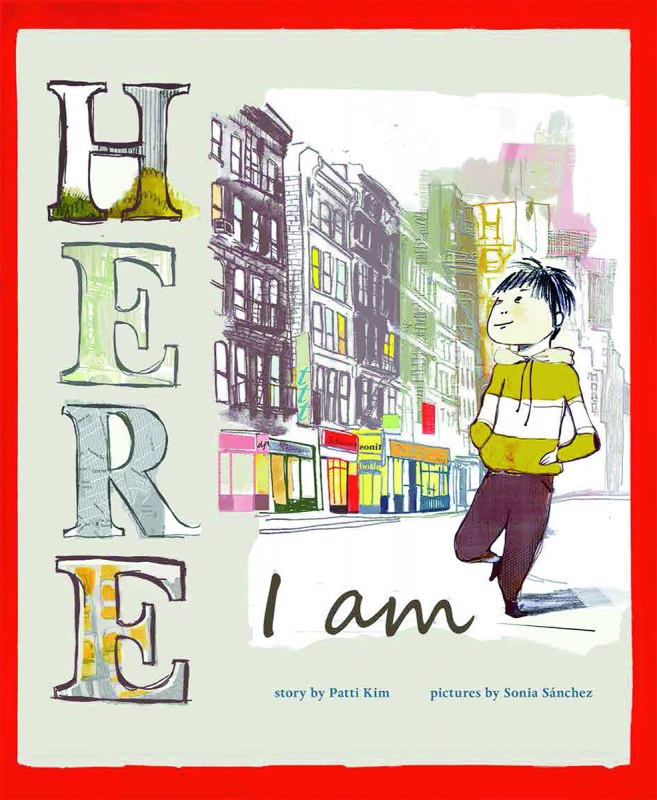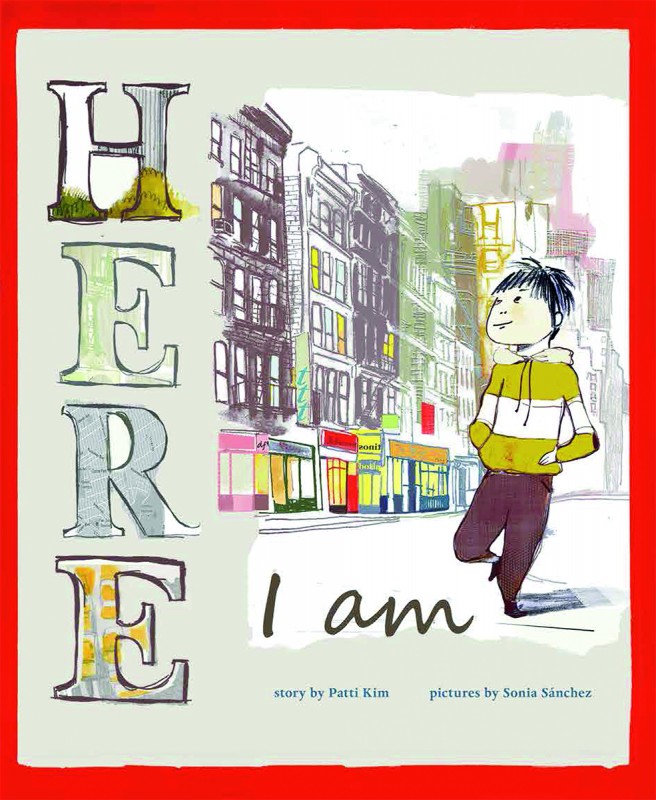 I haven't seen Patti Kim's name on a book cover in quite a while … more than 15 years have passed since her still-resonating debut novel, A Cab Called Reliable, was published in 1997. But who's counting – all the good things in life are worth waiting for, right?
In a most memorable example of 'show, don't tell,' Kim's so-worth-the-wait picture book has nary a word in sight. Whimsically captured in artist Sonia Sánchez's dazzling panels-in-constant-motion, Here I Am is an exquisite book to be savored again and again … each 'reading' promises to reveal yet another delightful, thoughtful detail.
A young boy boards an airplane with his family and arrives in a dark new city. When he enters a virtually empty apartment, he longs for his brightly lit family home somewhere far away. He treasures his one memento, a red seed that holds within its tininess all the wonderful, comforting memories of back home.
His new life is strange and unfamiliar, marked with words he can't comprehend and conversations he doesn't understand. One day, leaning out the family apartment window watching the world go by, he drops his precious seed, and watches with dismay as a little girl picks it up and skips away. He rushes out in a mad chase … and after a few moments of initial worry, he finally begins to glimpse the many delights of his new neighborhood: delicious smells, finding a lost coin, trying his first soft pretzel, laughing at a bullseyed pup, wandering through a vast new park … and best of all, finding his first friend and discovering the limitless joys of sharing.
Kim's only words appear on the final page as a letter to "Dear Reader," in which she reveals her own immigration story that began "almost 40 years ago." Drawing on her memories – "I have to admit, moving was scary … But it was also exciting …" – Kim explains that Here I Am "is about leaving a beloved home, coming to a different place, and taking on the tremendous task of creating a new life for yourself." Overcoming the fear of the unfamiliar was the turning point for Kim, which she duplicates for her young protagonist: "What happens to us when we forget to be afraid? We loosen our firm grip on what belongs to us. We open our hands. We share. We give."
Surely, this is Kim and Sánchez's gift … not just to recent immigrants, but as Kim says, to anyone "facing something new and different in your life." Unfettered by specific language requirements, Here is truly a universal story for all. No translations are ever necessary, as Kim "encourages you to live out your own story of arriving to that place where you can say, 'Here I am.'"
Readers: Children
Published: 2013