16 Feb /

Between the Lines by Nikki Grimes [in Shelf Awareness]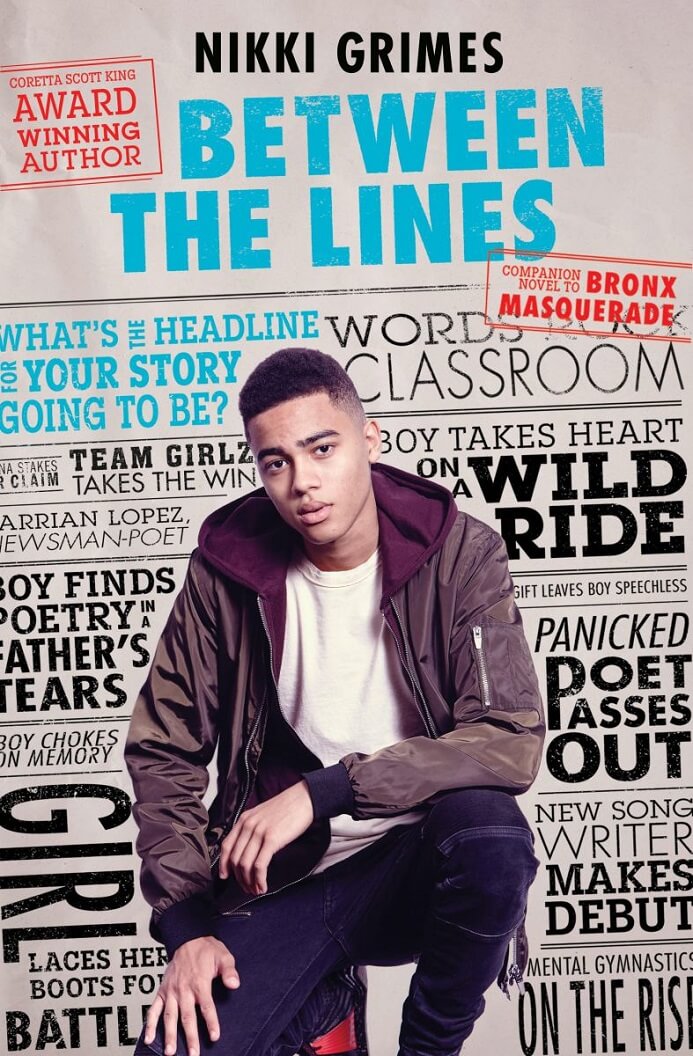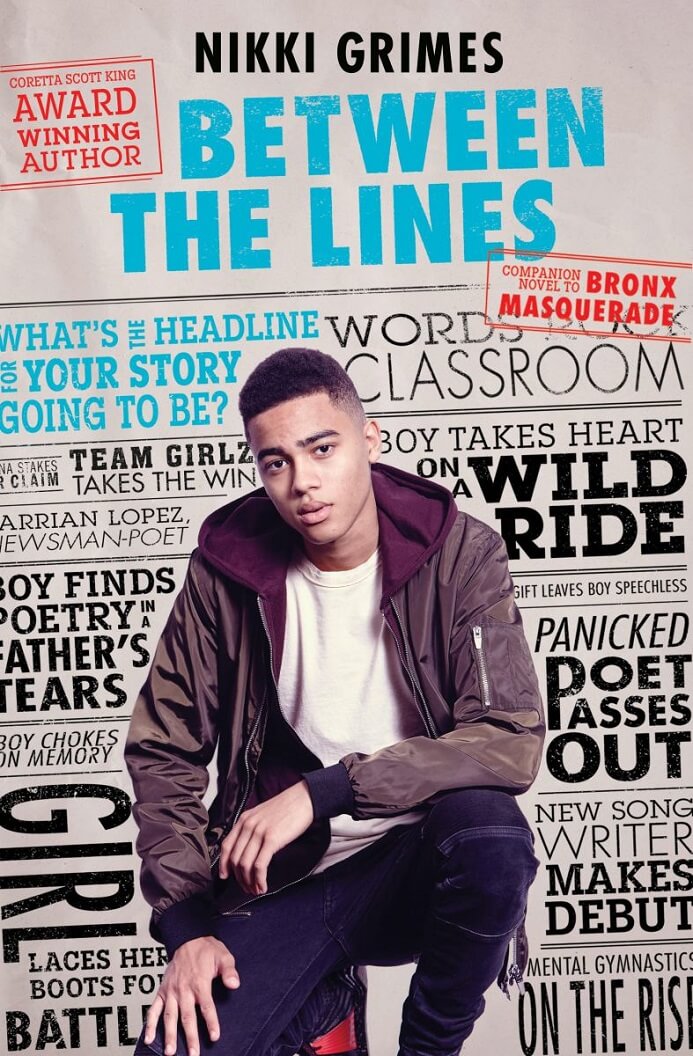 *STARRED REVIEW
"We live in the same city, go to the same school, but each of us has a different story," a student observes. "What we have in common is trying to figure out how to tell it." Welcome back to Mr. Ward's English class, introduced in Nikki Grimes's Coretta Scott King-winning Bronx Masquerade (2002), where high school teens learn to harness everyday words to create poetry, community, and even their very selves. In Between the Lines, referred to as a "companion novel" to Masquerade, Grimes (The Watcher; Chasing Freedom) repeats her highly successful format, presenting multiple voices through a hybrid combination of revealing prose and affecting poetry.
Proud Puertorriqueño Darrian with his New York Times-aspirations turns his librarian/mentor's advice that "poetry, more than anything else, will teach you about the power of words" into action and transfers into Mr. Ward's classroom. As the weeks pass, Darrian witnesses how words transform his classmates: Chinese American Li tests her independence, blonde-and-blue-eyed African American foster child Jenesis learns trust, Marcel and Valentina release some of their injustice-fueled anger, Kyle strengthens his heart and spirit, Angela becomes brave, and overwhelmed Freddie finally opens to friendship.
Poetry provides the medium through which these teens express, explore, declare, grow: "when a story is true, you have to tell it … to write it in a way that will force people to stop and read it" – and hear and feel it. With Mr. Ward's "Open Mike Friday" fast approaching, students get ready to showcase their revelations-in-verse before a live audience of family and friends – including a few familiar Masquerade poets who return to encourage and enlighten. Each will be "standing out, but standing together." Let the slam begin.
Discover: In Nikki Grimes's companion novel to Bronx Masquerade, eight will-be poets reveal stories of loss, fear, challenges, courage, and so much hope.
Review: "Children's & Young Adult," Shelf Awareness, February 16, 2018
Readers: Children
Published: 2018
By Black/African American, Fiction, Middle Grade Readers, Poetry, Repost, Verse Novel/Nonfiction, Young Adult Readers
in
Tags > Assimilation, Between the Lines, BookDragon, Bronx Masquerade, Coming-of-age, Family, Friendship, Identity, Immigration, Love, Nikki Grimes, Parent/child relationship, Shelf Awareness