25 Apr /

Diverse Novels in Verse for National Poetry Month [in School Library Journal]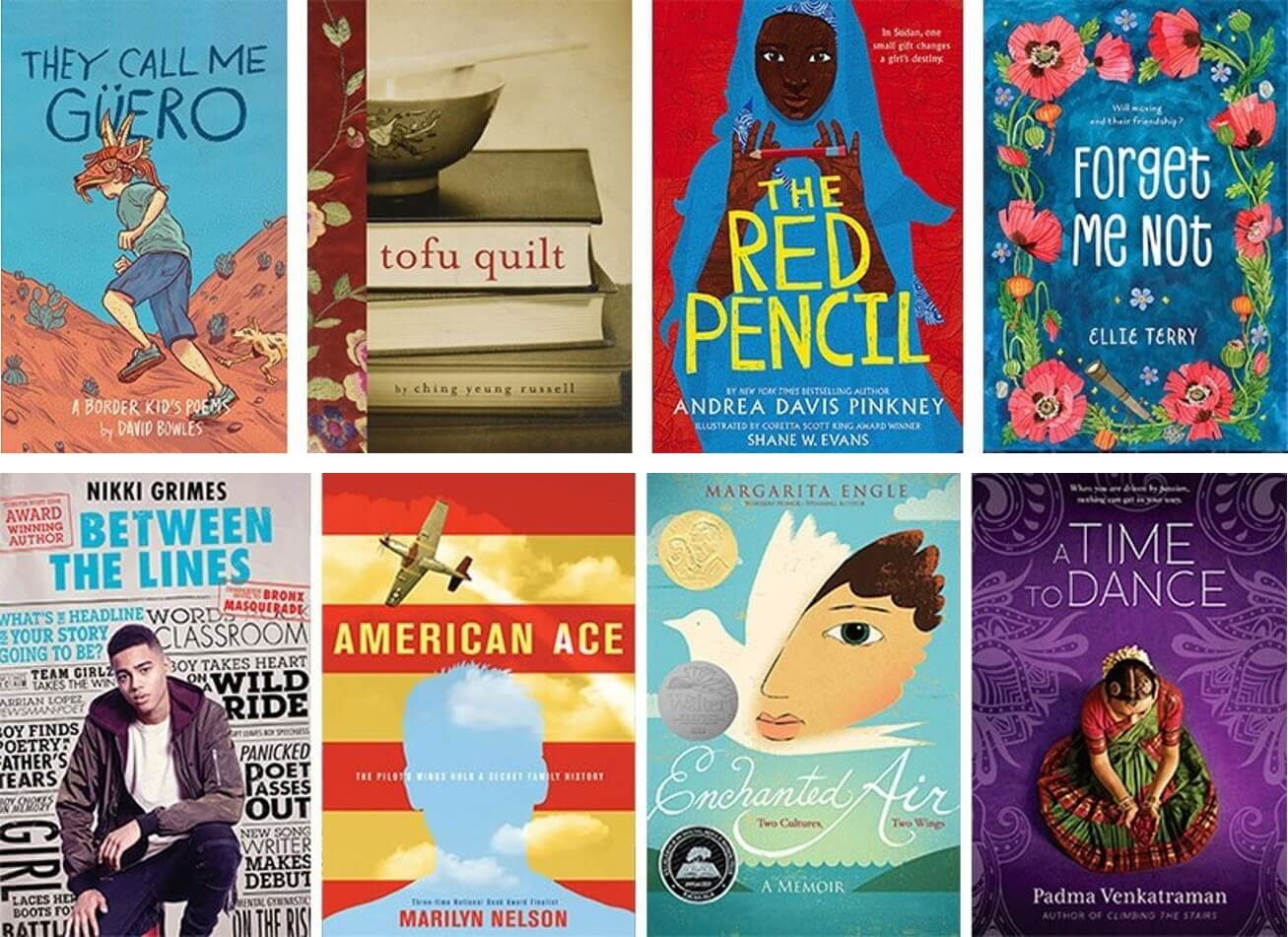 Organized by the Academy of American Poets, National Poetry Month, in April, has been celebrated annually since 1996. While reading, writing, even performing poetry should be a year-round activity, National Poetry Month is a welcome catalyst to get verse newbies and doubters interested and involved. In addition, research has repeatedly shown direct correlations between poetry and early literacy as well as poetry and reading fluency.
Novels-in-verse provide an ideal fusion of poetry and narrative. Here are some affecting diverse titles by #OwnVoices authors to explore and savor this month and throughout the year.

MIDDLE GRADE
Bowles, David. They Call Me Güero: A Border Kid's Poems. Cinco Puntos. 2018
Latinx 12-year old Güero – so nicknamed for having "the lightest skin" in his extended Mexican American family – is "a border kid, a foot on either bank." He lives on the Texas side, but the family crosses the border regularly. His father assures him, "'No wall, no matter how tall, can stop your heritage / from flowing forever, like the Rio Grande itself.'" Now in seventh grade, he hangs out with his closest friends who call themselves Los Bobbys, and navigates his intertwined cultures with appreciation, resilience, and pride.
Engle, Margarita, illus. by Sean Qualls. The Poet Slave of Cuba: A Biography of Juan Francisco Manzano. Holt. 2006.
Engle's 2008 Pura Belpré-winning biography-in-verse introduces Cuban poet Juan Francisco Manzano to younger readers. Born enslaved in 1797, Juan is quickly adopted – similar to the way pets are claimed – by the wife of a wealthy plantation owner. Despite the horrors he endures, Juan manages to find inspiring solace in the power of words. By enriching Juan's story with the rotating voices of his parents, owners, "the Overseer," and his defender, Don Nicolás, Engle creates a collaged celebration of a remarkable life.
Lai, Thanhhà. Inside Out & Back Again. HarperCollins. 2011.
Lại's 2011 National Book Award-winning debut presents the autobiographical coming-of-age tale of 10-year-old Hà, whose family is forced to leave their homeland forever when Saigon falls. They board an old navy ship, eventually arriving in Alabama, where they're sponsored by a kind man and his not-at-all-friendly wife. Life in the new country is an enormous adjustment, especially for young Hà, who must navigate the cruel intolerance of her new schoolmates.
Nagai, Mariko. Dust of Eden. Albert Whitman. 2014.
Possibly the only novel-in-verse highlighting the Japanese American internment experience during World War II, Dust of Eden introduces 13-year-old Mina Masako Tagawa, who, until December 7, 1941, was an ordinary American girl from Seattle. Overnight, she's reduced to a racial slur: "We are not Americans, the eyes tell us. / We do not belong, the mouths curl up. / We are the enemy aliens, the Japs." First Mina's father is arrested without cause, and then their community is forcibly transported to Minidoka Relocation Center in Idaho's dust fields. Nagai captures a family in flux that is caught in someone else's blame, struggling to stay together, fighting to understand.
Pinkney, Andrea Davis, illus. by Shane W. Evans. The Red Pencil. Little, Brown. 2014.
For almost-12-year-old Amira and her family, daily life on their small farm in a Sudanese village is about crops and their few animals. Yet Amira dreams of learning to read and going to school, even though her mother assures her that an education is not necessary to becoming a good wife and mother. When the brutal Janjaweed – armed militia – invade, they murder her father and decimate her village. What's left of Amira's family must build a new life in a refugee camp.
Russell, Ching Yeung. Tofu Quilt. Lee & Low. 2009.
Based on Russell's own path toward becoming a writer, Tofu Quilt is a delicious free-verse memoir. Growing up in 1960s Hong Kong, Yeung Ying hears over and over how education is wasted on girls. Yet her mother stands strong against her controlling in-laws and insists Yeung Ying will remain in her private school, even when the family can't pay the rent. When her mother assures her that she "will be rich in many ways" as long as she stays in school, Yeung Ying looks forward to her education as a means to savor more dan lai, an expensive milky custard. Education – and the promise of savoring more dessert – pave the way to Yeung Yings's success.
Ryan, Pam Muñoz, illus. by Peter Sís. The Dreamer. Scholastic. 2010.
Neftalí Reyes, the eponymous dreamer, is most content to live in a world of stories, ideas, and small things that inspire his never-resting imagination. Despite his constant fear of his overbearing father, he finds emotional shelter with his nurturing stepmother and younger sister. As he strengthens his voice as a writer, he's able to separate his identity from his father by naming himself Pablo Neruda, "to save Father the humiliation of having a son who is a poet." Ryan's spare evocative prose and Sís's whimsical pointillist illustrations create a gorgeous biographical novel of remarkable depth.
Terry, Ellie. Forget Me Not. Feiwel & Friends. 2017.
Callie has moved far too often, making friendships tough, especially since she stands out among other kids due to her Tourette's Syndrome. Jinsong is one of the popular kids and worries that befriending the new girl might not be good for his reputation. Callie's chapters are presented in verse; Jin's in prose. Through this back and forth, the pair figures out what true friendship can really mean. Author Terry, too, lives with Tourette's and writes from her personal experiences.
Woodson, Jacqueline. brown girl dreaming. Nancy Paulsen. 2014.
Woodson's 2014 National Book Award-winning childhood memoir-in-verse opens with her birth – "february 12, 1963" – in "Columbus, Ohio, / USA – / a country caught / between Black and White." She is a Woodson of Ohio, where her "father's family / can trace their history back / to Thomas Woodson of Chillicothe, said to be / the first son of Thomas Jefferson and Sally Hemings." Woodson's lauded titles are many, but none have been as revealingly intimate as dreaming. Woodson is ever the self-described "listener" as she harvests the observations, thoughts, and memories which transform her from 'brown girl dreaming' to phenomenal woman writing.

YOUNG ADULT
Acevedo, Elizabeth. The Poet X. HarperTeen. 2018.
Acevedo's 2018 National Book Award winner is a stupendous coming-of-age debut featuring a Harlem teen whose generational, cultural, religious, and emotional conflicts coalesce to teach her "to believe in the power of [her] own words." Not yet 16, Xiomara is unlike her brilliant, never-gets-in-trouble twin brother: "He is an award-winning bound book, / Where I am loose and blank pages." She fills those pages with everything she can't say, revealing doubts, aches, secrets: "It almost feels like / the more I bruise the page / the quicker something inside me heals." Encouraged by her English teacher to claim her voice, Xiomara's performance of her verses will be "the most freeing experience of [her] life."
Engle, Margarita. Enchanted Air: Two Cultures, Two Wings. Atheneum. 2015.
Engle, who is the Poetry Foundation's Young People's Poet Laureate, has long been writing about her Cuban connections in multiple titles. Here, Engle offers her own personal story: "I never thought I would be brave enough to write about my life as a Cuban American child growing up in the United States during the hostilities of the Cold War," she explains in her author's note. Courage produces this resonating journey of Engle's "true story of [her] first fourteen years," made even more timely by unrelenting contemporary headlines reporting the ongoing displacements of victims, survivors, and refugees desperate to start lives elsewhere. Engle continues her intimate journey on the page in Soaring Earth: A Companion Memoir to Enchanted Air (Atheneum, Feb. 2019), which highlights her challenging coming-of-age during her high school through college years, further complicated by the societally tumultuous decades of the 1960s and 1970s.
Grimes, Nikki. Between the Lines. Nancy Paulsen. 2018.
"We live in the same city, go to the same school, but each of us has a different story," a student observes. "What we have in common is trying to figure out how to tell it." Welcome back to Mr. Ward's English class, introduced in Grimes's Coretta Scott King-winning Bronx Masquerade (2002), where high school teens learn to harness everyday words to create poetry, community, and their very sense of themselves.
Nelson, Marilyn. American Ace. Dial. 2016.
When Connor's grandmother dies, she leaves Connor's father a ring, pilot's wings, and a letter explaining that her husband was not his biological parent. Paralyzed with shock, the father falls into a deep depression, leaving Connor to process the new information. He traces his new lineage to the U.S. Air Force, Wilberforce University, and an international DNA map that reveals European, African, and Jewish roots. Especially illuminating is Nelson's afterword, aptly titled "How This Book Came To Be, and Why an Older African American Woman Ended Up Writing as a Young White Man," in which she explores history – personal, national, worldwide – to affirm the surprising human interconnections in our very cells and souls.
Nelson, Marilyn. My Seneca Village. Namelos. 2015
Seneca Village is real. Or was real. Bordered by West 82nd and 89th streets, between Seventh and Eighth avenues in New York City's Upper West Side, "Seneca Village was Manhattan's first significant community of African American property owners," Nelson writes in her introduction. Founded in 1825, the community – which would come to include Irish and German immigrants and a few Native Americans – would last for just 32 years, "completely erased by the creation of Central Park" in 1857. The multi-ethnic, multicultural community had at its peak 264 residents. Award-winning poet extraordinaire Nelson bestows possible lives onto some of these long-forgotten names to create an illuminating collection revealing steadfast, surprising community.
Reynolds, Jason. Long Way Down. Atheneum/Caitlyn Dlouhy. 2017.
National Book Award finalist Reynolds follows 15-year-old Will down the elevator of his apartment building on his desperate mission to kill his brother Shawn's murderer. Those 60 seconds become a life-and death-journey: Stopping on every floor, the small elevator fills with unexpected riders – people who knew Shawn, those who know Will, familiar faces with unasked-for advice, others who shouldn't even be around. As Will descends toward ground zero, he's got some important choices to make.
Venkatraman, Padma. A Time to Dance. Nancy Paulsen. 2014.
From her earliest memories, Veda has danced. And then a horrifying auto accident derails her promising future. Her body is inextricably altered, but her precious gift remains. An American prosthesis specialist helps get her mobility back, but her longtime dance teacher is hardly welcoming. Buoyed by her grandmother, her best friend, her doctor, her parents, including her seemingly less-than-supportive mother, Veda regains the determination and strength to reclaim her time to dance.
Published: "Diverse Novels in Verse for National Poetry Month," School Library Journal, April 23, 2019
By African, Biography, Black/African American, Caribbean American, Chinese American, Cuban, Cuban American, Fiction, Hong Kongese, Japanese American, Latina/o/x, Lists, Memoir, Middle Grade Readers, Nonfiction, Poetry, Repost, Verse Novel/Nonfiction, Young Adult Readers
in
Tags > American Ace, Andrea Davis Pinkney, Between the Lines, BookDragon, brown girl dreaming, Ching Yeung Russell, David Bowles, Dreamer, Dust of Eden, Elizabeth Acevedo, Ellie Terry, Enchanted Air, Family, Forget Me Not, Friendship, Gender inequity, Inside Out & Back Again, Jaqueline Woodson, Jason Reynolds, Juan Francisco Manzano, Long Way Down, Margarita Engle, Mariko Nagai, Marilyn Nelson, My Seneca Village, Nikki Grimes, Padma Venkatraman, Pam Muñoz Ryan, Parent/child relationship, Peter Sís, Poet Slave of Cuba, Poet X, Race/Racism, Red Pencil, School challenges, School Library Journal, Sean Qualls, Shane W. Evans, Thanhha Lai, They Call Me Güero, Time to Dance, Tofu Quilt