17 May /

Asian American #OwnVoices: Artfully Narrated Middle Grade, YA, and Crossover Audiobooks [in School Library Journal]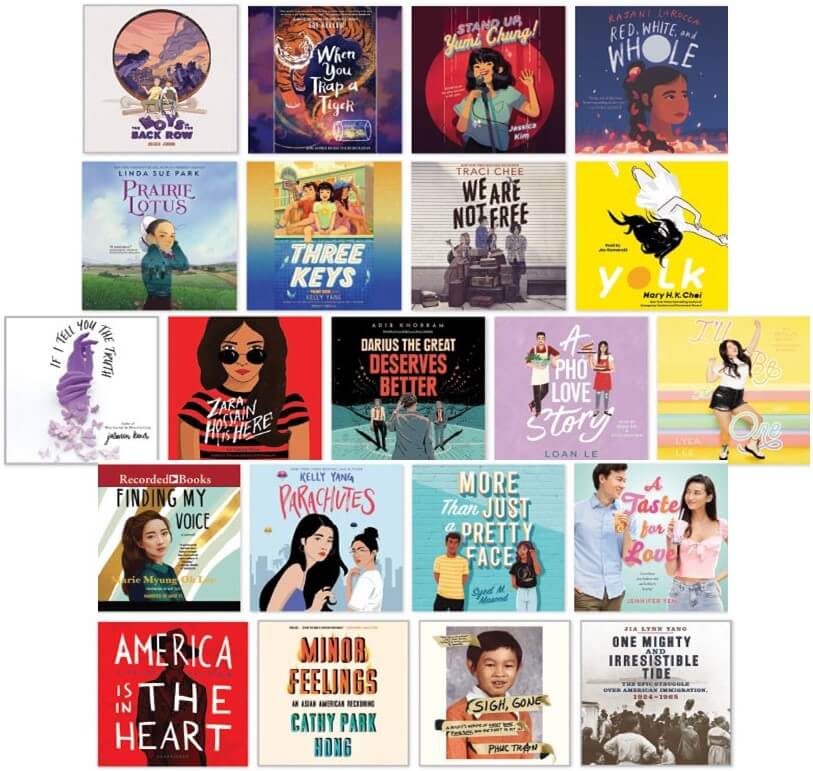 Welcome to Asian Pacific American (APA) Heritage Month. The year remains somber, as the APA community combats dramatically increasing anti-Asian violence around the country and continues to mourn the eight people, including six women of Asian descent, killed in a Georgia mass shooting.
Despite a U.S. presence older than the nation itself – Filipino sailors landed in California in the 16th century – and centuries of contributions that have shaped both American industry and daily life, including railroads, agriculture, technology, and more, Americans of Asian descent continue to be attacked for being foreign. For being "other." While books can be antidotes to the disturbing, tragic, horrifying headlines, audiobooks can often make those experiences more immediate. This month – and beyond – take the time to listen, learn, and share our stories.

MIDDLE GRADE
The Boys in the Back Row. Mike Jung. Dreamscape. 2020. Read by Keong Sim.
Newbie narrator Sim's effervescent energy enhances Jung's rollicking, heartwarming epic about two bffs whose rule-breaking plans make sixth grade a memorable year.
When You Trap a Tiger. Tae Keller. Listening Library. 2020. Read by Greta Jung.
Jung effectively helms the 2021 Newbery Medal winner's #OwnVoices aural enhancement. A widowed mother and her two mixed-race daughters move in with their glamorous, unconventional, magic-making Korean grandmother. Transformations happen.
Stand Up, Yumi Chung! Jessica Kim. Listening Library. 2020. Read by Greta Jung.
Eleven-year-old Yumi Chung's evolution from quiet odd girl out to feisty stand up comedian in the making gets a spot-on audio boost for even the most reluctant readers.
Red, White, and Whole. Rajani LaRocca. HarperAudio. 2021. Read by Priya Ayyar.
Thirteen-year-old Reha navigates being a weekday American at school and a weekend Indian at home. Her longing to fit in stops mattering so much when her mother falls seriously ill. Narrator Ayyar shines in portraying Reha's burgeoning independence and courageous resolve.
Prairie Lotus. Linda Sue Park. Listening Library. 2020. Read by Emily Woo Zeller.
Hanna Edmunds and her merchant father arrive in 1880 LaForge, in the Dakota Territory. Hanna's immediate difference – her late mother was Chinese – is an additional challenge to gaining acceptance. Newbery Medalist Park explains how Lotus was "an attempt at a painful reconciliation" between her childhood love for Laura Ingalls Wilder's "Little House" series and her adult knowledge of its racism.
Three Keys. Kelly Yang. Scholastic. 2020. Read by Sunny Lu.
Front Desk's cast returns with lively narrator Lu. The year is 1994, and Prop 187 looms on the California gubernatorial ballot, threatening undocumented immigrants. Mia – and her extended motel family – must figure out how to keep everyone safe. At the end, Yang, who was 10 in 1994, recounts how she channeled her own racism-fueled trauma and fear.

YOUNG ADULTS
We Are Not Free. Traci Chee. HMH Audio. 2021. Read by full cast.
Fourth-generation Japanese American Chee gets personal, infusing her own family's stories into a tight-knit group of Japanese American youth in San Francisco's Japantown. Sixteen interlinked stories follow the teens through incarceration in prison camps for Americans of Japanese descent during WWII to the scattered restart of their postwar lives three years later.
Yolk. Mary H.K. Choi. S. & S. 2021. Read by Joy Osmanski.
Sudden, serious illness forces two Korean American sisters – once as close as twins – to confront their estrangement and rediscover the empowering strength of their bond.
If I Tell You the Truth. Jasmin Kaur. HarperAudio. 2021. Read by the author.
First introduced in When You Ask Me Where I'm Going, mother Kiran and daughter Sahaara return in this hybrid prose/verse novel that deftly addresses the combined perils of being undocumented and surviving sexual assault. Punjabi Canadian Kaur returns to voice her sophomore title.
Zara Hossain Is Here. Sabina Khan. Scholastic. 2021. Read by Richa Moorjani.
Moorjani affectingly channels high school senior Zara, who stands up to a racist bully only to face unimaginable consequences: Her pediatrician father is shot, and their anticipated green card approval is threatened after 14 years in Corpus Christi, TX. Her parents can't imagine feeling safe ever again and are ready to return to Pakistan. Zara refuses to stop fighting for justice.

Darius the Great Deserves Better. Adib Khorram. Listening Library. 2020. Read by Michael Levi Harris.
After a family visit to Iran, self-described "fractional Persian" Darius has a much better life than he did in Darius the Great Is Not Okay: His depression is under control, he's close to Dad, and he's got best friend Sohrab and boyfriend Landon. But the challenges are growing: Dad's away, his third grade sister's being called a terrorist, his Kellner grandmothers move in, and former bully Chip is getting… too close?
A Phở Love Story. Loan Le. S. & S. 2021. Read by Ryan Do and Vyvy Nguyen.
Audiobook newbies Do and Nguyen are just what debut novelist Le must have ordered. All together, the trio offers an #OwnVoices treat combining a never-meant-to-be love story, family feuds, and drool-worthy Vietnamese cuisine.
I'll Be the One. Lyla Lee. HarperAudio. 2020. Read by Greta Jung.
Lee's YA debut features Skye Shin, a Korean American performing powerhouse poised to claim the stage and be her own hero. Jung enhances this #OwnVoices win.
Finding My Voice. Marie Myung-Ok Lee. Recorded Books. 2020. Read by Jaine Ye.
Two decades ago, Lee made pioneering APA literary history with a multi-book/major-press deal to become one of the earliest bestselling APA children's writers. Her debut is new again with an anniversary edition and first-time audiobook featuring high school senior Ellen's journey to finding her voice and speaking out against blatant racism in her tiny hometown.
More Than Just a Pretty Face. Syed M. Masood. Hachette. 2020. Read by Ariyan Kassam.
Kassam's audiobook debut is an energetic, entertaining success, embodying 19-year-old Desi Danyal – a charmer to some (who's also culinarily gifted), an incompetent joker to others. When he's chosen for the Renaissance Man academic competition, exposing Winston Churchill's racist colonialism and choosing the right girl just might make him the biggest winner after all.
Parachutes. Kelly Yang. HarperAudio. 2020. Read by Cassie Simone and Karissa Vacker.
Yang alternates chapters between wealthy Claire, a Shanghai "parachute" – an unaccompanied Chinese child who "drops in" seeking a U.S. education – and scholarship student Dani, who helps her Filipina American single mother clean houses. Tragically, trauma binds the unlikely pair. Yang draws on her own sexual assault at Harvard Law School and the scarring aftermath of the school's negligent response.
A Taste for Love. Jennifer Yen. Listening Library. 2021. Read by Josephine Huang.
Liza's model older sister couldn't be more perfect, leaving Liza to often face their immigrant mother's angry disappointment. The only thing mother and younger daughter seem to share – superb baking skills – will finally ensure sweet victories. Pride and Prejudice gets a Taiwanese American Houston summer makeover.
ADULT CROSSOVERS
America Is in the Heart. Carlos Bulosan. Blackstone. 2019. Read by Ramón de Ocampo.
Bulosan's 1946 autobiographical novel gets a debut audiobook, following his Filipino boyhood, his U.S. arrival, and the challenges he survived as a migrant laborer. Despite the prejudices and racism that confronted him every day, Bulosan remained determined to live a life filled with dignity and respect. A Filipino American authorial and academic trio enrich Bulosan's classic with historic and literary context.
Minor Feelings. Cathy Park Hong. Random House. 2020. Read by the author.
Title aside, nothing is minor about lauded poet Hong's National Book Critics Circle Award-winning collection. Hong's singular voice expresses both reclamation and declaration: "For as long as I can remember, I have struggled to prove myself into existence… Asian Americans inhabit a vague purgatorial status: not white enough nor black enough."
Sigh, Gone: A Misfit's Memoir of Great Books, Punk Rock, and the Fight to Fit In. Phuc Tran. Macmillan. 2020. Read by the author.
Tran makes both prose and narrating debuts with energy, empathy, and plenty of cursing as he shares his no-holds-barred coming-of-age journey in small-town Carlisle, PA: "Poorly read. Very white. Collar blue." Immersing himself in great literature in high school provides a "connective and humanizing resonance," and his memoir manages to achieve the same.
One Mighty and Irresistible Tide: The Epic Struggle over American Immigration, 1924-1965. Jia Lynn Yang. HighBridge. 2020. Read by Laural Merlington.
Pulitzer Prize-winning NYT editor/journalist Yang's stupendous research, essential stories, and contextual insight – presented with layman's clarity – should be required reading or listening. Yang methodically exposes the absolute power of politics in who gets to be American.
Published: "Asian American #OwnVoices: Artfully Narrated Middle Grade, YA, and Crossover Audiobooks," School Library Journal, May 6, 2021
By Adult Readers, Audio, Canadian Asian Pacific American, Chinese American, Fiction, Filipina/o American, Hapa/Mixed-race, Indian American, Iranian American, Japanese American, Korean American, Lists, Memoir, Middle Grade Readers, Nonfiction, Pakistani American, Persian American, Repost, South Asian American, Southeast Asian American, Vietnamese American, Young Adult Readers
in
Tags > Adib Khorram, America Is in the Heart, Ariyan Kassam, BookDragon, Boys in the Back Row, Carlos Bulosan, Cassie Simone, Cathy Park Hong, Civil rights, Coming-of-age, Darius the Great Deserves Better, Emily Woo Zeller, Family, Finding My Voice, Friendship, Greta Jung, Historical, I'll Be the One, Identity, If I Tell You the Truth, Immigration, Jaine Ye, Jasmin Kaur, Jennifer Yen, Jessica Kim, Jia Lynn Yang, Josephine Huang, Joy Osmanski, Karissa Vacker, Kelly Yang, Keong Sim, Laural Merlington, Linda Sue Park, Loan Le, Love, Lyla Lee, Marie G. Myung-Ok Lee, Mary H.K. Choi, Michael Levi Harris, Mike Jung, Minor Feelings, More Than Just a Pretty Face, One Mighty and Irresistible Tide, Parachutes, Parent/child relationship, Phở Love Story, Phuc Tran, Prairie Lotus, Priya Ayyar, Rajani LaRocca, Red White and Whole, Refugees, Richa Moorjani, Ryan Do, Sabina Khan, School Library Journal, Sigh Gone, Stand Up Yumi Chung, Sunny Lu, Syed M. Masood, Tae Keller, Taste for Love, Three Keys, Traci Chee, Vyvy Nguyen, We Are Not Free, When You Trap a Triger, Yolk, Zara Hossain Is Here