24 Mar /

Crispy Noodles with Savory Vegetables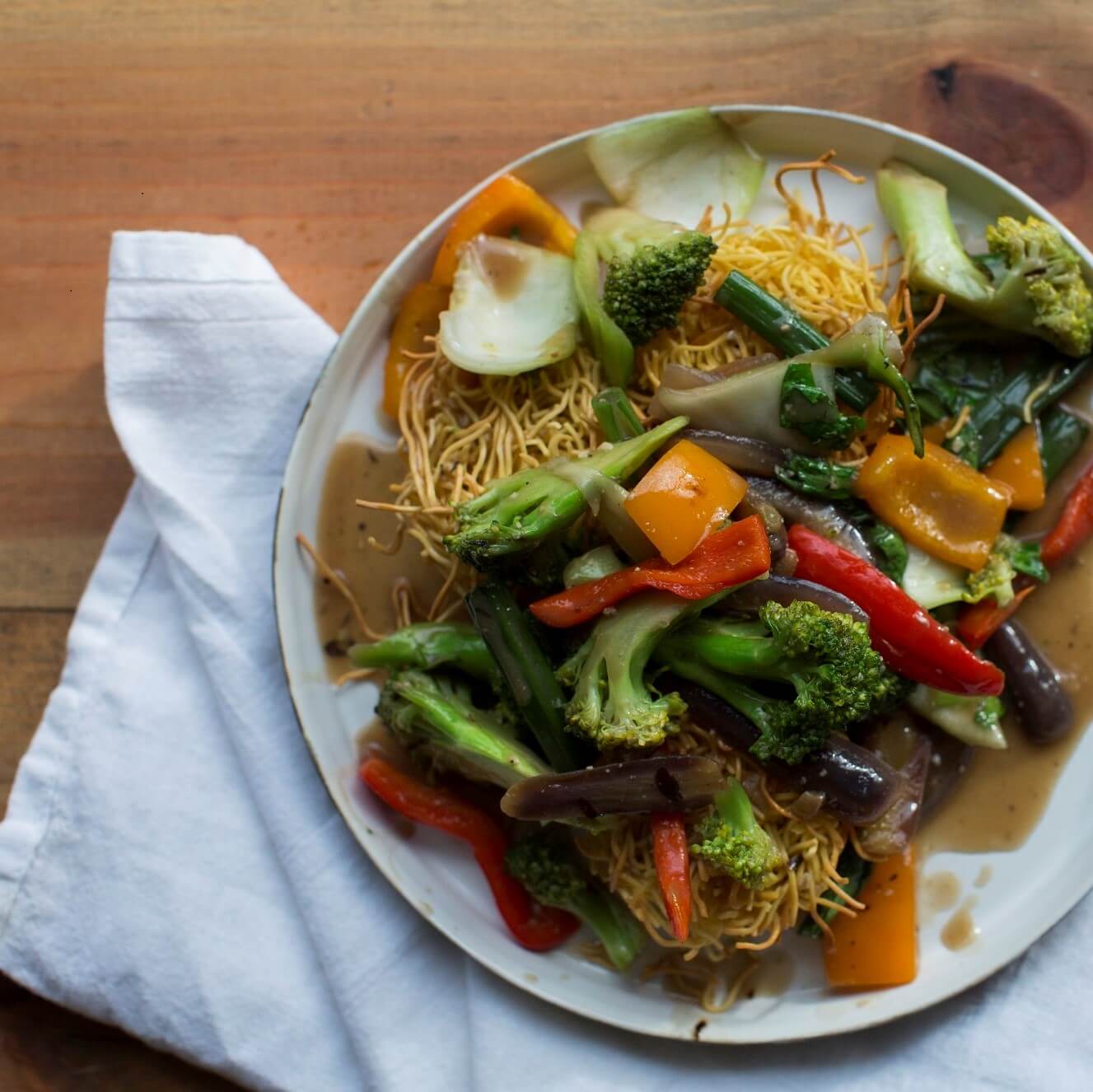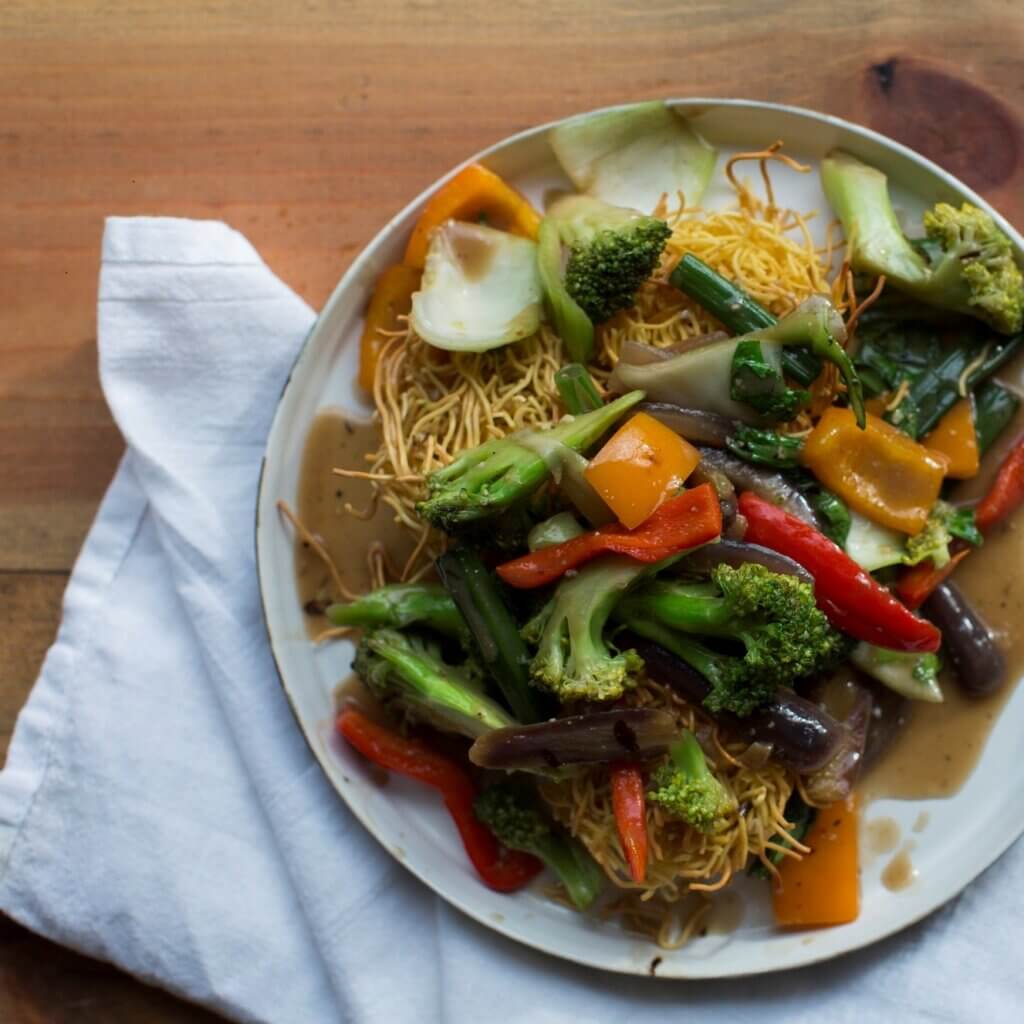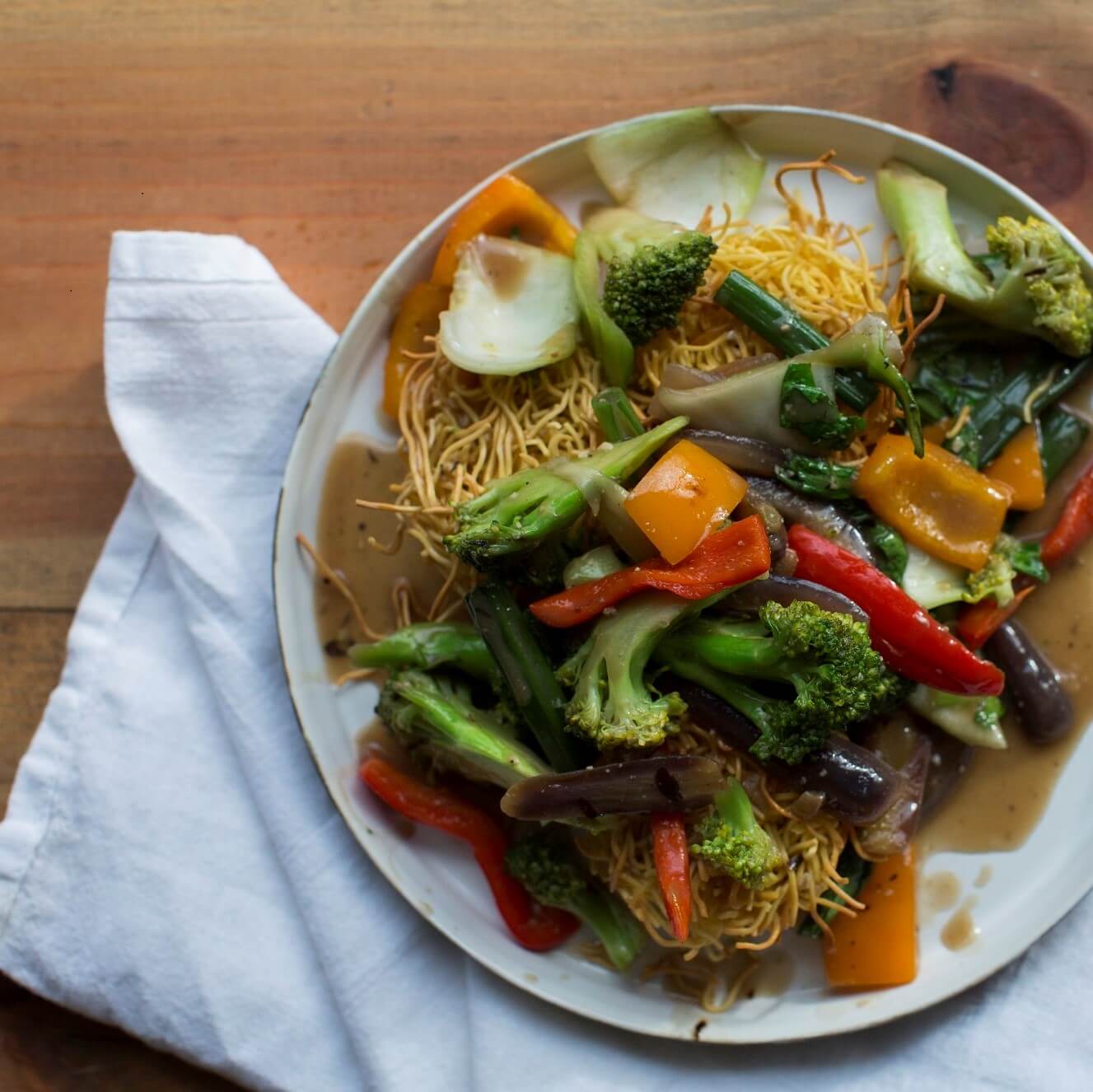 This Hong Kong-style dish is very popular at Chinese restaurants and comprises one big crispy noodle cake topped with chicken or seafood. I decided to make noodles nests that are ideal for serving kids and can be easily divided among diners. If you can't find dried Chinese noodles, you can also use instant ramen (discard the seasoning packets). And if you're lucky enough to find parboiled "Hong Kong Style Pan-Fried Noodles" in the refrigerated section of the Asian market, all you need to do is dip them briefly in boiling water, drain, and toss with sesame oil to prevent sticking.
Prep Time: 25 minutes
Cook Time: 30 minutes
Serves: 4 to 6
8- to 10-oz (250- to 325-g) dried thin Chinese egg noodles (sometimes labeled chuka soba), or 16-oz (500-g) fresh Hong Kong Style Pan-Fried Noodles
2 teaspoons sesame oil
2 tablespoons vegetable oil for brushing
Sauce
2 tablespoons miso (optional but increase salt or soy sauce if not using)
1-½ teaspoons sugar
3 tablespoons soy sauce
1-½ cups (375-ml) unsalted vegetable stock
Cornstarch Mixture
1-½ tablespoons cornstarch
½ cup (125-ml) water
4 cloves garlic, chopped (1-½ tablespoons)
1 medium sweet onion, sliced (¾ cup/115-g)
1 medium red bell pepper, sliced (1 cup/175-g)
3 cups (180-g) baby bok choy or Chinese cabbage hard stems and leaves chopped and separated
2 cups (180-g) broccoli florets, blanched for 1 minute (page XX)
2 medium carrots, peeled and sliced on the diagonal (1 cup/150-g), blanched for 1 minute (page XX)
2 green onions, green and white parts, cut into 2-inch pieces (¼-cup)
½ teaspoon freshly ground black pepper
Bring a large pot of water to a rolling boil over high heat. Cook the noodles for 2 minutes, or 1 minute less than the package directions, stirring to unravel the strands. Drain in a colander and rinse with cold running water to stop them cooking. Separate the noodles and transfer to a bowl. Drizzle with 2 teaspoons sesame oil and toss to prevent sticking.
Preheat your oven to 400°F (205°F). Brush two 8-cup muffin pans liberally with oil. Divide the noodles into 16 nests, pulling, breaking, or cutting if necessary, and push them into each well. It's okay if the noodles spill over as they will shrink a bit. Brush the noodles liberally with oil. Bake for 18 to 20 minutes, until the noodles are crispy and golden brown. Keep warm in a low (200°F/100°C) oven. Or store in an airtight container for up to 2 days.
Stir together the miso, sugar, soy sauce, and stock in a medium bowl to make the Sauce. Stir together the cornstarch and water in a small bowl to make the Cornstarch Mixture. Set both aside.
Swirl 1 tablespoon oil into a large wok or skillet and set over medium-high heat until shimmering hot. Add the garlic and onions and stir and cook until aromatic, 30 seconds to 1 minute. Add the red pepper and bok choy stems. Stir and cook for 1 minute. Add the broccoli and carrot and stir and cook for 1 minute. Add the bok choy leaves and Sauce and stir to mix. Reduce the heat to medium, cover and cook for about 1 minute, until the vegetables are cooked to your liking. Taste and adjust seasonings if desired.
Raise the heat to high. Stir the Cornstarch Mixture and pour into the wok. Bring to a boil, stirring until the sauce thickens to the consistency of turkey gravy, about 30 seconds. Add more stock or water if it's too thick. Add the green onions, toss one final time and remove from the heat.
Divide the noodle nests among 4 (or more) individual plates. Spoon the vegetables and gravy over the noodles. Sprinkle with pepper and serve immediately.
(Excerpted from Farm to Table Asian Secrets, Tuttle Publishing, 2017)