27 Mar /

The Astonishing Color of After by Emily X.R. Pan [in Shelf Awareness]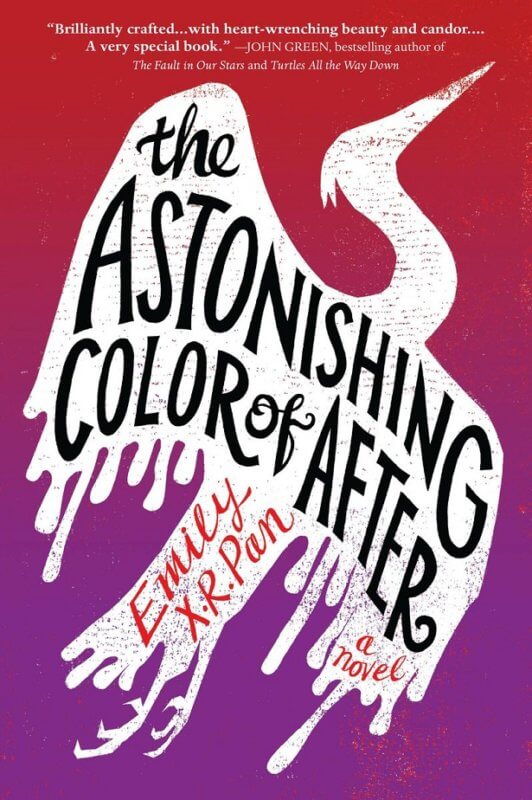 *STARRED REVIEW
Leigh and best friend Axel "figure out what the other person's feeling" by asking "'What color?'": "carbazole violet" for silence, "burnt orange" for anger, "Prussian blue" for hurt. Their unexpected first kiss sets off a "whole goddamn spectrum" of feelings Leigh doesn't have time to process before falling into "the gaping black hole" of her mother's sudden suicide.
And yet Leigh's mother isn't exactly dead; she's morphed into a bird. "This isn't like some William Faulkner stream-of-consciousness metaphorical crap," Leigh insists, "My mother. Is literally. A bird." Huge, red, beautiful, the bird delivers a box to Leigh from maternal grandparents she's never met, with instructions to bring it to Taiwan for a first-ever visit.
Traveling with her Irish American father – ironically, he's fluent in Mandarin, while English was the only language Leigh spoke with her mother – she arrives as a virtual stranger at her aging grandparents' home. Estranged since her parents' marriage, the fractured extended family will share haunting truths and healing revelations. In her mother's homeland, Leigh grows into her name – Leigh being a homophone for the Mandarin lì, which means "strength."
Debut novelist Emily X.R. Pan's author's note reveals her "family lost one of [their] own to suicide." From her personal tragedy rises The Astonishing Color of After, alchemizing devastation through art, music, poetry and, most importantly, forgiveness and unconditional love. In Leigh's mother's recovered final message, the last, crossed-out line, "I want you to remember," becomes a repeated rallying cry and an aching realization that "the purpose of memory … is to remind us how to live." From the "blackest black" to astonishing "manganese blue and new gamboge yellow and quinacridone rose," Pan offers an extraordinary journey that proves real, surreal, and wholly magical.
Discover: Assisted by a huge red bird, mysterious strangers, and all the people who love her, 15-year-old Leigh begins the aching journey back from the black hole of her mother's suicide.
Review: "Children & Young Adult," Shelf Awareness, March 27, 2018
Readers: Children
Published: 2018
By Chinese, Chinese American, Fiction, Hapa/Mixed-race, Middle Grade Readers, Repost, Taiwanese, Taiwanese American, Young Adult Readers
in
Tags > Astonishing Color of After, BookDragon, Coming-of-age, Death, Emily X.R. Pan, Family, Horror/Ghost story, Identity, Love, Mixed-race issues, Mother/daughter relationship, Mystery, Parent/child relationship, Shelf Awareness, Suicide, Time travel