12 Mar /

A Story about Afiya by James Berry, illustrated by Anna Cunha [in Shelf Awareness]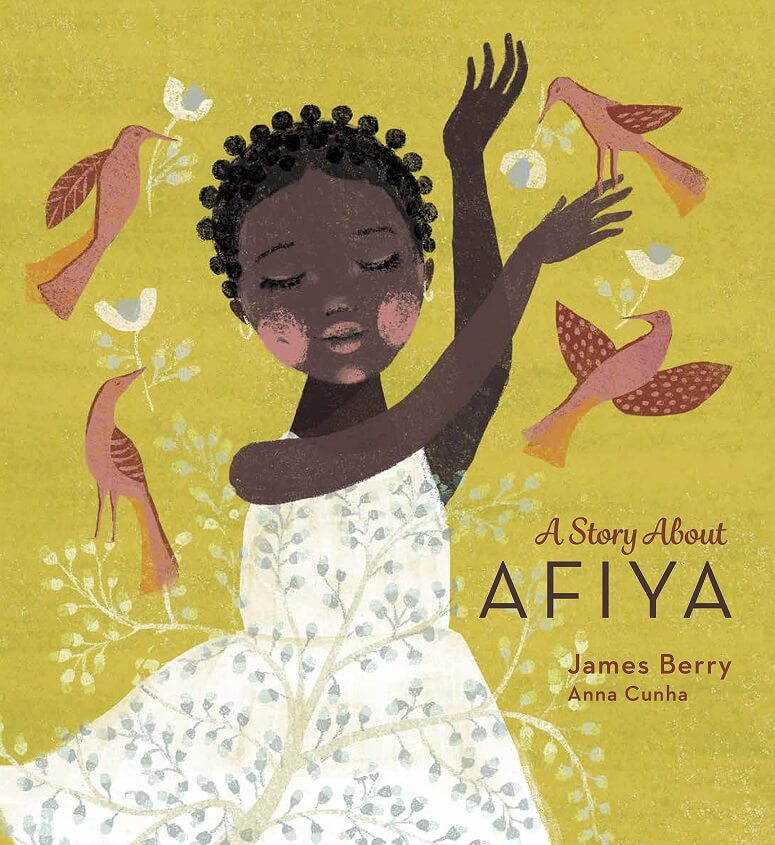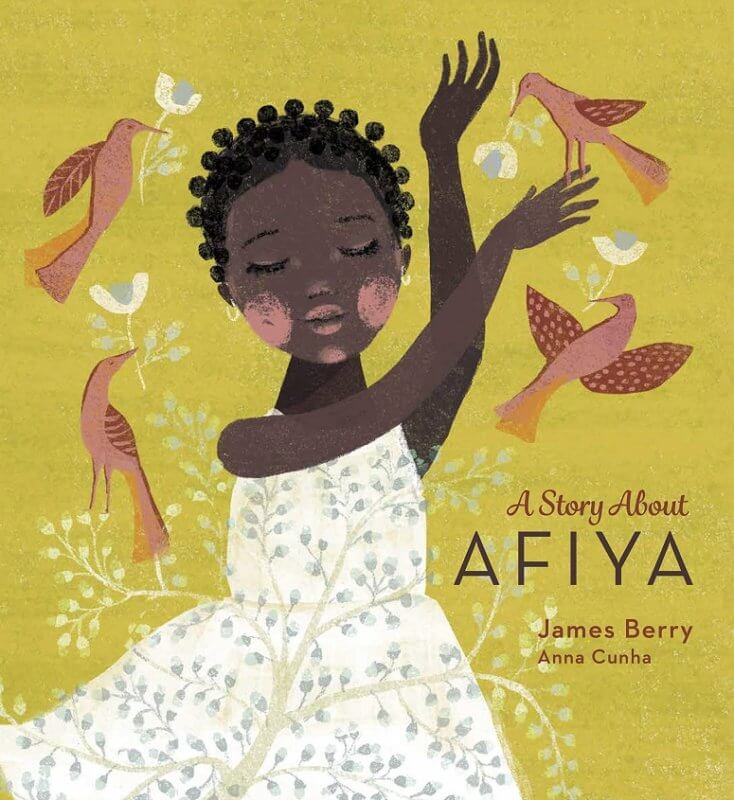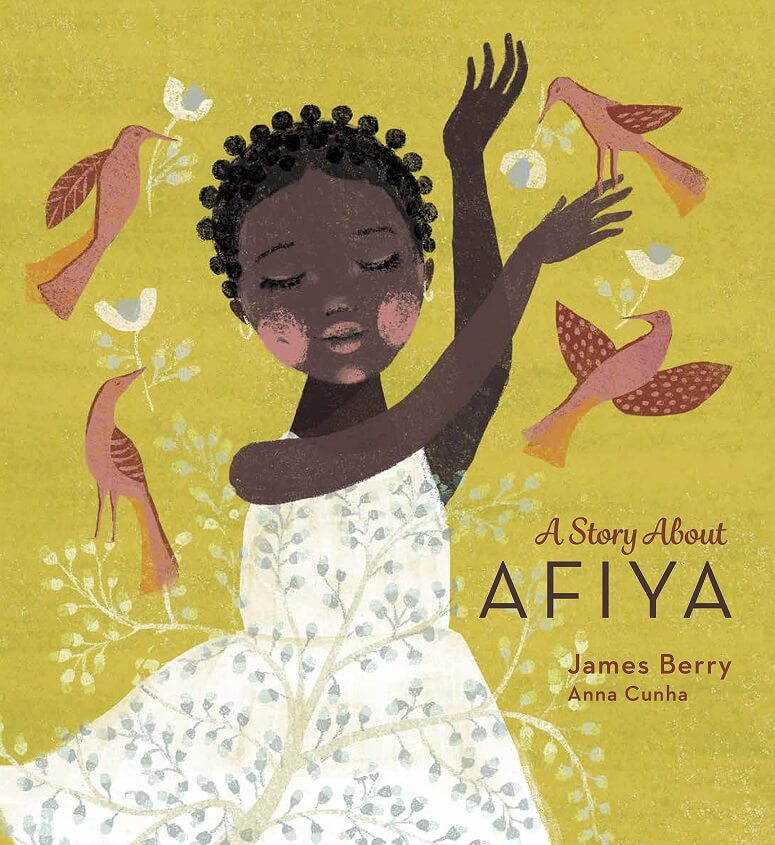 In 1991, prolific Jamaican poet and Coretta Scott King Honor author James Berry (A Thief in the Village) wrote "A Story About Afiya," an exquisite celebration of the simple magic of childhood. Lantana Publishing, founded "because all children deserve to see themselves in the books they read," here debuts a dazzlingly illustrated posthumous edition of the poem magnificently enhanced by Brazilian artist Anna Cunha's work.
Afiya is a lively young girl with "fine black skin/ that shows off her white clothes/ and big brown eyes that laugh/ and long limbs that play." Her wardrobe consists of a single "white summer frock/ she wears and washes every night." But this dress is something spectacular: "every day [it] picks on something/ to collect, strangely." Throughout the summer, each of Afiya's daily adventures imprints memorable details onto the blank canvas that is her summer frock: "Afiya passes sunflowers and finds/ the yellow fringed black faces there." As her summer outings continue, she emerges from a walk through a resplendent garden with red roses in "clustered bunches." On another day, she wanders through high grass and returns adorned with butterflies. Despite the dress's nightly washings, "the sharp pictures in colour" remain untouched; yet, by morning, that same dress is "cleared and ready,/ hanging white as new paper" in anticipation for her next great discovery: pigeons in formation, tigers at the zoo, "fishes under ruffled waves." With so much to do, Afiya's summer passes quickly, too soon revealing the "windswept leaves/ of October, falling," ushering in the autumn season.
Berry, who lived in Great Britain, was awarded an OBE (Order of the British Empire) for services to poetry before he died in 2017. The poet's partner, Myra Barrs, an author, teacher and publisher, writes in a brief foreword that "James Berry created a magic world for Afiya." She adds that Anna Cunha "has re-imagined the poem and created an enchanting fantasy landscape for Afiya's adventures." Each double-page spread is a marvelous new portrayal of Afiya, who seems perpetually in motion, dancing, flying, climbing, exploring and enjoying the delightful panoramas all around her. When readers open the book, its initial square shape expands into a wide beckoning landscape, with each page turn revealing a dynamic new view. From front to back, even the endpapers extend gorgeous, inventive invitations to readers.
As if emphasizing Afiya's glowing, rounded pink cheeks – her Swahili name means "health" – Cunha generously infuses her palette with rich pink and vibrant red hues. In visually accentuating Afiya's free-roaming, outdoor-oriented, boundless explorations, Cunha affirms the essential necessity of encouraging childhood creativity to be untethered and free. As Barrs rightfully concludes, "This book is a wonderful weaving together of two imaginations." Indeed, indeed!
Shelf Talker: The posthumous publication of Jamaican poet James Berry's "A Story About Afiya" makes its debut in this visually spectacular edition illustrated by Brazilian artist Anna Cunha.
Review: Shelf Awareness Pro, March 11, 2020
Readers: Children
Published: 2020
By British, Caribbean, Children/Picture Books, Fiction, Repost, South American
in
Tags > Adventure, Anna Cunha, BookDragon, James Berry, Nature, Shelf Awareness, Story of Afiya