18 Mar /

The Char Siu Challenge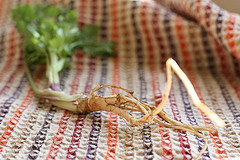 Eleazar Juarez, owner of Rio de Parras Organics, pressed a brown bag full of greens into my hands. I peered inside and beyond the feathered leaves I saw the pale, straggly cilantro roots still attached. Who knew that a simple herb could invoke such a spring in my step!
This was one of the smaller roots that Eleazar gave me
Ever since I discovered the recipe for Chinese barbecued pork (char siu) in the Chong Family cookbook, I'd been at a lost where to find cilantro roots. I didn't want to pull out the fragile seedlings growing on my windowsill and everywhere I went cilantro was sold with the roots already lopped off. Then it hit me. Duh, ask a farmer! And so I did.
If your hunt is not as successful, the stems will do fine. Besides, not all recipes for char siu call for cilantro roots. I must say that the addition does add an earthy and musky nuance which I thoroughly enjoy. Cilantro roots are also used in Thai cooking. Fat roots are crushed to flavor soups just like lemongrass and thinner ones thrown into stir-fries.
Chinese Barbecued Pork (Char Siu)
The words char siu literally mean "fork burnt or roasted," a nod to the traditional preparation method of skewering strips of pork with long forks or hooks and cooking them over a fire or in a hot oven. This has its benefits. It allows the meat to cook evenly from all sides. If you'd like to try this, hang pork strips from metal S-hooks on a high rack in your oven over a foil-lined pan on the lowest rack to catch the drippings. I improvised even further by rolling strips of aluminum foil to act as loops and tied them to the upper rack (see photo below).
Time: 1 hour (15 minutes active) plus marinating
Makes: 4 to 6 servings as part of a multicourse family-style meal
2 1/2 to 3 pounds boneless pork shoulder (measuring about 8- x 6- x 3-inches)
2⁄3 cup sugar
1/2 cup soy sauce
2 green onions, smashed with the flat part of a cleaver or a large knife
2 cilantro stalks (preferably with their roots attached), smashed with the flat part of a cleaver or a chef's knife
blade
1 star anise pod
1 tablespoon Shaoxing rice wine or dry sherry
1/2 teaspoon sesame oil
1/2 teaspoon 5-spice powder
Cut the pork lengthwise into four long strips. Lay each strip flat on the cutting board and cut in half lengthwise. You will end up with 8 strips about 1½ inches wide, 1 ½ inches deep and 7 to 8 inches long. Place in a dish large enough to hold all the pieces in one layer.
In a small bowl, mix the together the sugar, soy sauce, green onions, cilantro, star anise, rice wine, sesame oil, and 5-spice powder. Pour the marinade over the pork. Cover with plastic wrap and marinate in the refrigerator for at least 2 hours, or preferably a day and a half.
Preheat the oven to 400 degrees F.
Remove the pork from the marinade and place on a broiling rack set on top of a foil-lined roasting pan to catch the drippings. Reserve the marinade. Bake for 40 to 45 minutes, flipping halfway, or until the pork starts caramelizing and is just beginning to char at the edges. Baste at least once on each side during the first 30 minutes of cooking.
Transfer the pork to a chopping board and let rest for about 10 minutes before cutting crosswise into ¼-inch-thick slices. Meanwhile, simmer the reserved marinade over medium heat for at least 10 minutes and skim off any scum that rises to the surface.
Serve with freshly steamed rice or noodles and sauce.
An easy way to "skewer" your meat and roast it from all sides
Share or bookmark this post: