24 Aug /

Sweet Corn Ice Cream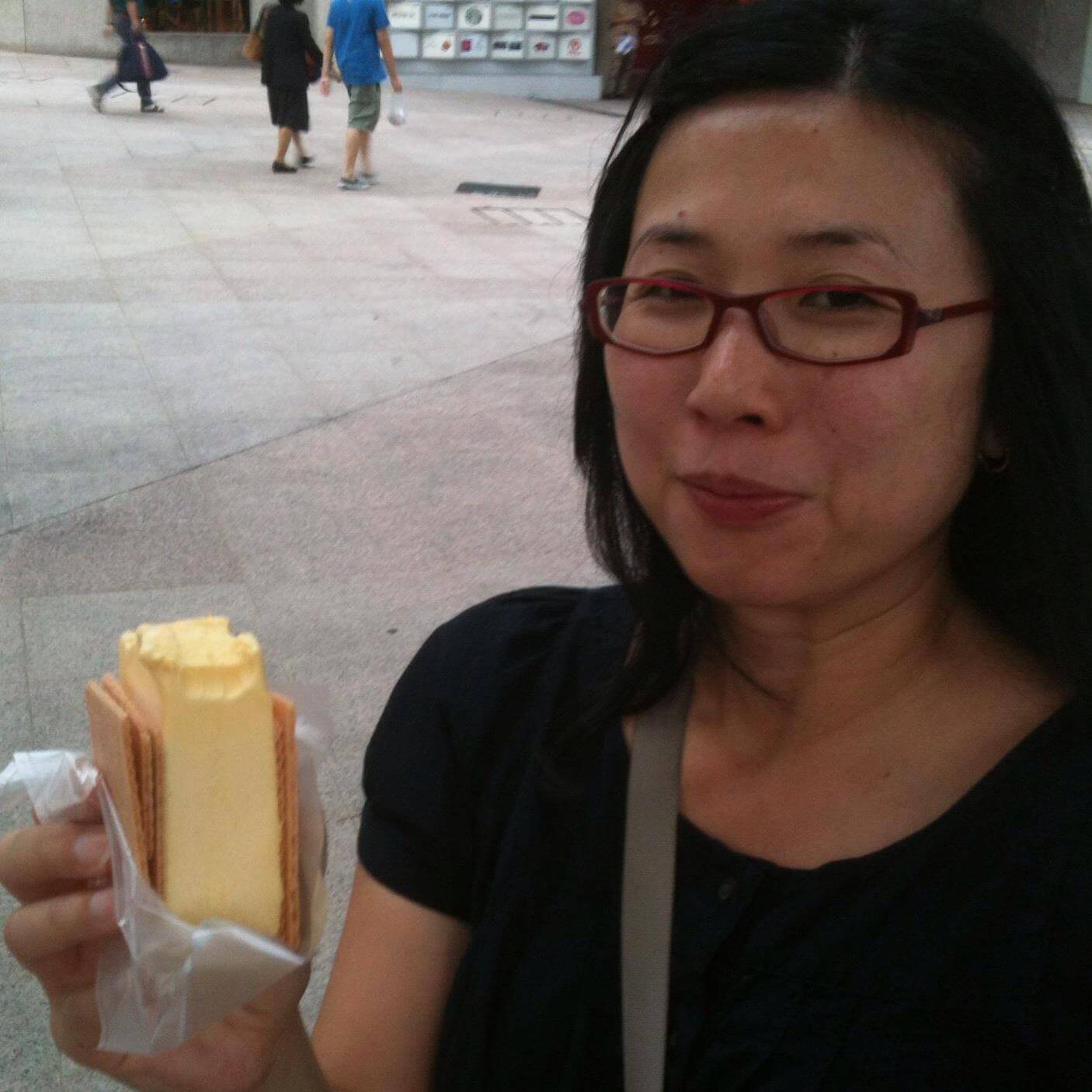 Last week, as I was digging through my CSA box anticipating what goodies lay within, I pulled out one ear of corn after another. 1-2-3-4… I kept counting until I reached… 10 ears of corn! Add that to the 4 ears already sitting in my fridge, and I had a virtual corn-o-copia (ha ha ha)!
Over the last few days, I've been diligently adding corn to my salads and stir-fries, making corn pudding, corn kimchi, corn fritters … Yet, I hardly made a dent in my stash.
Then one afternoon, as I sat at my kitchen table daydreaming and eating my bowl of chocolate-banana ice cream, I started recalling the ice-cream uncle who would ply our street in Singapore.
The ice-cream uncle's mobile stall comprised a bicycle attached to a freezer on wheels. Once he found a good spot to park—say, near a school or on a heavily pedestrianized sidewalk—he'd set up shop. With his sunny yellow umbrella blocking most of the sidewalk, you could hardly miss him.
Ice-cream uncle sold two different types of ice cream. One was manufactured (usually by Walls or Magnolia), came in a cardboard box, and was available in common flavors ranging from chocolate chip to strawberry, and my all-time favorite, neopolitan.
Uncle also sold "homemade" ice cream, although I'm not quite sure whose home it was made at! A metal vat kept all the delightful flavors safe from snotty noses and dirty hands. The "homemade" ice cream included more "local" flavors like taro, durian, red bean, and corn (ding ding ding …).
To serve the boxed ice cream, uncle would wield his cleaver and expertly slice a perfect rectangle of ice cold creamy goodness. Then he'd sandwich the ice-cream between two crispy wafers or tuck it into a folded slice of soft, fluffy bread.
The latter ice cream could be served in a cone or cup. My favorite combo was "homemade" durian and corn ice creams in a cone. Red bean was my least favorite.
Since I'm banned from eating durian in my own house (my husband says the stink stays forever!), I decided to recreate corn ice cream. I was surprised to find many recipes available online. It sounds like many cooks are having a similar predicament. There are recipes with and without eggs. There are recipes using more heavy cream than milk. There are recipes that use an inordinate amount of sugar! But all the recipes prefer a smooth base with no crunchy kernels (what the?!).
In my usual fashion, I started with a familiar recipe, mixed and matched ingredients and added my own spin. You can do this too with just about any recipe! It's not difficult to modify a recipe to your own tastes and whim, creating a dish that's similar but different, and hopefully better!
To end, let me just say: it pays to sit at your kitchen table and daydream while eating ice cream.
~~~
Sweet Corn Ice Cream (Sandwiches)
You may have never considered corn for dessert but corn at its peak is oh-so-sweet! Try a handful of kernels first then decide on how much sugar you'll need for this recipe. I've always been a fan but little did I know that corn ice cream is popular in Mexico as well. South of the border, they like whole kernels tossed into the ice cream, just the way I do.
Time: 30 minutes (plus steeping and churning time)
Makes: 1 quart
Ingredients:
2 cups whole milk
3 ears fresh corn, scraped, reserve cobs and ¼ cup kernels (optional)
1 cup heavy cream
1/2 cup sugar
4 egg yolks
1 teaspoon sea salt
Cookies or wafers to make ice cream sandwiches (optional)
Directions:
Combine the milk, corn kernels and cobs in a 4-quart pot. Heat over medium heat until the mixture starts bubbling. Adjust the heat and simmer for 8 to 10 minutes. Remove from the heat, cover and steep the corn in the milk for 1 hour at room temperature.
Shake the cobs off to release access milk and discard. Using an immersion blender (or pour into a blender), puree the mixture until smooth, 3 to 5 minutes. Don't worry about any solids that remain.
Return corn kernel mixture to the stove and cook over medium heat until simmering.
Mix the heavy cream, sugar, egg yolks, and salt together in a large bowl. Gradually ladle 1 cup of the hot corn mixture into egg mixture, whisking constantly so the egg doesn't curdle.
Reduce heat to low and whisk warmed egg mixture into pot. Cook, whisking, until custard thickens and coats the back of a spoon, 8 to 10 minutes.
Strain the custard through a fine-mesh strainer into a container with a lid, pressing down hard on the solids. Discard solids. Stir the reserved kernels into the ice cream base if using, cover and refrigerate until well chilled, at least 2 hours.
Whisk the chilled base, then pour into the container of an ice cream machine. Churn according to the manufacturer's directions. The ice cream, while a little soft, can be served immediately. Or freeze in a freezer-safe container for 2 to 3 hours.
To make ice cream sandwiches, place a scoop of ice cream between two cookies and squish together.