13 Oct /

Homemade: Sambal Oelek (and a Chili Paste Comparison)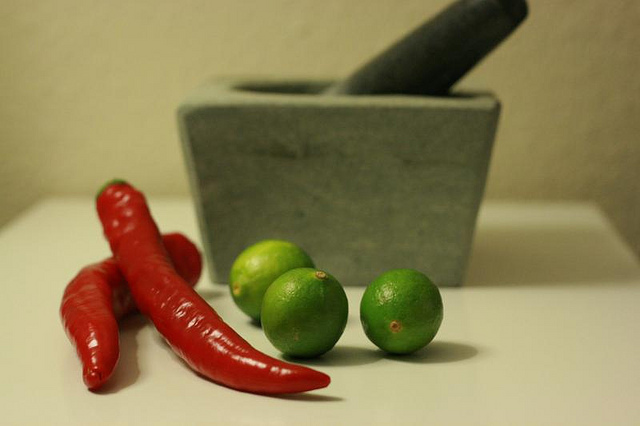 If you've bought Sriracha sauce at the Asian market (and if you haven't, what are you waiting for?), you've probably noticed two other bottled chili sauces parked right by it—sambal oelek and chili garlic sauce. All three are made by the same company, Huy Fong, and sport lids of the same shade of grassy green.
So what's the difference, you might ask? First of all, the ingredients differ slightly. Here are the ingredient lists according to the labels on the bottles:
Sriracha sauce: chilies, sugar, salt, garlic, distilled vinegar
Chili garlic sauce: chilies, salt, garlic, distilled vinegar
Sambal oelek: chilies, salt, distilled vinegar
Try sampling the condiments side by side, you'll taste the finer nuances of each. And while you could use them interchangeably, I reserve each sauce/paste for a different purpose.
Mellow and sweet, Sriracha sauce is often used as a condiment for soups (what would Vietnamese pho lovers do without Sriracha?!), fried noodles, even hamburgers, and pizzas. In fact, its popularity knows no bounds as trendy restaurants invent novel ways to incorporate the vermillion-colored sauce into mainstream dishes. Some concoctions I've come across: Sriracha mixed into mayo for an Asian-style aioli, or in a Bloody Mary.
Chili garlic sauce and sambal oelek are used more for cooking. Chili garlic sauce, with its garlicky flavor, is perfect for stir fries and to make mabo dofu. I also use it in a dipping sauce with soy sauce and vinegar for dumplings. The combination of heat and tang in sambal oelek is well-suited for tuna salad, and as a shortcut ingredient to make beef rendang (or any other spicy Indonesian dish for that matter).
My heart, however, belongs to sambal oelek. Of course, since we both come from the same Indonesian stock. And while I do have a Huy Fong bottle sitting in my fridge, I also enjoy making it fresh the traditional way—hand-ground in a basalt stone mortar or ulek (oelek is the old Dutch spelling) with a pestle (ulekan). It's so simple, I make just enough for one meal.
There are so many other sambals in Indonesian cuisine: sambal terasi, sambal badjak, sambal kecap, etc., and I'm planning on a sambal series over the next few months. Plus, I'll also show you how a little tweaking to the original sambal oelek recipe can give you Hainanese chicken rice chili and steamboat chili!
For now, here's my method for making sambal oelek.
~~~
Sambal Oelek
The basic sambal oelek "recipe" calls for just chilies and salt. If you like it spicy, add some bird or Thai chilies. The Indonesian name for the long chilies used in sambals is cabe keriting or curly chili, but any long chili like Fresno or Serrano (or whatever chilies are waiting to be picked in your garden before the first frost appears) will do. I found some nice, fat unnamed long chilies about 8-inches long at my market. A small bowl of the finished sauce plate-side next to some fried chicken or fresh-cut vegetables will have you dip-dipping away!
2, 8-inch long red chilies (about 2.5 ounces)
Large pinch of salt, and more to taste
Juice from 1 key lime (about 2 teaspoons), or 1-2 teaspoons vinegar
Sugar to taste (optional)
Time: 15 minutes
Makes: enough for 2 people to enjoy at one meal
Remove the stems and slice the chilies lengthwise. Remove as much membrane and seeds as you like (these are what give chilies heat, and as you can tell from the photos I'm a wuss).
Chop the chilies up and place in the mortar with a generous pinch of salt. Grind the chilies with the pestle using a twisting motion until pulpy.
Add the lime juice and more salt and sugar to taste. Serve immediately.
Note: If you make the sambal in bulk (I strongly advise a food processor!), it will keep in a sterilized jar in the fridge for a few weeks.
~~~
What's your favorite way to use sambal oelek?
~~~
For those dying for a Sriracha sauce recipe, here are 2 great sites to visit:
Viet World Kitchen: Andrea has recipes for fresh and fermented versions
Leite's Culinaria: A recipe from "The Sriracha Cookbook" (Ten Speed Press, 2011) by Randy Clemen
Related articles