18 Jan /

Quickie Congee in the Instant Pot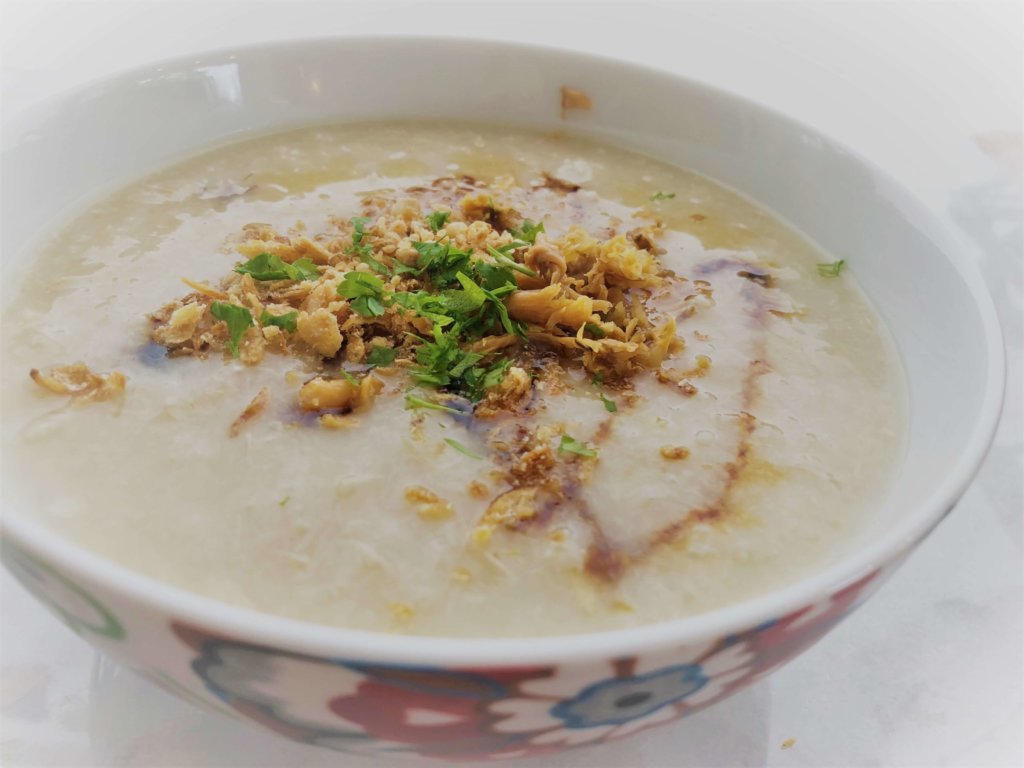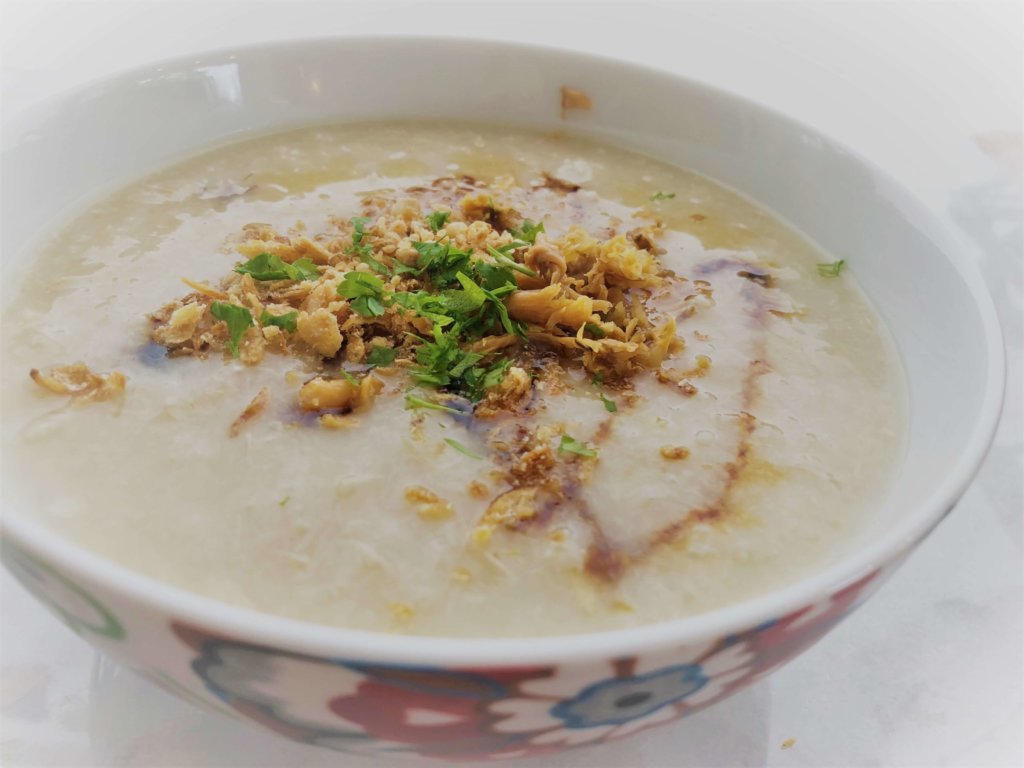 Nothing beats a warm, comforting bowl of congee (or arroz caldo, or bubur, or whatchamacallit) made by grandma, especially when you're sick. Not many of us still have that luxury. In fact, we're probably the ones doing the cooking. Making congee is definitely a labor of love, all that standing and stirring, not to mention it can take hours! But when you're in a hurry or don't have the energy to hang out at the stove, the Instant Pot–or any other multicooker–comes to the rescue.
Makes 8 to 10 servings
Ingredients:
1-1/2 cups uncooked jasmine rice
3 skinless, bone-in chicken thighs
2 large green onions, tied into a knot
One fat 2-inch piece fresh ginger, sliced or cut into thin matchsticks
2 garlic cloves, smashed
8 cups water, plus more if needed
3 tablespoons soy sauce
2 teaspoons salt
Freshly ground pepper, to taste
4 cups fresh baby spinach
Garnish:
Chopped green onions
Chopped cilantro
Sesame oil
Soy sauce
Tianjin preserved vegetable (aka dong cai or winter vegetable)
Pickled mustard greens
Fried shallots
Directions:
Rinse the rice in the pot with cold running water until the water runs clear.
Add the chicken thighs, green onion, ginger, garlic, and 8 cups water to the pot with the rice. Lock on the lid. Select the PRESSURE COOK function and adjust to HIGH pressure for 20 minutes. Make sure the steam valve is in the "Sealing" position
When the cooking time/program is done, let the pressure come down naturally and then quick-release the remaining pressure. Allow cooker to depressurize naturally. If in a hurry, quick-release after 20 minutes but not any earlier, or the porridge will spatter everywhere!
Hit CANCEL. Open the lid. Remove the chicken bones and discard. The meat should have fallen right off. (If concerned about cartilege and bones, see below). Discard greens onions and ginger.
Stir the congee with a wooden spoon, adding more water if you'd like a thinner porridge. Season with soy sauce, salt and pepper.
Ladle into bowls and stir through a handful of spinach. Serve with garnishes on the table.
By Breakfast, Chinese, Cooking method, Do ahead, Filipino, Grains, Indonesian, Instant Pot, Kid-friendly, Main Course, Malaysian, One-wok meal, Poultry, Singaporean, Soups, Taiwanese, Vietnamese
in
Tags > arroz caldo, bubur, Comfort food, instant pot, jook, porridge, Rice porridge