17 Dec /

Small, medium, large, jumbo, colossal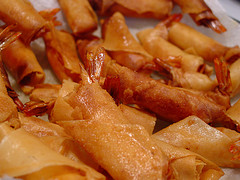 I'm talking about juicy, succulent, shrimp! (Shame on you if you were thinking otherwise.)
Before I give you my fried shrimp rolls recipe (adapted from a version my friend Carol's mom fed me), I thought a shrimp tutorial might be useful.
Now, I've always thought shrimp is shrimp. You head to the supermarket or your favorite seafood monger and just pick out what you want. But as it turns out, shrimp-buying requires some sleuthing.
Shrimp size
Shrimp is sold by size and the sizes are expressed in counts per pound. For example, 16/20 means 16 to 20 shrimp per pound. The larger sizes are expressed as U/10 or U/12 which means "under" 10 or 12. Small sizes like coldwater cooked and peeled shrimp will have counts ranging from 150/250 to 250/300. Just remember, the smaller the count, the larger the size of the shrimp.
Very often you see terms like jumbo shrimp, and many recipes call for small, medium, or large shrimp. However, there isn't an official guideline on what these names signify so it's best to pay attention to the shrimp count per pound.
To make things even more complicated, peeled and/or cooked shrimp have different counts. You will, of course, get more peeled shrimp for the pound. But let's not go there.
The table below refers to unpeeled shrimp without their heads.
Shrimp Sizing Guide (courtesy of Oceangarden.com)
Shrimp Size
Count
Average number of Shrimp
Shrimp
(per pound)
(per pound)
(per 4 oz serving)
(per 5 lb box)
Extra Colossal
U/10 
5 
3 
40-49 
Colossal
U/12 
9 
3 
50-59 
Colossal
U/15 
14 
4 
60-74 
Extra Jumbo
16/20 
18 
5 
75-97 
Jumbo
21/25 
23 
6 
98-120 
Extra Large
26/30 
28 
7 
121-145 
Large
31/35 
33 
8 
146-173 
Medium Large
36/40 
38 
10 
174-190 
Medium
41/50 
45 
12 
191-240 
Small
51/60 
55 
14 
241-290 
Extra Small
61/70 
65 
16 
291-340
Familiarizing yourself with the range of sizes and counts is useful for planning purposes, not just for the numbers but also because each size is suited for different cooking methods. Jumbo shrimp holds up well to the heat of the grill, while small shrimp adds delicious flavor and make for tiny surprises in a Shrimp Louie or bisque.
Fresh or Frozen
Not everyone has the luxury of buying really fresh (off the boat) shrimp. If fresh is not available to you, buy frozen as most "fresh" shrimp in the grocery stores is thawed-out frozen shrimp. Thawed shrimp has a shelf-life of only a couple of days versus frozen shrimp which retains their quality for several weeks. However, avoid frozen shrimp that has already been peeled and deveined which can cause a loss of flavor and texture.
Defrost shrimp in the refrigerator or in cold water. Shrimp cooks very quickly so defrosting in the sink or microwave is a big no-no.
Sustainable seafood
While we're on the topic, I'm a big believer in consuming sustainable foods (whenever location, pockets and circumstances allow it), and this includes seafood. The Monterey Bay Aquarium has a guide to purchasing sustainable seafood, including shrimp, on their Web site. Please visit and see how you can help our oceans and sea life thrive.
Fried Shrimp Rolls
Fried shrimp rolls are great appetizers for parties and you can adjust the numbers up or down depending on how many people you're feeding. Be warned, these bite-sized nibbles go fast! If you buy unpeeled shrimp, don't be afraid of deveining them. Check out this video or step-by-step photos.
Time: 30 minutes (depending on how fast you can wrap the rolls)
Makes: 20-25
1/2-pound raw medium shrimp (41/50 count), peeled, deveined, tail-on
Salt and pepper to taste
4×4-inch square spring roll wrappers (although as I explained here, won ton skins worked great too)
1 cup canola oil for frying (or about 1-inch of oil in skillet)
Sprinkle shrimp with salt and pepper on both sides.
Peel spring roll wrappers one at a time. Lay wrapper on a clean work surface and place shrimp horizontally on the bottom right edge of the wrapper with tail protruding from the edge.
Taking the left edge of the wrapper, fold over on the vertical so that shrimp is half covered.
Dip finger in a bowl of water and moisten all edges. Roll the shrimp tightly in the wrapper. Moisten top edge again to ensure it seals.
Lay each roll seam side down on a lightly floured plate or sheet pan.
In a large 10-inch skillet, heat oil until you see a wavy pattern, about 350 F. (Or test fry a roll–dip one in skillet and if oil sizzles, it's ready.) Fry shrimp rolls in 2 to 3 batches, do not crowd the pan. Turn often–gently!–until crisp and an even golden brown on all sides, about 2 to 3 minutes.
Drain on paper towels.  
Serve with Thai sweet chili sauce or Japanese mayonnaise.