13 Nov /

Instant Pot Thai Basil Chicken Rice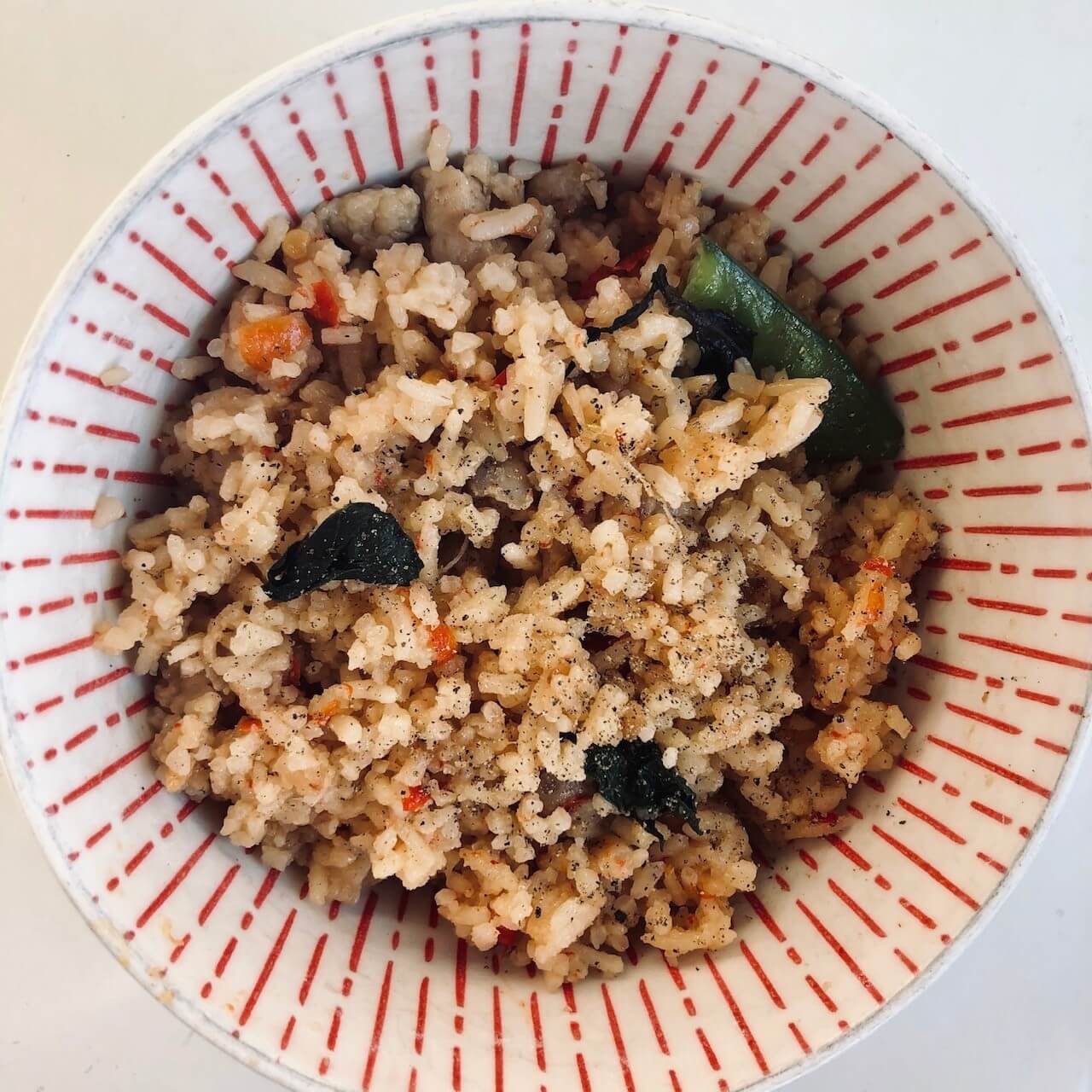 Excerpted from Instant Pot Asian Pressure Cooker Meals, an official Instant Pot Cookbook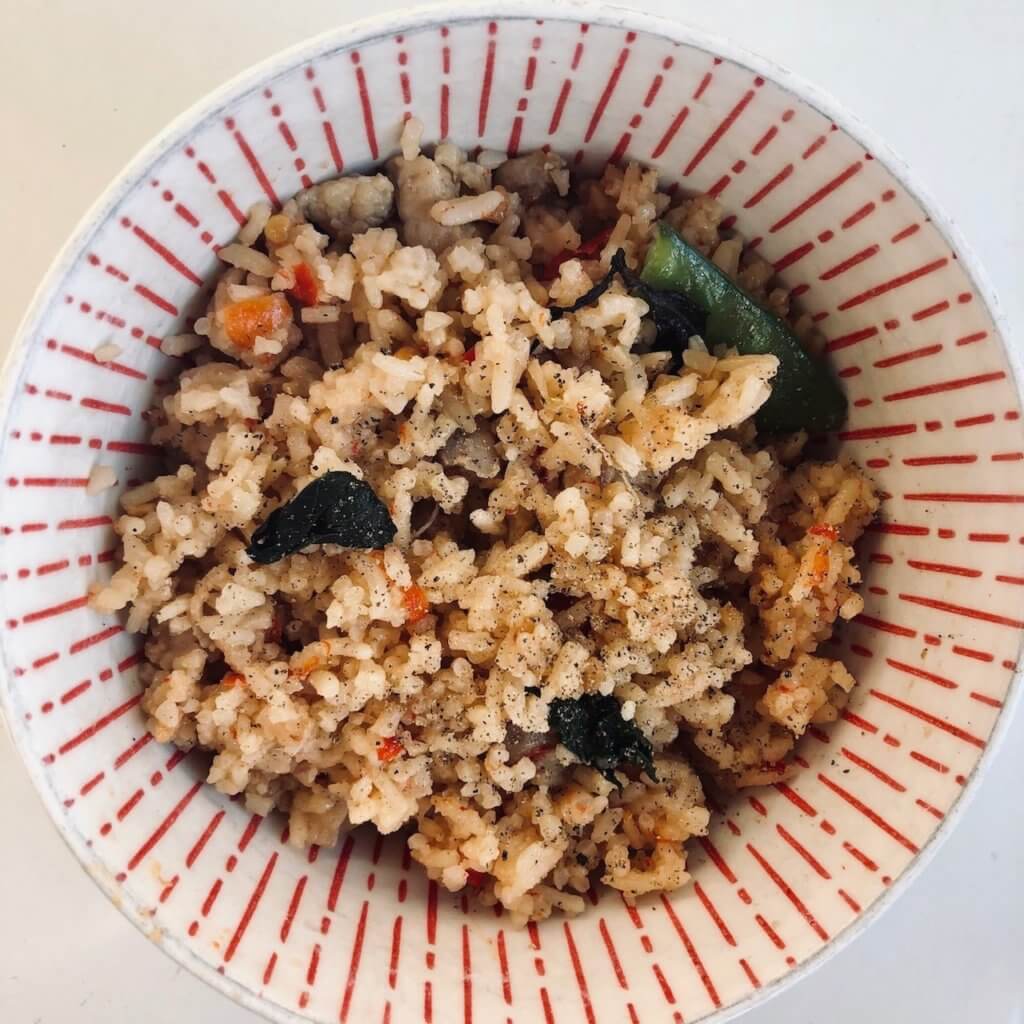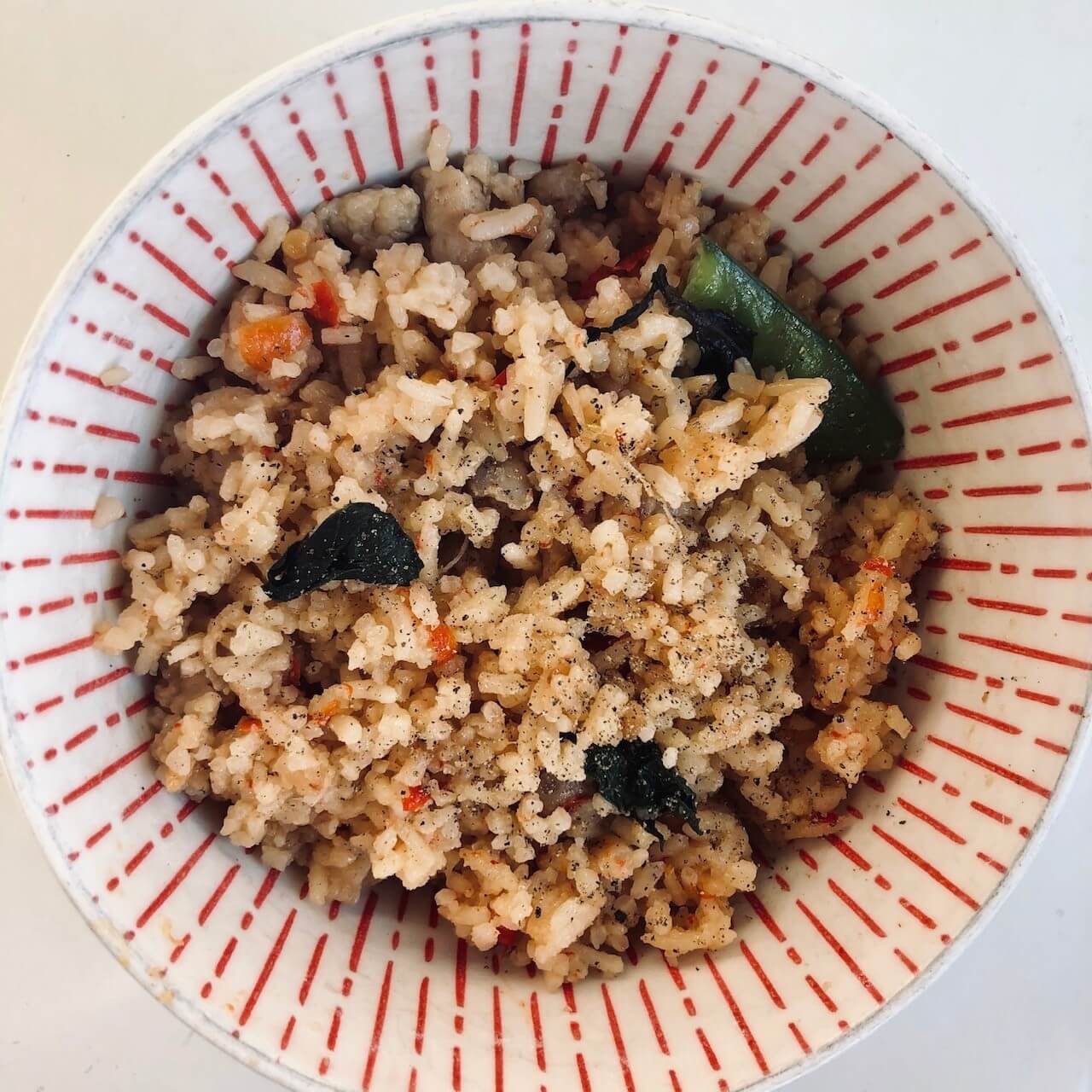 This dish is a riff on the very popular Thai basil pork dish Pad Grapow Moo. Use chicken breast if you'd like but I suggest cooking the breast(s) whole and then cutting it up at the end to prevent it from getting too dry. Ground pork or turkey are also tasty.
Prep time: 10 mins
Cook time: 20 mins (including pressurizing and depressurizing time)
Total: 30 minutes
Makes: 4 servings
Ingredients:
2 tablespoons soy sauce
2 tablespoons fish sauce
¼ cup sweet Thai chili sauce
1 teaspoon Sriracha or sambal oelek (or to taste)
1 tablespoon vegetable oil
2 tablespoons minced garlic (6 medium cloves)
½ cup sliced shallots
1 pound boneless, skinless chicken thighs, cut into ¾- to 1-inch cubes (about 2 to 3 thighs)
1-1/2 cups uncooked jasmine rice, rinsed until the water runs clear and drained
1-1/2 cups chicken stock (pg. XX)
1 cup frozen green peas (or other quick cooking vegetable like spinach or snow peas)
1-1/2 cups Thai basil leaves, torn if they are large
Freshly ground black or white pepper
Directions:
Mix together the soy sauce, fish sauce, Thai chili sauce, and Sriracha in a small bowl.
Select the SAUTE function and adjust to NORMAL/MEDIUM. Add the vegetable oil. When HOT, add the garlic and shallot and stir and cook until fragrant, about 30 seconds.
Add the chicken and brown until barely any pink is left, 2 to 3 minutes. Pour in the sauce and scrape, scrape, scrape the bottom of the pot to remove any burnt bits. The goal here is to avoid getting a BURN warning from your pot. Stir in the rice and coat evenly with sauce. Pour in the stock and stir to mix.
Lock on the lid. Select the PRESSURE COOK/MANUAL function and adjust to HIGH PRESSURE for 4 MINUTES. Make sure the steam valve is in the "Sealing" position. The IP will take about 8 to 12 minutes to come to pressure before starting to cook.
When the timer beeps, allow the pressure to release naturally (NPR) for 5 minutes. Then, release the pressure manually (QR) by pressing the "quick release" button or moving the pressure release knob from "Sealing" to "Venting." When the valve drops, press CANCEL and unlock and lift off the lid.
Select the SAUTE function and adjust to NORMAL/MEDIUM. Add the green peas and stir and cook for about 1 minute. Add the Thai basil and stir and cook until the peas turn bright green, the basil wilts, and all the liquid has evaporated.
Taste and adjust seasonings if desired. Divide onto 4 plates or bowls and grind pepper over and serve.
Notes:
Pair a teaspoon of Sriracha or sambal oelek sauce with a tablespoon of honey (then adjust to your liking) to get a quick and dirty sweet chili sauce alternative. Opt for a hot sauce with a minimal amount of vinegar here. Typically you want a thicker, tomato-based hot sauce (like Sriracha), not something thin that's meant for dashing on meals.
Plum sauce will provide plenty of sweetness to pair with the added fire. You can approach it similarly to the honey solution. A tablespoon of plum sauce to a teaspoon of hot sauce (or a half teaspoon of crushed red pepper) to start, and adjust from there. The same hot sauce rules apply – opt for Sriracha or another hot sauce that's not predominantly vinegar-based.
Recipe tester's tip: Squeeze some lime over the top.