28 Nov /

In memory of a chef-dad, plus his from-scratch black bean sauce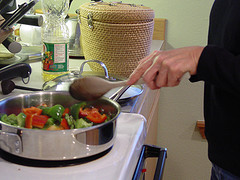 Cathy Chun stir-frying vegetables to use with her dad's black bean sauce recipe
Not everyone grew up on the tasty goodness of mom's or grandma's cooking.
Cathy Chun is a valid case in point. Her late father, David Chun, reined in the kitchen. And everyone, including Cathy's mom, was happy with that arrangement.
Ironic as it was, Cathy's dad was the first son in his family. The antithesis to the stereotypical, pampered, first-born son (FBS) in a Chinese family (more often than not, a FBS is showered with attention, isn't expected to lift a finger, and lo and behold if he steps into the kitchen!), David spent a lot of time in the kitchen as a boy and learned to cook.
Cathy and her siblings were the happy beneficiaries of their dad's talents in the kitchen. Food was the medium he used to show his love, she explained. "He was not expressive emotionally but he made sure we ate good food."
On a surprisingly sunny day in autumnal Seattle, I was cooking at Cathy's house with her sister Carol who was visiting from Hawaii. Cathy wanted to show me how to make her dad's black bean sauce–from scratch!–and a couple of other dishes from their family cookbooks.
Yes, they had not one, but three, family cookbooks! In 1988, Cathy's family published a family cookbook entitled Potluck at Popo's followed by the sequels Just One More in 1989 and Once Again at Popo's in 2002. When Cathy was growing up in Hawaii, her grandmother, whom she called Popo, hosted numerous potluck parties to celebrate birthdays and other special occasions. Relatives stretching across five generations would gather at Popo's house, each family bringing a favorite dish. Eventually, they decided to compile these dishes into several cookbook volumes for posterity.
As we chopped asparagus and peeled shrimp, Cathy and Carol bantered and reminisced about their dad and their childhood.
Turns out that not only was their dad a superb cook, he was a meticulous one too.
Carol remembered how, wielding a pair of tweezers, he would pick the tiny hairs off pork destined for the pot, and pull the pin feathers off the chickens he was about to cook. And he could always be found on Thanksgiving morning cutting bread into cubes to roast in the oven for croutons and stuffing. Boxed versions never passed muster.
The conversation meandered organically: we discussed all the different things you could do with spam and Vienna sausages–staples in Hawaii, of course–and whether rice is better cooked on the stove or in the rice cooker. Cathy explained it simply. "I grew up on rice made in a pot." And that's how she's always liked it.
In the end, it all boils down to what you're used to. Yet another quirk–Cathy's dad never used a wok and "his cast iron skillet was always on the stove," she recalled. This might explain why her favorite kitchen accoutrement is the skillet.
Through osmosis, Cathy incorporated many of her dad's tips and tricks into her culinary repertoire. And the ever-sentimental daughter still keeps his sharpening stone on her kitchen counter as a reminder of the loving father who nourished her both physically and emotionally.
Here are some tips and tricks Cathy's dad used in the kitchen. Perhaps you'd find them useful too!
Cathy's dad taught her never to add oil to a cold pan. So when's the right time to add it? I watched as Cathy held her hand over the pan on the heated stove to "feel" if it was hot enough. She couldn't really explain it but she said with experience, you'll just know. "There's a connection between knowing the heat level and what it does."
He always hand chopped ingredients. He believed a food processor mashed up food and ruined its texture.
When making kao yuk (another term for soy sauce pork), Cathy's dad would fry the pork belly first. Then he'd place it in the sink, pierce the fat and run cold water over it to allow the fat to rise to the top. This removed some of the "fattiness" of the pork.
The secret to great tasting chow fun (fried rice noodles) is to season the rice noodles with oyster sauce and let it sit first before throwing in the rest of ingredients.
Cathy's dad always cooked with bacon grease. Does it make food tastier? You be the judge!
Shrimp with Black Bean Sauce
Bottled black bean sauce is ubiquitous in the aisles of any Asian grocery store. But as the saying goes, from-scratch really does taste better and you can control the amount of sodium that goes into the sauce. Keep in mind that fermented black beans are coated with salt so feel free to adjust the amount of sodium-containing ingredients (i.e. soy sauce, store-bought stock, etc.). Try the basic sauce with chicken or pork too, and mix and match the vegetables.
Time: 20 minutes
Serves: 4 to 6
Combine the following in a small bowl for the basic black bean sauce mixture:
2 tablespoons fermented black beans, rinsed and mashed
2 cloves of garlic, minced
1 tablespoon soy sauce
1 teaspoon oyster sauce
1 teaspoon sugar
2 teaspoons cornstarch
2/3 cup chicken stock
2 green and/or red bell peppers, seeded and cut into 1-inch squares
12-14 stalks asparagus, cut into 1-inch lengths (about half a bundle)
1-1/2 pounds shrimp, shelled and deveined
2 tablespoons canola oil (or bacon grease if you dare!), divided
In a work or large skillet, heat 1 tablespoon oil until very hot (test with a few sprinkles of water, if it sizzles, it's ready). Stir-fry veggies over medium-high heat for about 2 minutes and remove from pan.
In the same skillet, add remaining oil and heat until very hot. Add shrimp and cook until they just turn pink, about 1 minute. Add black bean sauce and stir to coat shrimp. Add veggies and mix well. Add 2 tablespoons water and stir-fry with a couple more flourishes.
Take off the stove and serve with steamed rice.