18 Jul /

Cook-Along Recipes 7/22/2020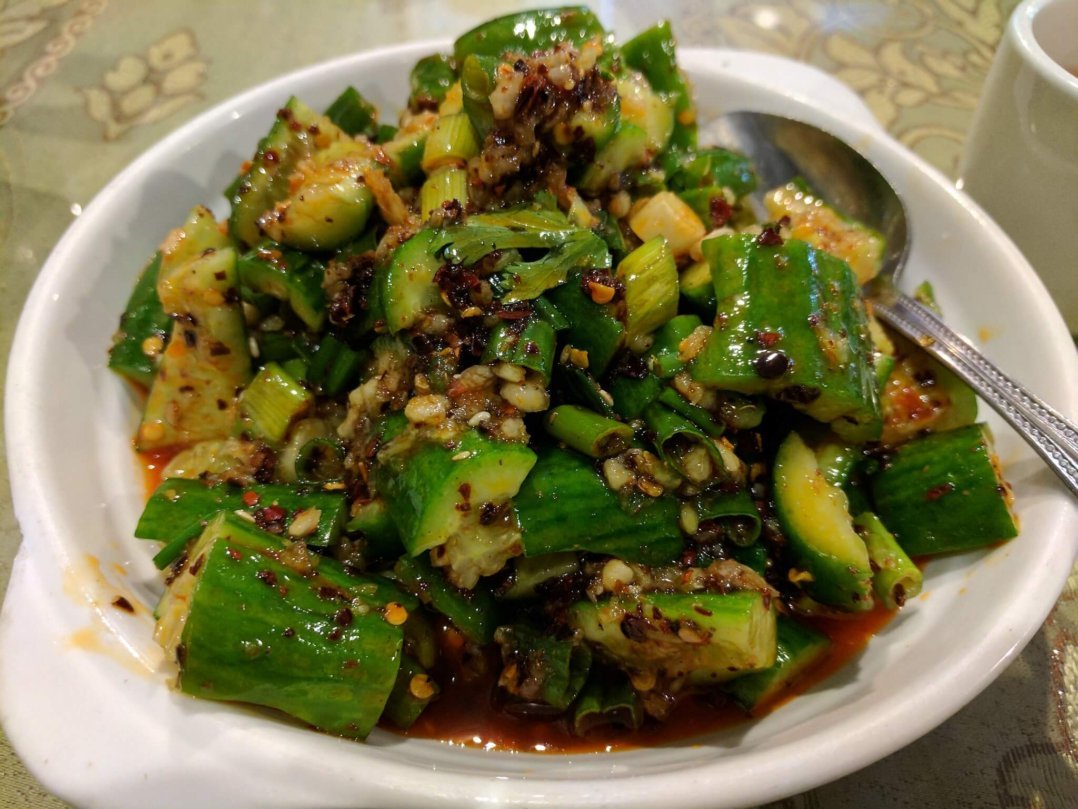 SPICY SMACKED CUCUMBERS (SUAN LA PAI HUANG GUA)
China
Makes: 2 cups
Prep time: 10 minutes plus 30 minutes salting time
Smashing cucumbers is a classic Chinese technique that allows the cucumbers to release moisture as well as absorb the dressing readily.
1 pound thin-skinned cucumber like English or Persian (1 large or 6 to 8 mini)
1 tablespoon plus ¼ teaspoon granulated sugar, divided
1 teaspoon plus ¼ teaspoon coarse sea salt, divided
2 tablespoons rice vinegar
2 teaspoons sesame oil
2 teaspoons chili bean sauce or chili oil
2 large garlic cloves, minced
Toasted sesame seeds for garnish
Cut each cucumber crosswise into half then into four equal sections. Place a piece of cucumber cut-side down on a cutting board. Lay a large knife flat on the cucumber and smash down lightly with your other hand. The skin will split and the seeds will separate from the flesh. Repeat until all the cucumber pieces are smashed. Cut into bite-size pieces.
Toss the cucumber with ¼ teaspoon salt and ¼ teaspoon sugar in a large bowl. Place a weight on top of the cucumber (a smaller bowl or bag filled with ice would work) and set aside for 30 minutes at room temperature. Or refrigerate for up to 4 hours.
Meanwhile, stir together the sugar, salt, and vinegar in a small bowl until the salt and sugar dissolve. Stir in the sesame oil, chili bean sauce, and garlic.
When ready to serve, drain the cucumbers and transfer to a serving bowl. Add the dressing and garlic, and toss until cucumbers are well coated. Sprinkle with sesame seeds and serve immediately.
Switch It Up: You can use other cucumber varieties too. Just peel the skin if thick. The smashing technique removes the seeds so don't worry about removing them.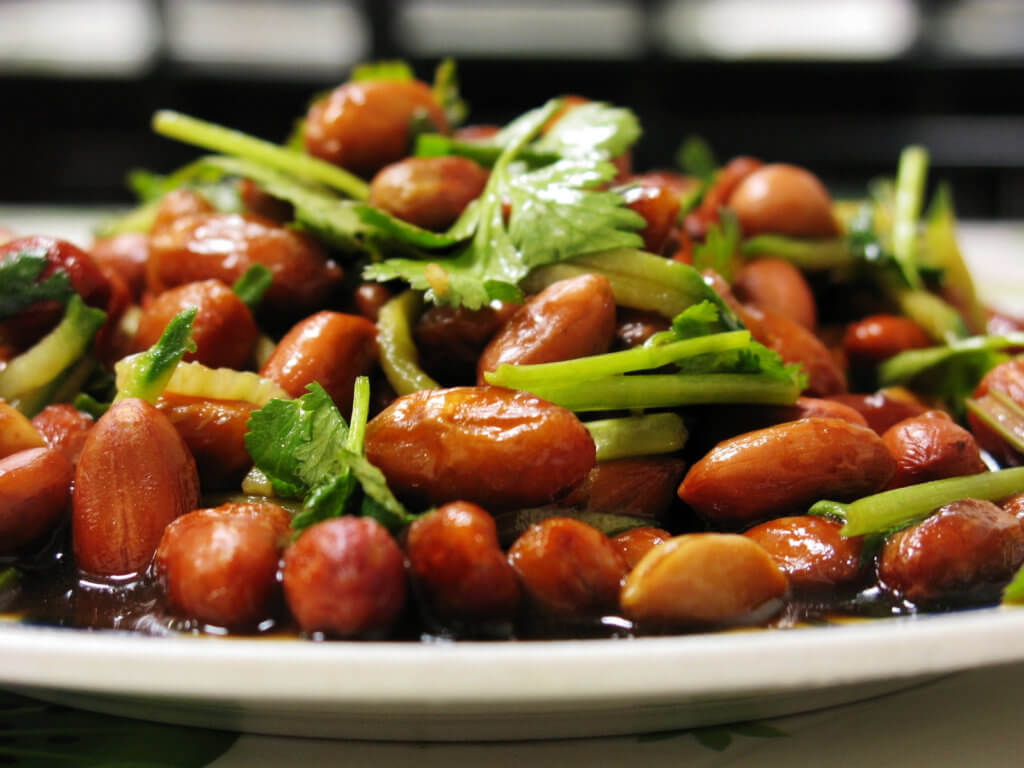 PICKLED PEANUTS (LAO CU HUASHENG)
China
Makes: 1-1/2 cups
Prep time: 10 minutes
Pickled peanuts? Yes, pickled peanuts! It's a popular snack and appetizer in China and is a very simple dish using only three ingredients: roasted peanuts, onion and vinegar. But make sure you get good quality ingredients. The Chinese name lao cu huasheng means old vinegar peanuts. I believe that the vinegar used is traditionally an aged black vinegar like Chinkiang black vinegar. However, I've adapted the recipe to use balsamic vinegar which is easier to find. You can also add cilantro, celery or chilies to the mix. Refreshing and crunchy, pickled peanuts are a snack you'll be eating all day long!
1 cup unsalted, roasted peanuts
½ cup finely chopped red onion (1 medium)
3 tablespoons balsamic vinegar, preferably nicely aged
3 tablespoons soy sauce
1 tablespoon honey
2 teaspoons sesame oil
Pinch salt
Stir together the vinegar, soy sauce, honey, sesame oil, and salt in a medium bowl. Add the peanuts and onion and toss to coat evenly. Taste and adjust seasonings if desired. The peanuts are ready to eat but if you set it aside for a few hours to allow the flavors to meld together, it will taste much better.
Ingredient Tip: If you can find them, buy peanuts with their red skins still on (like Spanish peanuts)—they will make this dish more authentic. However, they are usually sold raw. To roast, preheat your oven to 350 °F and spread the peanuts on a large baking sheet. Bake for 8 minutes, then turn off the heat and leave the peanuts in the oven until they cool down.
STIR-FRY
Oil: Canola, peanut, sunflower, safflower, sesame oil for finishing
Aromatics: Garlic, ginger, onions, green onions
Sauce: Soy sauce, oyster sauce, fish sauce, hoisin sauce, chili paste
Vegetables: Carrots, broccoli, broccolini, cabbage, bell peppers, zucchini, tomatoes, green beans, snow peas, mushrooms