01 Feb /

Chinese New Year Recipe: Steamed Fragrant Fish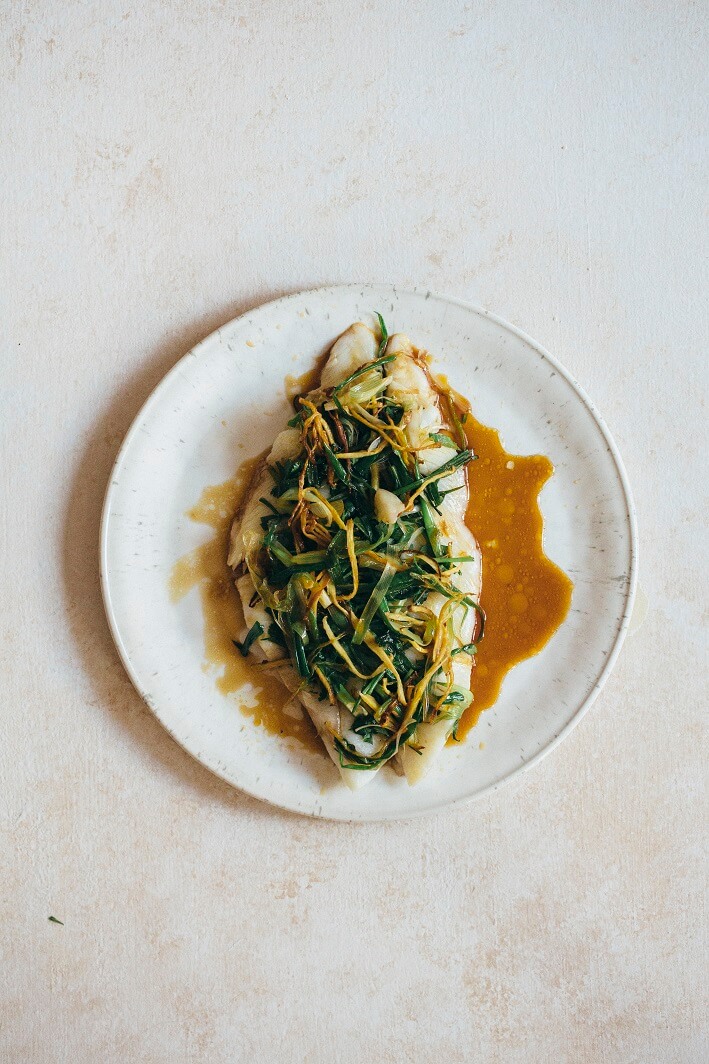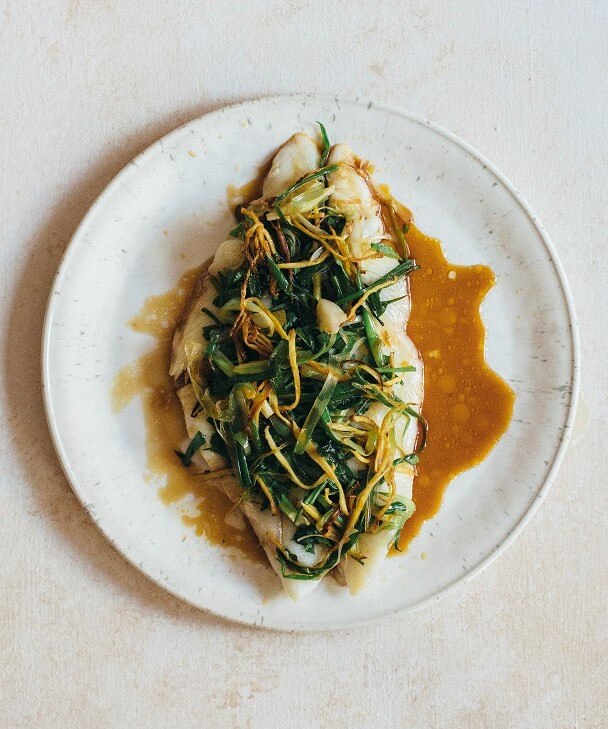 During Chinese/Lunar New Year, fish—usually steamed, sometimes grilled or fried–is served during the reunion dinner on new year's eve. Fish is a symbol of prosperity and surplus and its importance is based on based on a pun: "年年有魚, 年年有餘" (niannian you yu, niannian you yu), which means "every year there's fish, every year there's surplus." The words for "fish" and surplus" sound the same (yu), so tradition has it that you shouldn't finish the fish dish on new year's eve in the hopes that you will have surplus in other areas of life as well in the following year.
Since my husband doesn't like his food staring back at him at the table, I cook fish fillets instead of the traditional whole fish. While I love my mom's sweet and sour fried fish, I tend to defer to this easier, and healthier steamed fish. And ever since I discovered how soft and silky fish turns out in the Instant Pot®, I've been hooked (no pun intended)! Please buy the freshest fish you can find, avoiding frozen fish if you can help it. Defrosted fish comes out too mushy when steamed.
[Recipe from
Instant Pot Asian Pressure Cooker Meals, Tuttle Publishing, 2020
]
PREP TIME: 10 minutes / TOTAL TIME: 22 minutes / MAKES: 4 servings
Ingredients:
2 tablespoons soy sauce
¼ teaspoon sesame oil
¼ teaspoon granulated sugar
3 tablespoons water
3 green onions, cut into thin, 3-inch(7.5-cm) strips, green and white parts separated (1 cup)
2-inch (5-cm) knob fresh ginger, peeled and cut into matchsticks (see Notes)
½ cup (25 g) cilantro/coriander leaves, roughly chopped
1 pound (450 g) fresh cod filets, or other firm white fish like tilapia or flounder, ¾ to 1 inch thick (2 to 2.5 cm)
2 tablespoons vegetable oil
SPECIAL EQUIPMENT
Steamer rack
7- to 8-inch (17.5- to 20-cm) heatproof
container or rimmed plate (I use a 7-inch metal cake tin)
Parchment paper
Directions:
Stir together the soy sauce, sesame oil, sugar and water in a small bowl.
Pour 1 cup water into the pot and nestle a steamer rack inside.
Line a heatproof container with parchment paper and arrange the fish in one layer. Cut the fish to fit if you have to. Scatter a few ginger shards on top. Place the container on the steamer rack.
Lock the lid. Select PRESSURE COOK/MANUAL and set to LOW for 5 minutes. Make sure the steam release valve is sealed. Once pressurized (5 to 7 minutes), the cook cycle will start.
When the timer beeps, manually release the pressure. When the float valve drops, press CANCEL and open the lid. Check the fish for doneness with a fork. If it flakes easily, it's done. If it's still opaque, cover the pot and cook the fish in the residual heat for another 1 to 2 minutes. Check every 30 seconds so you don't overcook the fish. Press CANCEL when done.
Wearing heatproof mitts, remove the fish and drain off the liquid. Grip the edges of the parchment paper and gently slide the fish onto a serving plate. Scatter the cilantro/coriander leaves and 1/3 of the green onions (only the green parts) over the steamed fish.
Heat the oil in a small saucepan over medium heat on the stove. Cook the remaining ginger until golden, about 1 minute. Add the rest of the green onions and the soy mixture. Stir and cook until the green onions wilt. Remove from the heat and pour over the fish. Serve immediately with steamed rice and a vegetable side dish.
NOTES: Fresh ginger has stubborn fibers that run vertically along the entire rhizome and make it tough to chew. To get spicy, tender bites instead, slice the peeled ginger knob into thin slices lengthwise. The slices will be shaped like ovals or oblongs. Stack a few slices at a time and cut them lengthwise into fine, thin strips.
For stovetop steaming, follow directions but instead of steps 4 and 5 above, put at least 1 inch of water in the bottom of a steamer, cover and bring to a boil. Lay the fish on the steamer's rack, making sure the rack is elevated above the water, and cover again. Steam 4 to 8 minutes, or until the fish is done.