05 Feb /

Chinese New Year Recipe: Lo Han Jai or Buddha's Delight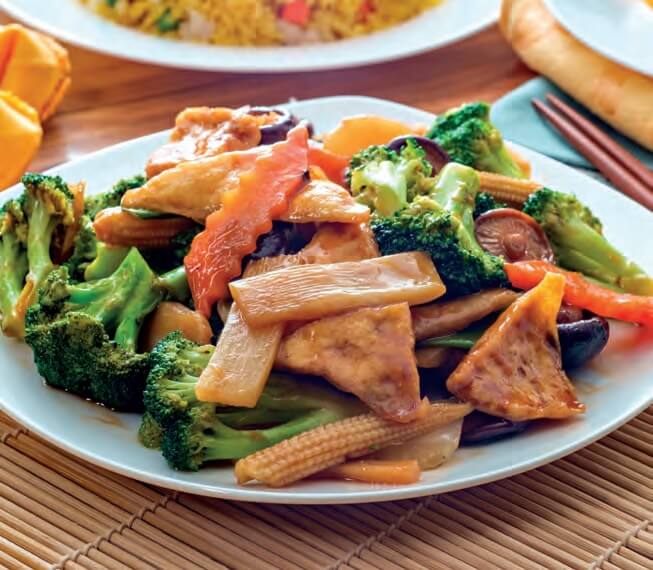 Commonly known as Buddha's Delight, this vegetarian dish is usually eaten on the first day of the Chinese New Year. I've turned it into an everyday dish using some of my favorite vegetables with miso paste added for a truly delicious sauce!
For new year, the following are commonly included ingredients. Most of them are considered "lucky" because of how they look (they may be red or gold in color) or their Chinese names are homonyms for wealth, riches, good fortune, etc., etc. Feel free to mix and match, or just use whatever you can find.
Black moss/Fat choy (发菜; fà cài)
Bamboo shoots (竹笋, zhú sǔn)
Bean curd sheets/sticks(腐竹; fǔ zhú)
Black mushrooms (冬菇; dōnggū)
Mung bean threads ( 粉丝 ; fěn sī)
Day lily buds (金针; jīnzhēn)
Ginkgo nuts (白果; bái guǒ)
Lotus seeds (莲子; liánzǐ)
Chinese/Napa cabbage (大白菜; dà bái cài)
Peanuts (花生; huā shēng)
Fried tofu (炸豆腐; zhá dòu fǔ)
Water chestnuts (荸荠; bí qí)
Wheat gluten (面筋; miàn jīn)
Fried tofu puffs (油豆腐; yóu dòu fu)
Wood/cloud ear fungus (木耳; mù ěr)
Red dates or jujubes (红枣; hóng zǎo)
Lotus root (莲藕 ; lián ǒu)
Chinese chives(韭菜; jiǔ cài)
Snow peas(荷兰豆; hé lán dòu)
Carrots (胡萝卜; hú luó bo)
PREP TIME: 15 minutes TOTAL TIME: 30 minutes MAKES: 4 to 6 servings
1 tablespoon vegetable oil
3 tablespoons minced garlic (3 medium cloves)
3 green onions, white parts finely chopped, green parts cut into 2-inch (5-cm) pieces
2 tablespoons white miso
1 large carrot, peeled and cut into 1-inch-thick (2.5-cm) pieces
4 ounces (120 g) fresh or rehydrated black mushrooms, halved (save the mushroom soaking water if using dried)
8 ounces (225 g) Chinese cabbage, cored and cut into 2-inch (5-cm) squares
8 ounces (225 g) firm tofu, cut into 1-inch (2.5-cm) squares or triangles
2 dried beancurd sheets/sticks, broken into 2-inch pieces, soaked for 15 minutes in warm water and drained (2 ounces/60 g)
2 tablespoons soy sauce
1 teaspoon sugar
½ teaspoon fine sea salt
1 small bundle (1 ounce/30 g) mung bean threads cut into shorter pieces
1 cup mushroom soaking water or water
1 teaspoon sesame oil
Directions:
Select SAUTÉ and set to MEDIUM/NORMAL. Add the vegetable oil. When the pot is hot, add the garlic and the white portions of the green onions. Stir and cook until fragrant, 30 seconds. Add the miso paste and stir and cook for 30 seconds. Add the carrot, cabbage and mushrooms, stirring between each addition. Stir and cook for 1 minute. Press CANCEL.
Add the soy sauce, sugar and mushroom water. Stir to mix, scraping the bottom of the pot to remove any cooked-on bits and avoid the BURN warning.
Add the beancurd sheets and mung bean threads and mix everything together. Make sure the noodles are covered. Lock the lid. Select PRESSURE COOK/MANUAL and set the pressure to HIGH for 2 minutes. Make sure the steam release valve is sealed. Once pressurized (8 to 10 minutes), the cook cycle will start. When the timer beeps, manually release the pressure. When the float valve drops, press CANCEL and open the lid.
Add the sesame oil and remaining green onions. Stir for 1 to 2 minutes until the sauce reduces a little. There should be some sauce left, and it will thicken on standing. Serve immediately with steamed rice.
NOTES:
You can easily make this as a regular stir-fry in your pan or wok. Let the veggies braise covered on medium-low for 15 to 20 minutes, or until the beancurd sheets and bean threads are cooked to your liking.
White miso or shiro miso is made from soybeans that have been fermented with a large percentage of rice. The actual resulting color can range from white to light beige, and the miso has a definite sweet taste. Use more soy sauce or salt if you prefer not to use it. Other than Chinese cabbage, bok choy, chrysanthemum greens or other leafy Chinese greens would be great in this dish. Snow peas too!
If you can't find dried tofu sheets, use more firm tofu or tofu puffs.
Recipe from Instant Pot Asian Pressure Cooker Meals (Tuttle Publishing, 2020)