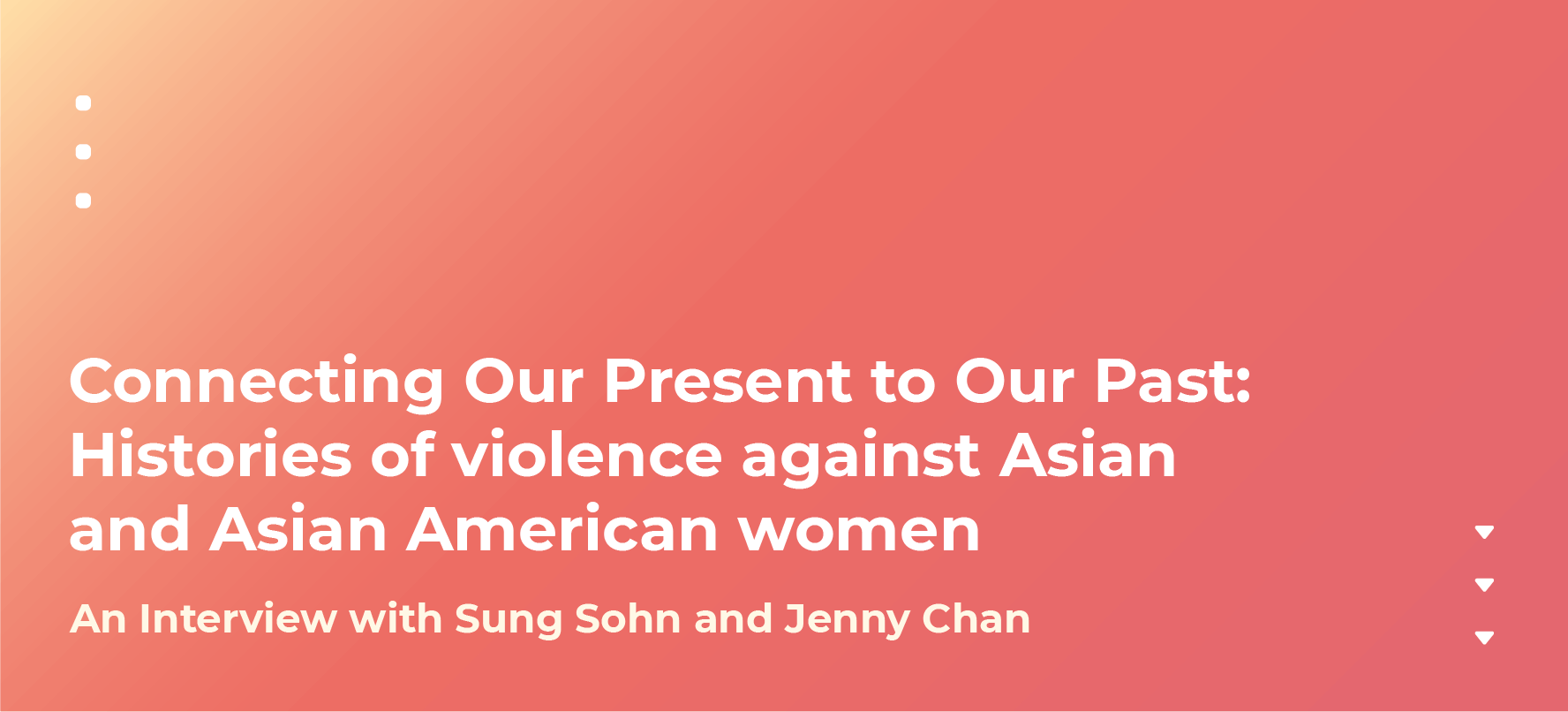 Before you begin reading this interview, we want to acknowledge that this story includes information about sexual violence and abuse of women. We also acknowledge that this content may be disturbing, and we encourage you to care for your well-being before you continue reading the interview. 
Meet Sung Sohn (she/her), the Executive Director of the Education for Social Justice Foundation, and Jenny Chan, Director of Pacific Atrocities Education. Their work focuses on violences facing women in South Korea, China, and the Philippines during World War II and in diasporic communities in the United States.
Tell us about your respective organizations, the Education for Social Justice Foundation and Pacific Atrocities Education. What is the mission of your organizations, and what kind of resources do you have for educators? 
Jenny: Pacific Atrocities Education's (PAE) mission is to increase awareness about atrocities committed in the Asia-Pacific Theater of World War II through public history projects. We believe that it is essential for future generations to learn about, understand, and share with others this chapter of our world story. Through publishing books, creating educational resources, and heading archival projects on topics such as Korean comfort women, the Bataan Death March, Unit 731, and the Nanjing Massacre, PAE is devoted to helping survivors find closure and reconciliation for these painful memories. Along with this, we hope to increase dialogue about complex contemporary issues surrounding human rights worldwide. 
Sung: The mission of the Education for Social Justice Foundation (ESJF) is to provide education on past injustices relegated to the sidelines of history. Working closely with students, parents, educators, scholars, and activists around the world, we advocate for human rights, gender justice, and racial justice as part of our commitment to advancing social justice through education. Our focus areas include countering sexual violence by educating the public on the histories of systemic sexual violence such as the Japanese military's sexual slavery system that involved hundreds of thousands of women and girls before and during WWII. We also focus on the history of and issues surrounding the Asian diaspora in the United States.
To help educators teach to counter sexual violence accurately and sensitively, ESJF developed  "Comfort Women" History and Issues: Teacher Resource Guide. In 2018, the San Francisco Unified School District (SFUSD) distributed this resource guide to eighteen San Francisco public high schools. The student edition was also published in 2018. Our teachers are in the planning stage of developing lesson plans for grades 5th to 12th on lesser-taught areas in the Asian diaspora in the U.S. These resources fulfill a wide spectrum of needs of educators and students wanting to expand and deepen their knowledge and engagement with American histories.
You have both created educational resources about Asian and Asian American women's histories--what aspects of Asian American women's histories are explored in those resources? How do they help educators contextualize recent surges of violence, such as the March 2021 shootings in Georgia, and the continued violence against Asian and Asian American women across the country today? 
Jenny: The history of Asian hate is not new in this country. Learning about the violence committed against Asians adds a necessary dimension to national and global histories, especially since Asian and Asian American perspectives remain largely untold in western media.  Recent generations of Asian women have been through a lot, from World War II to resisting communism in their home countries. They came to the United States to settle into a land where freedom is promised. Most first generation Asian American immigrant women I have talked with have done a lot for their families without openly sharing their sacrifices and labor. As I was reading about one of the victims in Georgia, her story reminded me of some of the Asian American women our organization has interviewed who also worked tirelessly for their families. I talked to an Asian American mother who had a small business in our [California] community and worked tirelessly, from early morning to midnight, just to put her kids in private schools without student loans.  In another instance, here in California where I am located, we interviewed a Filipina immigrant who fought in World War II as a guerrilla soldier. Even though Filipinas  fought in World War II, rigid gender roles assumed by society silenced their stories. The violence and obstacles they faced in the past was almost erased from history. To tell their stories of strength, our organization collected their stories and published "Pinay Guerrillas: The Unsung Heroics of Filipina Resistance Fighters During the Pacific War." 
Sung: I want to first express my sincere condolences to the families of the victims of the March 16th Atlanta killings. The deadly shooting rampage was grave sexual violence embedded in systematic and intersectional gender and racial injustice. 
 In 1875, the Page Act was enacted to restrict the immigration of Asian women Chinese women to the U.S. under the unfounded assumption that Chinese women were entering the country to pursue a life of prostitution. And in March, the heinous shootings that took the lives of six Asian American women in Atlanta, was described by the shooter as his attempt to eliminate his own sexual impulses. What happened in Atlanta is an indication of continued systematic and individual sexual violence conflated with gender and racial discrimination in the United States. Gender-based violence is a global plague and one of the worst forms of human rights violations that often manifests as intersectional oppression, with a more profound impact on marginalized populations, especially minority women.
ESJF is in the process of contextualizing the Atlanta shootings as sexual violence against minority women in America as part of the Asian diaspora in the U.S. The ESJF Teacher Committee teachers are planning to write lesson plans contextualizing the Atlanta shootings this summer. These are what some of the ESJF Teacher Committee teachers working in high schools in the San Francisco Bay Area want to say about the mass shooting and its impact on them and/or their students:
As an Asian American woman who grew up and is teaching in a predominantly White space, encountering racism is not uncommon. One of the most challenging aspects of this is not only the silence surrounding this massacre and the increased hate crimes but the lack of awareness, acknowledgment, and inclusion of AAPI students, their experiences, and a communal space to process and grieve the injustices BIPOC continually face. It is my hope that as we are about to fully reopen our schools, that AAPI students will feel safe on campus and that adults will be able to engage in anti-racist work to create a community and education system based on solidarity and equity. 
Faye Kwan, Redwood High School
Even though over 60% of my students identify as Asian and over 50% identify as female, only a few of my students wanted to talk about the shootings in Atlanta; however, I do not attribute their not wanting to talk about it to lack of concern so much as a surfeit of events they have had to process in this past year, and especially since January 2021.  As we live in San Francisco my students have been acutely aware of and experiencing anti-Asian hate since the world first heard of the novel coronavirus. For my U.S. History students, I am currently working on a set of lessons that looks at the hyper-sexualization of Asian women starting with Chinese sexual slavery in California and the Page Act, and then focusing on the military sexual violence that occurred during the Korean War and the 'war brides' of the Korean and Vietnam wars.  
Erin Hanlon, Lowell High School, San Francisco Unified School District
Soon after ESJF issued our statement on the shootings, high school students and one parent reached out to me wanting to learn about the Asian diaspora and strategies for empowerment in the wake of increased threats against Asian Americans. I began working with one high school student to organize a media outreach among her peers using the "We Are Not a Stereotype" educational video series at the Smithsonian Asian Pacific American Center. She is excited to compile a list of open-ended questions that students can use as discussion opportunities to learn from the films and one another. This is going to be a student-led, student-driven learning and communicating platform. My role is that of a mentor who provides basic assistance and guidance to the student leaders. There is a lot of power in self-led and motivated learning.  
There is an increasing sense of urgency about how to support Asian and Asian American communities across the country, especially elders, women, and students. There is also a growing call to strengthen the need for ethnic studies, social justice and anti-racism resources in schools. Why is it important to include ethnic studies, and Asian American studies for the context of our interview, in K12 learning environments? What would that mean for students and teachers? 
Jenny: If we feel great while we are learning history, it is probably not history. To ensure the wrongs in history never repeat, we must study with honesty and integrity the past accomplishments of a country as well as the violences. As a citizen of the world, I believe it is important to know where our countries come from as well as the positions they took in the past. In a country like the United States, we must learn from our history with other nations. In practice, this means encouraging teachers and students to explore multiple narratives and lenses for a singular event. Including more narratives and viewpoints expands our perspectives and interaction with others. Furthermore, it is vital that these narratives be taught alongside each other. It is much more engaging and effective to point out that although many cultures and ethnicities form a constellation of experiences distinct from western perspectives, yet we all share a collective responsibility to prevent atrocities and the mistakes of history from happening again, anytime, anywhere. That becomes harder to do when one perspective gets elevated above others or when one perspective is labeled as wrong or oppressive.
Sung: 
I'm glad to see this significant trend in recognizing the importance of ethnic studies. I want to emphasize the exciting news that on March 18, 2021, the California State Board of Education voted unanimously to adopt a statewide ethnic studies curriculum for the first time in the United States. On March 23, The San Francisco Board of Education took a step further and approved the San Francisco Unified School District's graduation requirements to include at least two semesters or ten elective credits of ethnic studies, beginning with the class of 2028. I'm excited to witness how this historic adoption gets implemented across the state in which I live. 
Including ethnic studies in high school curriculums is important because ethnic studies incorporate intersectional and transnational histories and issues of people of color. All academic disciplines have the capacity to promote understanding among people and cultures, but ethnic studies is an academic discipline specifically designed to achieve these goals. Ethnic studies can offer additional learning opportunities for students to become critical thinkers and empowered individuals. Regarding the specific topic of the Asian diaspora in the United States, ethnic studies can provide invaluable opportunities to learn about the rich history of marginalized populations and their integral roles in the fabric of the history and culture of the United States. Ethnic studies is one of the key resources to strengthening social justice and anti-racism resources in schools, increasing mutual respect and bringing people together to promote social justice and to oppose all forms of discrimination.
Follow Sung and Jenny's work by clicking on the links below: