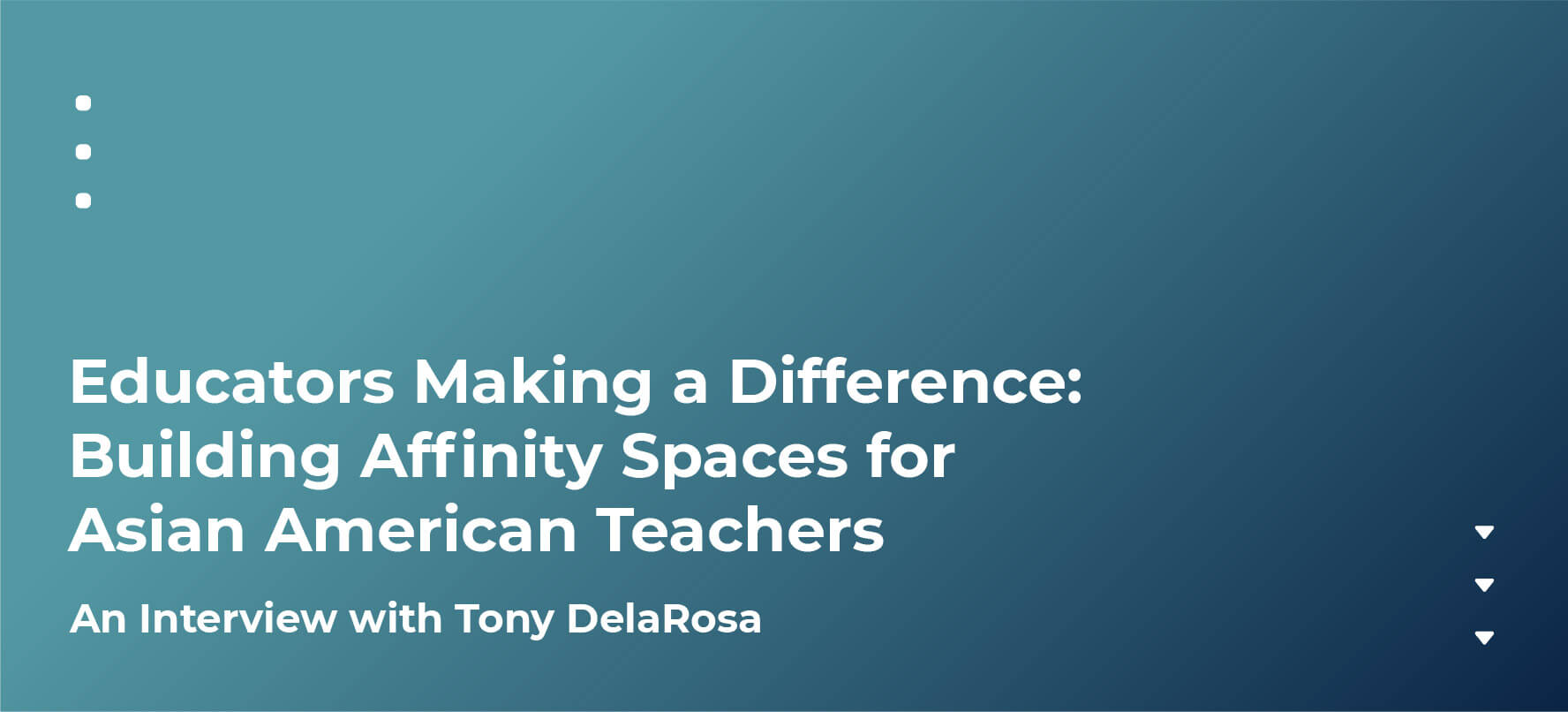 Meet Tony DelaRosa (he/siya), an aspiring anti-bias and anti-racist educator, motivational speaker, DEI consultant, poet, and overall cultural broker. In 2013, he co-founded Pulse Poetry, a school elective course and after school program which uses spoken word pedagogy and public speaking to empower youth voice in Indianapolis, Boston, Miami, and across the globe. He has a masters in teaching from Marian University and a masters in education with a focus on arts non-profit management from Harvard University. He is currently working on an education series called #ISANGBAGSAKasVERB which focuses on cross-racial and cross-ethnic coalition building to help communities practice solidarity in action. 
In this interview, we ask Tony about some of his recent work with New York City's first Asian American teacher support, development, and retention initiative called Asian American Teacher Support Development and Retention Initiative (AATEND), and how teachers may think about how to start similar affinity spaces in their own communities.
Q: Congratulations on co-founding New York City's AATEND! Why is this initiative important to you, and why is it important to talk about supporting Asian American teachers?
AATEND is a program that I co-founded with NYC Men Teach in 2020. It is a part of a broader initiative by the New York City Mayor's office of recruiting and supporting 1000 male teachers of color in NYC. This program is important to me because this is one of the first I've encountered that specifically focuses on Asian American educators who identify as men. This program allows for nuanced support such as: 1) reckoning with both toxic masculinity and being stereotyped as effeminate, 2) understanding and actualizing our fight against anti-Blackness, and 3) breaking the bamboo ceiling. 
It's important to continue the conversation about supporting Asian American teachers. Programs like the Teach for American Asian American and Pacific Islander Alliances (TFA AAPI) and the Pin@y (Pinay/Pinoy) Educational Partnerships (PEP) are very rare. According to the US Census, 79% of our teachers are white, but nearly 50% of K-12 public school students are Black, Asian American, Hispanic, Native American, and Pacific Islander.  According to the National Center of Education Statistics, Asian American teachers make up 2% of our public-school teachers, while Asian American students make up around 5%. There is a case as to why ethno-racial matching is important for Asian American students nationally. Ethno-racial matching is when a teacher of the same ethnic or racial background can teach students that share the same ethnicity or race. Studies have shown that this increases retention of Black students. A recent study shows that matching helps with lowering discipline issues with Asian American students. If we disaggregate this data further and look at the number of high school diplomas across historically marginalized Asian Americans in education, you'll see from the US Census and Department of Commerce in 2014 report shared on the TFA AAPI website the following percentages of students from the following groups achieved a high school diploma: 
• 50% Bhutanese
• 62% Hmong and Cambodian
• 66% Laotian
• 71% Vietnamese, Tongan, and Melanesian American
• 72% Burmese
Based on the ethno-racial matching theory, having more Asian American teachers could have a positive impact for these specific students. 
Besides ethno-racial matching, we need more programming like AATEND, especially during the rise of Asian hate and Sinophobia across the nation. During the start of Covid-19 in 2020, I witnessed so much energy that supported our people. But today even with the ongoing rise, our issues are no longer trending. Asian American teachers are still facing hate and racism in and out of the classroom. As a coach, I faced this from students. If this is happening in places like Miami, Florida, where I am based and where Asian Americans make up .01% of the population here, I can only imagine what it's like in places that have a higher aggregate of Asian Americans. 
Q: How might Asian American teachers in other parts of the country consider building initiatives similar to AATEND in their school districts and communities?
Since there are only a few programs that serve Asian American teachers, I happen to be a part of a community of people who are championing this work. From what I've observed so far, here are a few options that educators can take if they are considering building affinity initiatives in their learning community (this is not exhaustive): 
1. Start Small: 
At any level, try to ask your school or district office if you can gain access to contact information of any Asian American teachers to create an affinity space. Ask if there might be available funding to host community-building events. 
If there is an office of equity and accountability, contact them to see if affinity groups already exist, or if they can support you in building an affinity space.
2. Go Big: 
One option you may consider to support an affinity space is to garner seed funding from an innovation incubator like 4.0 Schools or Camelback Ventures. 4.0 Schools provides up to $10,000 in funding and coaching support to help design and start initiatives that strive to close the opportunity gap in education. As an alum from 4.0 Schools, I know they were eager to connect with more social entrepreneurs focused on AAPI causes this past year. Camelback Ventures is similar to 4.0 Schools, but provides a larger amount of funding, up to $40,000 to Black, Indigenous, and People of Color (BIPOC) social entrepreneurs. In the same vein, I coach for Radical Partners in Miami, which is looking for AAPI founders to lead social venture initiatives in South Florida. An example of an education social venture that I'm helping coach is Tech Girl Power which aims at inspiring young Black girls in South Florida to pursue careers in STEM. This program also uses a similar theory around ethno-racial matching to help pair up young Black girls in South Florida to Black women in STEM careers. One might not think about starting with a social impact accelerator if it doesn't have "education" as a branding term, but local social impact accelerators, such as the ones mentioned above, can be a good place to start. I push potential affinity founders to research these accelerators in their own regions! 
Pitch the idea of an affinity space to potential partners, such as an educational institution or community-centered organization nearby. There may be college or university professors and faculty who would like to help you make this happen. Check out what education associate professor at the University of Massachusetts Lowell, Phitsamay Uy, accomplished with the help of a grant from the National Education Association (NEA) grant to support an Asian American educator network.
Q: You are a leader in cross-coalition building for educators. What does this work look like and why is it important for teachers and other education practitioners? What messages do you hope all educators take away from cross-coalition building?
Cross-coalition building is such a broad term. To put it simply, coalition building is when multiple parties come together to combine their resources for a common cause. I specifically focus on cross-racial and cross-ethnic coalition building. This is when an identity-focused coalition such as AATEND, would build with, let's say, Profound Gentlemen, which focuses on serving Black and Latinx teachers who identify as men. Being able to build with this coalition could help: 
1. Strengthen programming while reaching outcomes more effectively and equitably. 
2. Build collective solidarity towards each other's causes. #powerinnumbers. Building solidarity across the differing causes is a form of radical imagination and critical hope, which are ways that show educators and administrators what is possible even during a pandemic or when faced with deficit thinking. 
3. Save time and resources, particularly when one group is trying to amplify an issue, event, or specific cause. Time is so precious, specifically for teachers and education practitioners, building a cross-coalition can help avoid reinventing the wheel, a huge win for one's self care and sustainability. 
Q: October was Filipino American History Month, and Filipino American history is important for every month out of the year. You also lead a series called #IsangBagsakAsVerb, which we learned more about in your talk with TJ Simba-Medel for the Smithsonian Asian Pacific American Center's We Are Not a Stereotype video series. What is #IsangBagsakAsVerb, and how does it connect to the importance of Filipino American History Month in relation to the year-round work of coalition-building?
#IsangBagsakAsVerb is an ongoing educational series made up of panels, Instagram Live sessions, and discussions between the Asian American community and other racial or ethnic groups. The aim is to ensure that Asian Americans are not left out of local and national conversations around anti-racism and anti-racist policy making. Isang Bagsak, meaning "we rise and fall together" in Tagalog, is taken from the anti-Martial Law Movement in the Philippines and the Delano Grape Strike between Mexican and Filipino farm workers who fought for better working rights and wages. I want to get passed talking about these two movements. Part of the #IsangBagsakAsVerb series is to uncover what Asian American cross-racial and ethnic coalition building looked like, sounded like, and felt like in the past and how it has evolved today. Another part of this work is to inspire other Asian Americans to understand our responsibility and power in collective liberation with other members of the global majority. 
October is particularly important because while it is Filipino American History Month, it is also Hispanic or Latino/a/x Heritage Month. It broadly makes me think about Asian and Latino/a/x cross-coalitional work today. There is an opportunity to uncover what our solidarity looks like beyond the Delano Grape Strike. What about other Asian and Latino stories of coalition-building taking place today, like the Asian and Latino Solidarity Alliance of Central Virginia? The of Japanese and Mexican Labor Unions  in the 1900's? What about the anti-imperialist overlap between two revolutionaries: Jose Rizal of the Philippines and Jose Martí of Cuba? There are so many untold narratives and intersectional topics between the Filipino/a/x and Latino/a/x community, and broadly, the Asian and Latino/a/x community. We have only touched the surface at uncovering these unsung moments. As a new father, my personal hope for my child is to not have to wait 20+ years to encounter these narratives, ancestral tools, and cross-coalitional ways of being.