15 Jun /

We Hereby Refuse: Japanese American Resistance to Wartime Incarceration by Frank Abe and Tamiko Nimura, illustrated by Ross Ishikawa and Matt Sasaki [in Booklist]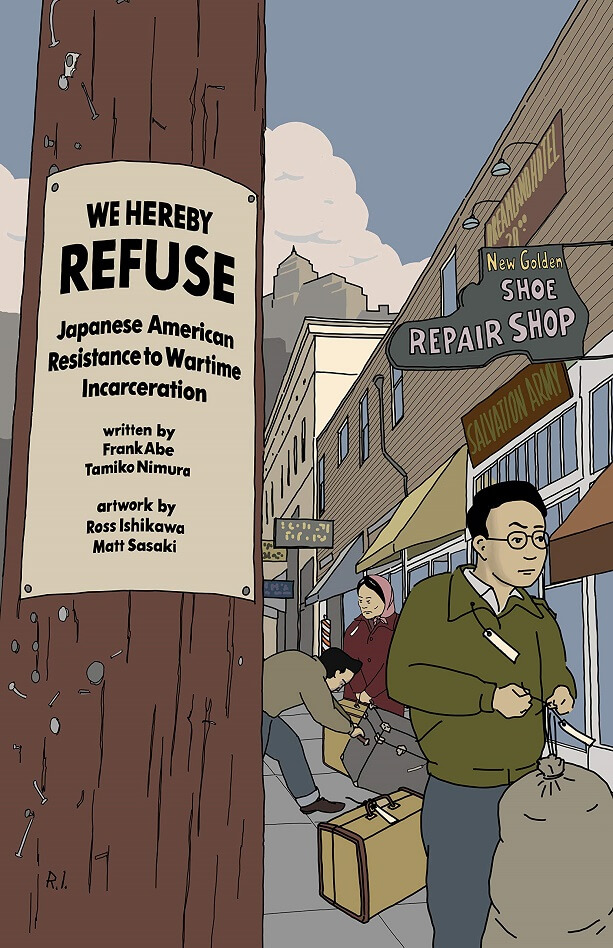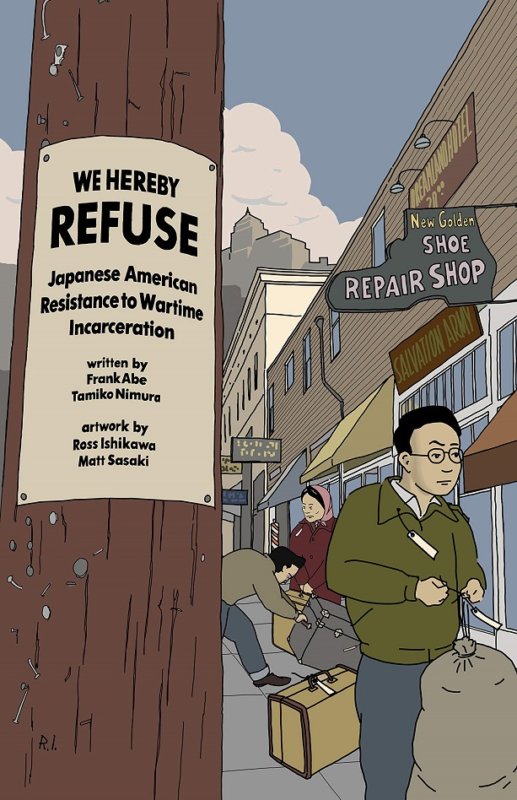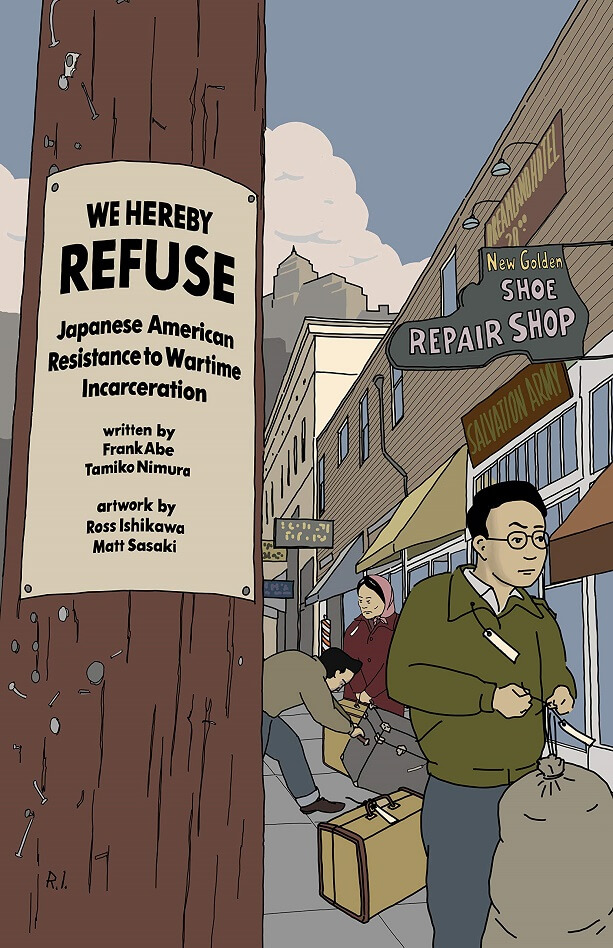 Three months after the Pearl Harbor bombings, rumors of racist mass eviction became reality when President Franklin Roosevelt signed Executive Order 9066 on February 19, 1942, unlawfully condemning 120,000 Americans of Japanese descent into concentration camps across the western U.S. Following political leaders spouting conspiracy theories and manipulated by the Japanese American Citizens League, the majority of Japanese Americans followed evacuation orders, sacrificing businesses, homes, and their very freedom to live within barb-wired prisons.
Journalist/activist Frank Abe and historian/writer Tamiko Nimura deftly upend the compliant narrative with impeccably documented stories of resistance and rebellion. Three major voices drive the inspiring history: Seattle college student Jim Akutsu, who witnesses his father's unlawful arrest and refuses to be drafted from prison camp; California high-school graduate Hiroshi Kashiwagi renounces his citizenship to keep his family together; California typist Mitsuye Endo takes her lawsuit to the Supreme Court. Their individual accounts are graphically enhanced by illustrators Ross Ishikawa and Matt Sasaki, who provide distinct artistic identities.
Made urgent yet again, the trio's courageous refusals to accept the U.S. – their! – government's heinous miscarriage of justice should irrefutably embolden new generations.
YA/Curriculum Support: The three major voices here are all young adults, ranging from 19–21 in 1942; their collective history will resonate with older teens. Also highly recommended for high-school and college classrooms.
Review: "Graphic Novels," Booklist, June 1, 2021
Readers: Young Adult, Adult
Published: 2021
By Adult Readers, Graphic Title/Manga/Manwha, Japanese American, Nonfiction, Repost, Young Adult Readers
in
Tags > Betrayal, BookDragon, Booklist, Civil rights, Coming-of-age, Family, Frank Abe, Friendship, Historical, Identity, Japanese American imprisonment during WWII, Matt Sasaki, Mitsuye Endo, Parent/child relationship, Ross Ishikawa, Tamiko Nimura, War, We Hereby Refuse