22 Mar /

Rouge Street: Three Novellas by Shuang Xuetao, translated by Jeremy Tiang, introduction by Madeleine Thien [in Shelf Awareness]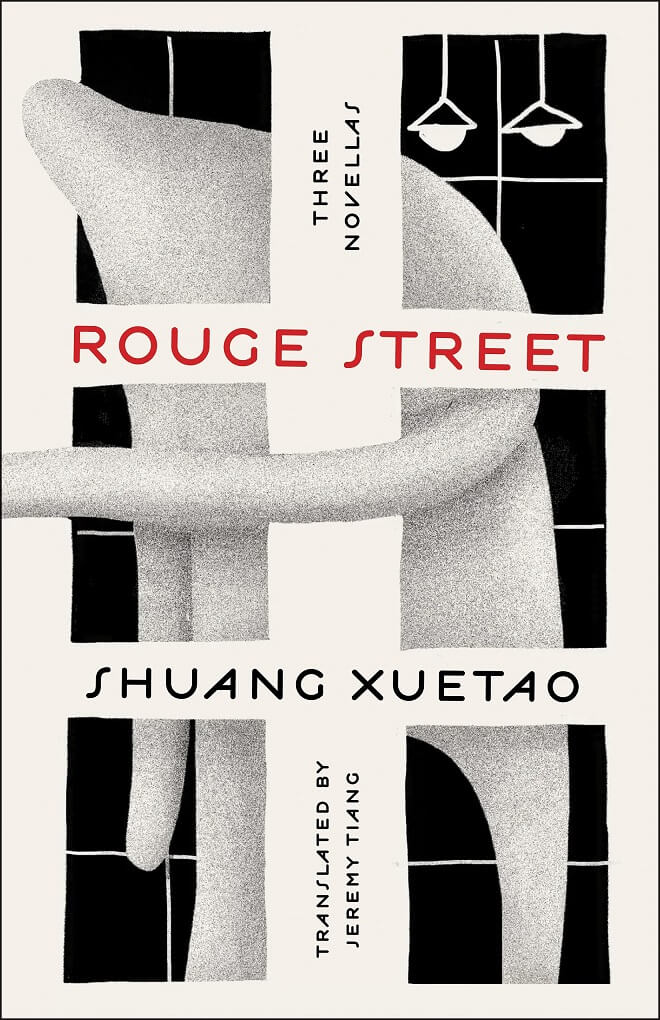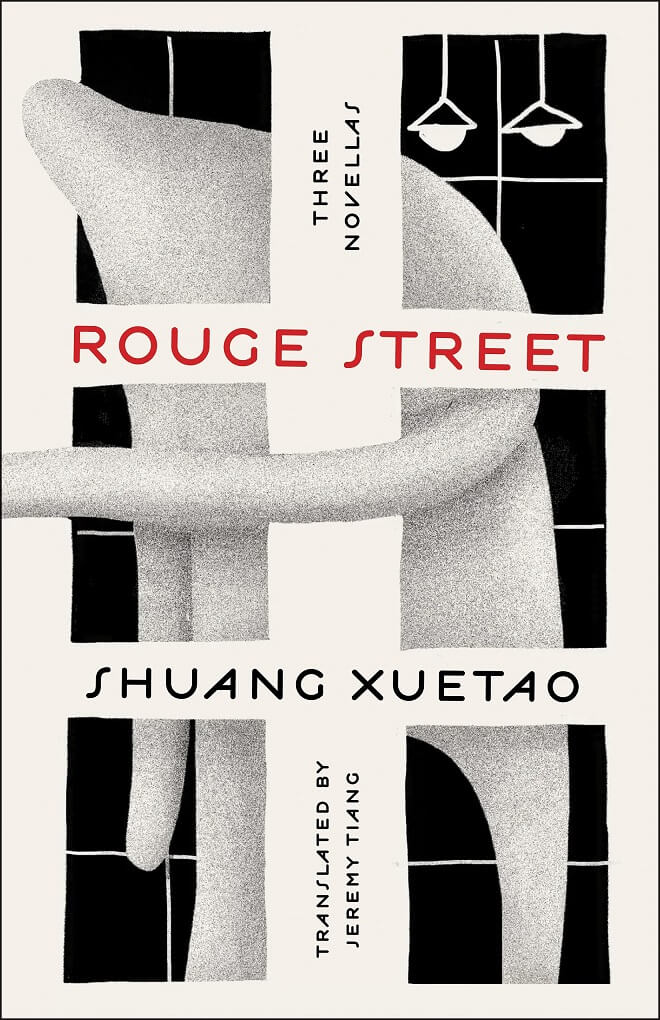 The three novellas in Rouge Street, Shuang Xuetao's prodigious English-language debut, feature multilayered voices revealing intricate perspectives that result in gloriously gratifying rewards. Booker Prize finalist Madeleine Thien introduces Shuang's enigmatic work, contextualizing his fiction, which "teeter[s] on a fulcrum between past and future," between Mao's China and the country's global rise. Award-winning writer/translator Jeremy Tiang follows with a detailed explication of the title's origin – a reference to Yanfen Street, Shuang's childhood neighborhood in the northeastern Chinese city of Shenyang. Shuang recalls his early home "as a run-down place of dirt roads and dingy houses," populated with neighbors who were "thieves, swindlers, con artists, drunkards, and gamblers."
That milieu is exactly the setting of all three stories – remotely interconnected – beginning with "The Aeronaut." The Gao Likuan and Li Zhengdao families are linked in 1967 when the latter becomes the apprentice to the former. In 1979, Zhengdao is dead, but his son Li Mingqi – the titular aeronaut – marries, rather unenthusiastically, into the Gao family. Decades later, Gao Likuan has also passed away when his grandson is called back from Beijing to find his missing Uncle Mingqi and cousin Li Gang.
The disappeared also haunt "Bright Hall," another multi-pronged narrative, about a sculptor robbed of his middle fingers to prevent him from creating another "reactionary clay statue"; a boy sent to live with an aunt and cousin he's never met; and a bully being raised by his grandmother, who never gives up hope of finding the mother who abandoned him. All three threads intertwine at the bottom of a frozen lake.
Seven voices relay the events of the final tale, "Moses on the Plain" (which was adapted into the 2021 film Fire on the Plain). The murders of five taxi drivers in a single month in 1995 binds the disparate characters; solving the crime dovetails with the chronicle of two childhood playmates and their elaborately orchestrated reunion many years later.
Since Shuang was born in 1983, Yanfen Street has transformed into "a bustling suburb," no longer "the disreputable, rough neighborhood" of his youth. In preserving that "wild spirit" through his writing, Shuang has won multiple significant awards, making him one of China's most celebrated young writers. His crisp, unadorned sentences might seem to contrast his fantastical twists and turns, but that irresistible combination is waiting to be discovered by lucky new audiences.
Shelf Talker: Shuang Xuetao's remarkable English-language debut features the diverse residents of Yanfen Street, caught between the end of Mao's China and the country's emergence as a modern superpower.
Review: Shelf Awareness Pro, March 21, 2022
Readers: Adult
Published: "Moses on the Plain" in 2016, "The Aeronaut" and "Bright Hall" in 2017 (China), 2022 (United States)
By Adult Readers, Chinese, Fiction, Repost, Short Stories, Translation
in
Tags > BookDragon, Death, Family, Father/son relationship, Historical, Jeremy Tiang, Love, Madeleine Thien, Mother/daughter relationship, Murder, Mystery, Parent/child relationship, Rouge Street, Shelf Awareness, Shelf Awareness Pro, Shuang Xuetao, Siblings, Speculative/Fantasy