21 Apr /

Kapaemahu by Hinaleimoana Wong-Kalu, Dean Hamer, Joe Wilson, illustrated by Daniel Sousa [in Shelf Awareness]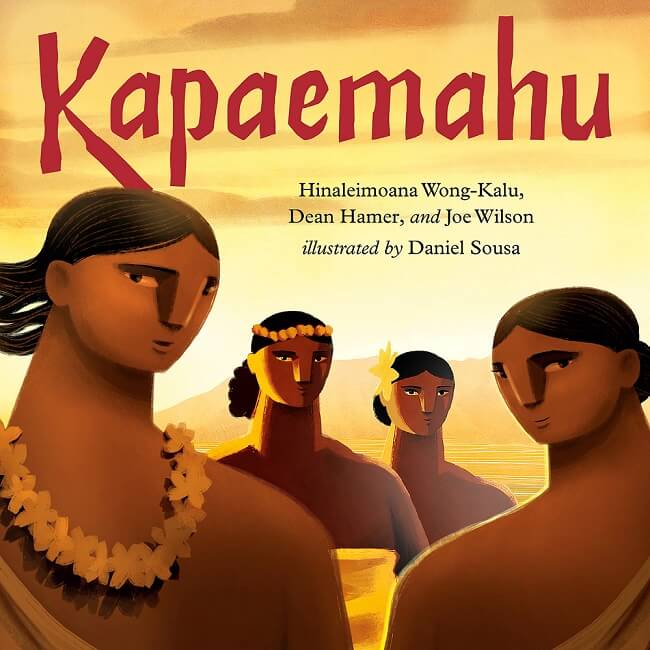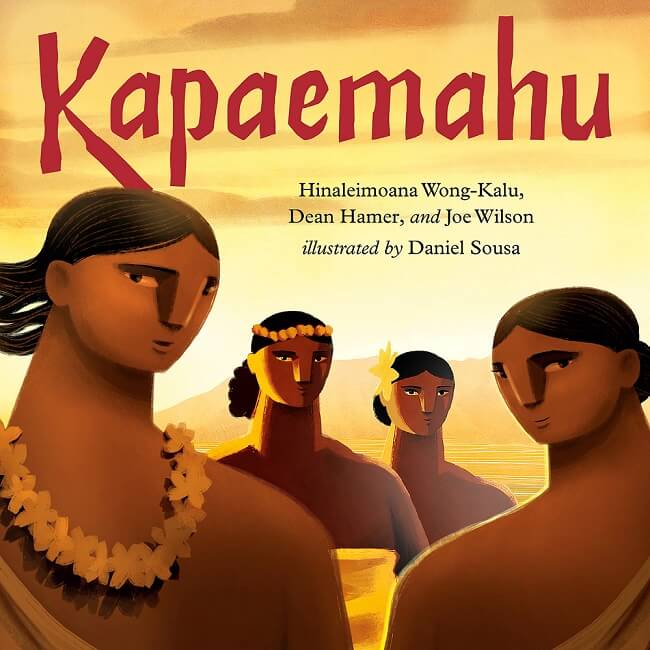 *STARRED REVIEW
Kapaemahu began as an animated short film that garnered international recognition. The award-winning production team of Hinaleimoana Wong-Kalu, Dean Hamer, and Joe Wilson now sets their script onto the page, resulting in a spectacular picture book featuring stills from animation director Daniel Sousa's moving images. The story here has been waiting for reclamation for centuries.
"Long ago," four Tahitians arrived in Hawaii, settling in Waikiki. "The visitors were tall and deep in voice yet gentle and soft-spoken." Most importantly, "They were not male; they were not female. They were mahu – a mixture of both in mind, heart, and spirit." Their leader was the titular Kapaemahu; each member of the quartet was skilled "in the science of healing." In gratitude, the people erected a monument of "four great boulders" into which "the healers began to transfer their powers." Then the mahu disappeared. Eventually, "everything changed." Wordlessly, hauntingly, Sousa shows how Christianity took hold, foreign soldiers took charge, progress eventually brought high rises and tourists. And "the stones of Kapaemahu were forgotten, even buried under a bowling alley." The stones were finally recovered, but not their history: "the fact that the healers were mahu has been erased."
The book, like the film, is bilingual, with the film's Olelo Niihau language followed by an English translation that differs slightly from the animated subtitles. Olelo Niihau, Wong-Kalu explains, is "the only form of Hawaiian that has been continuously spoken since prior to the arrival of foreigners." Wong-Kalu, who is "Kanaka – a native person descended from the original inhabitants of the islands of Hawaii," rightfully insists, "We need to be active participants in telling our own stories in our own way." She adds, "I am also mahu, which like many Indigenous third-gender identities, was once respected but is now more often a target for hatred and discrimination." Co-creators Hamer and Wilson offer hope: "We are especially excited about bringing this story to the next generation, who often have an easier time than their parents in accepting that not everybody is the same."
Sousa's full-page bleeds and saturated palette of predominantly deep earth colors display potent images that can't – won't – be contained. Light heightens Sousa's superb imagery: glowing golds underscore gentle strength; soft, wispy white captures healing energy; fiery reds display the mahus' tenacious fortitude. Power continues to flow through transparent prose and magnificent visuals, gifting audiences with ancient insights celebrating acceptance and inspiring strength.
Shelf Talker: A lauded animated short film about powerful ancient third-gender healers in Hawaii gets transformed into a glorious picture book reclamation.
Review: Shelf Awareness Pro, April 20, 2022; "Childrens & Young Adult," Shelf Awareness, June 17, 2022
Readers: Children
Published: 2022