18 Apr /

Insufficient Direction by Moyoco Anno, translated by Satsuki Yamashita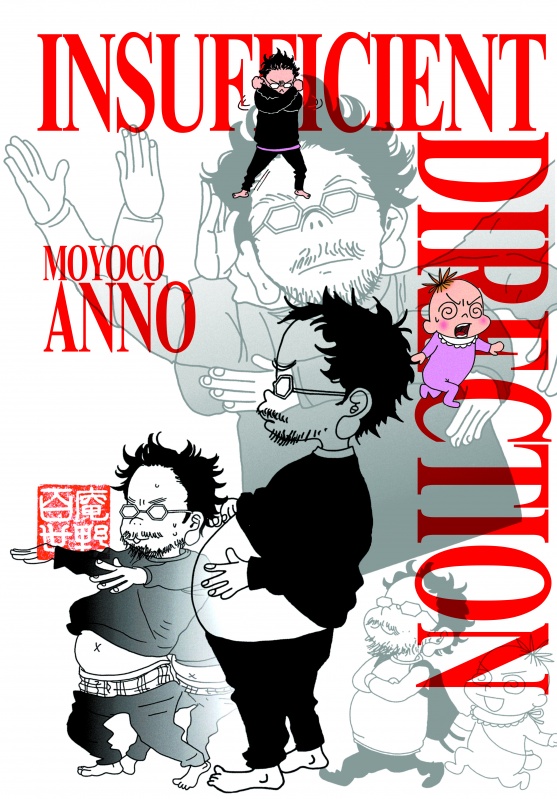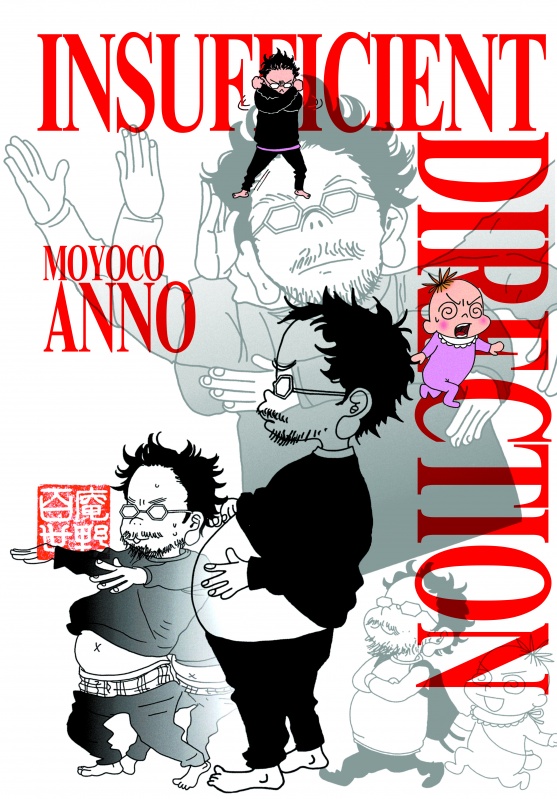 If you can get over the initially disturbing caricatures of a toddler and bearded man as the two married-to-each-other protagonists, you're in for some ingenious, goofy fun. [Having had a parent at our kids' school be convicted as one of the country's worst child pornographers – a high-power civil rights lawyer, egads! – I admit my cynical wariness remains on high alert, even over a decade later.] Admittedly, the toddler/adult trope aptly represents the comical relationship here: both wife and husband are elite members of the manga/anime industry, but the husband happens to be inarguably legendary while his younger wife perceives herself to be still in training.
Insufficient Direction begins with a disclaimer: "All characters appearing in this work are fictitious. Any resemblance to real persons, living or dead, is purely coincidental." Don't believe too much of that: wait for the disclaimer to the disclaimer at title's end. Let the first sentence of the second paragraph be your guide: "To have your life exposed to the public is the fate of anyone who marries a manga artist."
Creator Moyoco Anno, aka Rompers, is that manga artist, who portrays herself here with just a sprout of hair, bouncing across the pages in a onesie and bib. In real life, her immature self-portrait is a bit misleading: Anno is an award-winning, bestselling manga star in her own right. Her bearded other half is not quite a decade older, whom she addresses as 'Director-kun,' which recognizes both his elevated public status as well as her affection for him with the '-kun' suffix. In real life, hubby is the animator and film director Hideaki Anno who, for anyone familiar with anime, will recognize him as the creator of Neon Genesis Evangelion, one of history's most successful series ever.
Regardless of their fame outside the walls of their home, Rompers and Director-kun are also just regular folk – who happen to communicate via manga and anime scripts and lyrics, decorate their space with plastic imaginary friends, and forgo sleep far too often to watch cartoons all night. Somehow in between their otaku obsessions, the rest of life occasionally demands attention –wedding plans, food, weight gain, house-hunting, work, and other such mundane pursuits. Complementary lovebirds that they are, somehow they manage to have way too much fun. Take a peek and join in.
Tidbit: For potential readers who themselves are not otaku, no worries! You can choose to read this as a purely entertaining, rather funny love story. For those with varying degrees of knowledge and interest in manga and anime, your reading might be that much heightened (and/or tested), depending on how high your fandom meter might go. For maximum enjoyment, an exhaustive, almost-30-page "Annotations" section appears at manga's end, co-compiled by publisher Vertical, Inc.'s own Ed Chavez. Now you know as much as you might want to!
Readers: Young Adult, Adult
Published: 2005 (Japan), 2014 (United States)