18 Nov /

Frizzy by Claribel A. Ortega, illustrated by Rose Bousamra [in Shelf Awareness]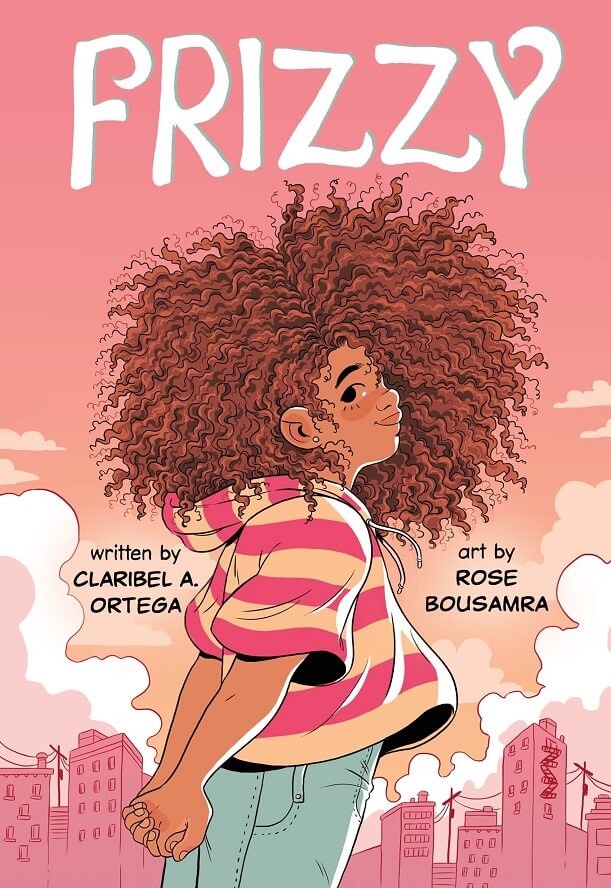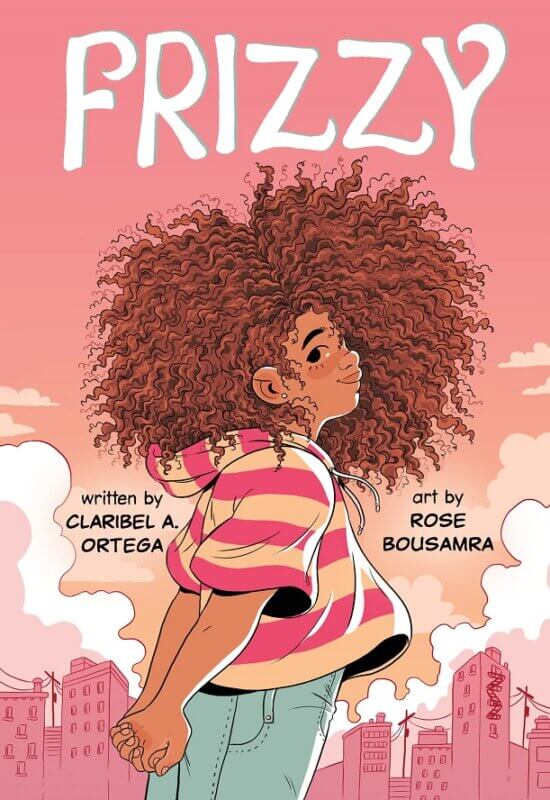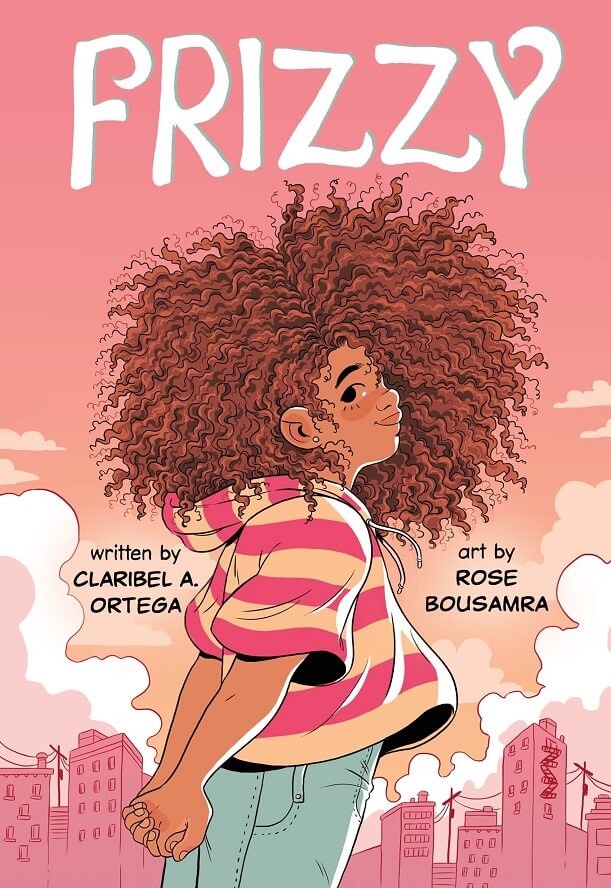 Claribel A. Ortega (Witchlings) writes buoying books inspired by her Dominican heritage. She empathically takes on the timeless challenges of "good" and "bad" hair in Frizzy, gloriously depicted by debut illustrator Rose Bousamra.
Going to the salon every Sunday is "without fail" the "worst part of the week" for Marlene. But according to Mami – and to many of their Dominican American relatives – having her curly hair straightened is the only way to be "presentable." This week has been especially miserable, with two visits, all because Marlene's "perfect" cousin Diana is having her quinceañera. "The whole family will be there … We have to make a good impression," Mami insists. All throughout the festivities, however, "everyone has jokes about [Marlene's] looks" except for Tía Ruby who, with her own magnificent curls, promises Marlene, "You don't always have to straighten your hair to look nice."
Back at school, Marlene gives best friend Camilla the party recap and the girls wisely recognize adult hypocrisy. Camilla suggests Marlene try taking her hair into her own hands with the help of online tutorials. The plan doesn't quite work – Marlene's hair becomes completely unruly – causing further exasperation from Mami and cruel bullying from other students.
Mami tries to explain why straight hair is more acceptable – "because it looks more professional" – but looking "our best" might be too high a price for Marlene. Unsure of what more she can do, Mami sends Marlene to Tía Ruby for the weekend. Ruby finally helps Marlene understand how "sometimes, the things we learn aren't right, but they're ingrained in us," including "hearing about good hair and bad hair every single day." Unlike Mami, Ruby has managed to break that cycle and is ready to teach Marlene the unstoppable power of being herself.
Ortega's novel is (of course) about so much more than hair. Tía Ruby gives Marlene deft lessons on multigenerational "anti-Blackness," inherited self-denial, and family dysfunction – all appropriately presented by Ortega for the intended middle-grade audience. Bousamra's energetic panels are a vibrant delight, further enriched by evocative details that enhance the text: the bustling activity outside the salon and the delicious drama inside; the diversity of Diana's quince court; no shoes worn inside Camilla's house. Through warm, encouraging collaboration, creators Ortega and Bousamra underscore and celebrate the joys of being "beautiful in your own way."
Shelf Talker: Author Claribel A. Ortega and artist Rose Bousamra's inaugural collaboration is an energetically inspiring middle-grade graphic novel about so much more than hair.
Review: Shelf Awareness Pro, September 28, 2022
Readers: Adult
Published: 2022
By Caribbean American, Fiction, Graphic Title/Manga/Manwha, Latina/o/x, Middle Grade Readers, Repost, Young Adult Readers
in
Tags > BookDragon, Bullying, Claribel A. Ortega, Family, Friendship, Frizzy, Identity, Mother/daughter relationship, Race/Racism, Rose Bousamra, School challenges, Shelf Awareness, Shelf Awareness Pro