16 Dec /

Edmund White's A Boy's Own Story: The Graphic Novel by Edmund White, adapted by Brian Alessandro and Michael Carroll, illustrated by Igor Karash [in Shelf Awareness]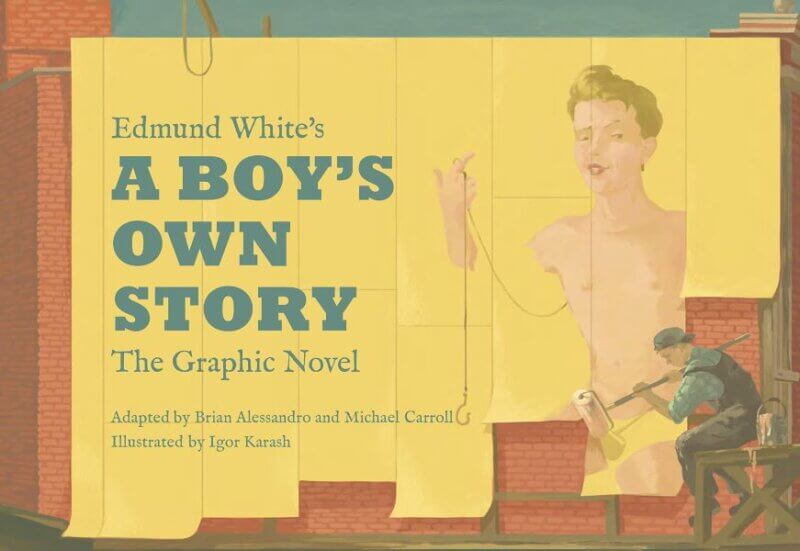 Edmund White, arguably the godfather of gay literature, has published dozens of lauded titles over the last half-century. His autobiographical trilogy of gay identity – A Boy's Own Story (1982), The Beautiful Room Is Empty (1988), and The Farewell Symphony (1997) – remains a classic. With this volume, the first of the trio is made artfully new, transformed into an impressive, dazzling graphic novel. The text, condensed by literary critic Brian Alessandro and White's longtime partner, Michael Carroll, is limited to speech-bubble conversations with few prose sentences on the page. The majority of the storytelling happens through gorgeously illustrated panels created by visual artist Igor Karash.
Karash immediately commands the adaptation with textless spreads. The opening double pages feature a brick building marked the Renaissance Inn, not far from sailboats and piers; readers catch glimpses through the uncovered windows at the lives within. Two women dance, desks and chairs have been abandoned, a man has discarded his trousers, intent on intimacy. Peeking out from a window below – perhaps unsure of all the life going on around him – is a young face, to be revealed in close-up two spreads later, opposite the title page, suggesting this is the titular boy.
With period clothing and the vintage car, Karash affectingly dates the 1950s of White's teen years. The boy's story moves through pivotal relationships with a philandering father, his discarded mother, his savvy older sister, younger friends, older men. Karash's palette is predominantly moody and muted, as if distancing events from decades ago, suggesting memories have faded save for the most vibrant details (a red dress) and colorful scenes (the brightest skies). Karash inserts occasional images of White's older self, witnessing his teenage experiences – a brilliant literal visualization of remembrances of things past.
"Now that this beautiful graphic novel version of the original is available," White writes in his preface, "I'm hoping that it will reach yet another whole audience." His original almost didn't happen – his "regular English publisher" rejected Story for being "disappointingly realistic," White divulges. "I'd made it so believable because I'd thought that gay life was already so exotic that I didn't need to render it even more strange." The late Sonny Mehta presciently realized "the novel filled an empty ecological niche in the literary landscape, a serious, soul-searching book about a gay coming of age." The rest, is (welcome) history.
Shelf Talker: The first of literary gay icon Edmund White's classic autobiographical trilogy gets a stunning graphic adaptation for a new generation of readers.
Review: Shelf Awareness Pro, November 3, 2022
Readers: Adult
Published: 2022
By Adult Readers, Fiction, Graphic Title/Manga/Manwha, Memoir, Nonethnic-specific, Repost
in
Tags > Betrayal, BookDragon, Boy's Own Story, Brian Alessandro, Coming-of-age, Edmund White, Family, Father/son relationship, Friendship, Historical, Identity, Igor Karash, LGBTQIA+, Love, Michael Carroll, Parent/child relationship, Shelf Awareness, Shelf Awareness Pro, Siblings