There is more to Yuri's Life than Malcolm's death.
This is the phrase that kept looping through our heads as we searched the web for Yuri Kochiyama, the incomparable civil rights leader who passed away on Sunday June 1, 2014. To our knowledge, there was nothing at the Smithsonian that represented her life. Online, Yuri's most iconic image is the grisly 1965 Life Magazine photo of her cradling the head of the assassinated Malcolm X. It didn't take long to realize that this image was one of the only "objects" representing Yuri's life to the public.
The notion of a Folk Hero often emerges from the blurring of fact and fiction; America is full of these figures. Their lives are kept alive through stories and songs, performance and art, on the tongues of those who believe in the richness of preserving their legacies.
But Yuri is real – and she is more than a footnote in the life of another man. Yuri survived forced relocation during World War II, eventually urging the apology from the U.S. government for the internment of Japanese Americans. She was Malcolm X's pen pal during his trip to Africa, receiving his postcards from nine different countries. She was a cornerstone in the Black Power and Asian American liberation movements alike, and was a fierce voice for a range of global civil rights efforts until her death. Yuri's life could be the stuff of tall tales – if it were not so true.
In this age of digital excess, the collection of artifacts in the public domain for Yuri Kochiyama is unfortunately sparse. Yet, there is a wealth of drawings, songs, poems, flyers, and other expressions that mark her memory. While tapping artists and organizers to share works for this tribute, we realized this: for an Asian Pacific American community whose experience remains at margins in the national collections, even our titans are considered niche.
It is up to us to fashion our history. Tomorrow's canon is stored in our drawers, hard drives, and minds. This tribute contains just a few artifacts from a range of artists and organizers who have been impacted by Yuri Kochiyama. It is an exhibition of the people. It is a museum of us.
This is for Yuri. This is for you.
Smithsonian Asian Pacific American Center
Yuri Kochiyama (1921–2014)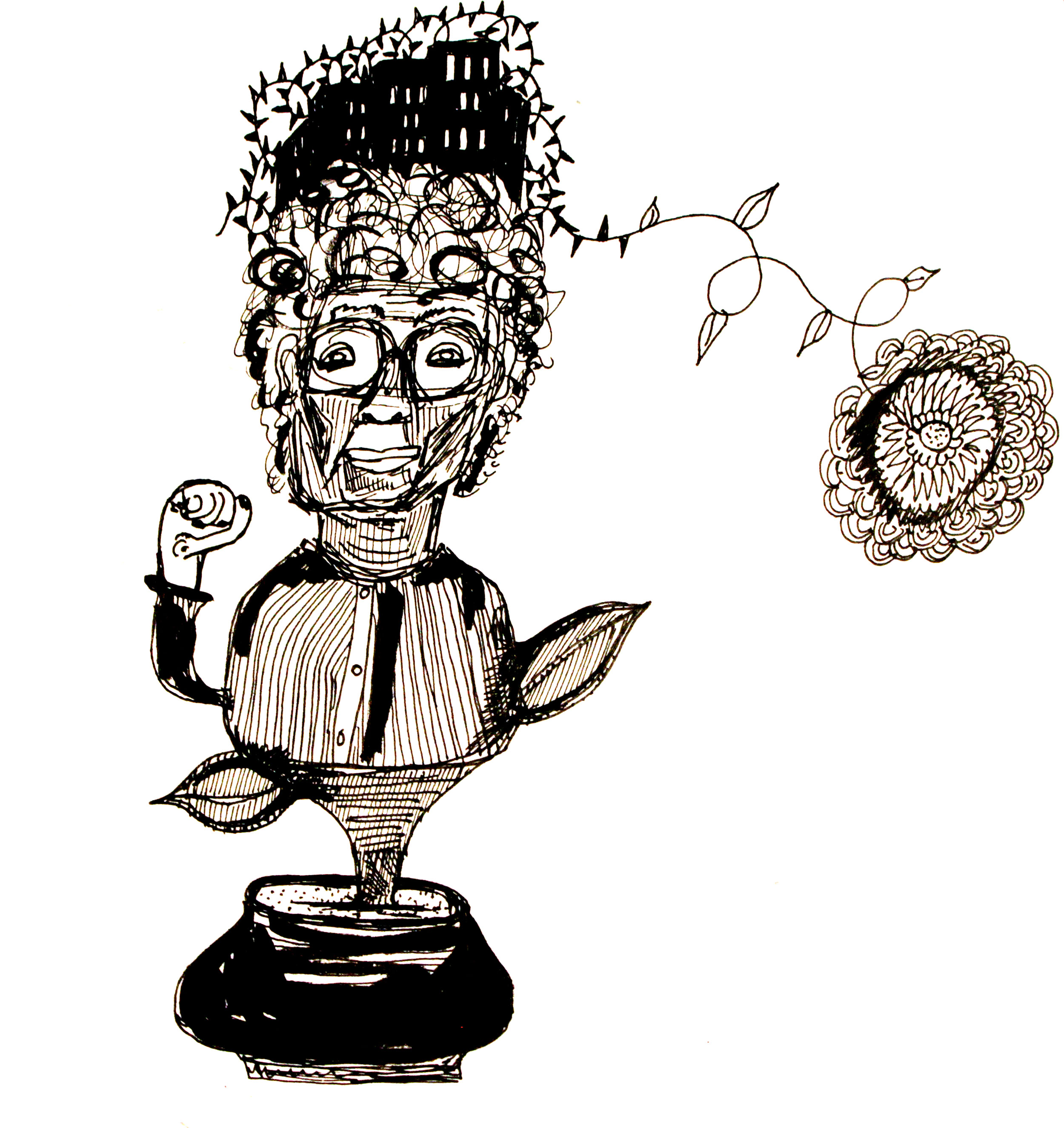 Because you are young and have dreams and want to do something meaningful, that in itself, makes you our future and our hope. Keep expanding your horizon, decolonize your mind, and cross borders. – Yuri
---
A'Misa Chiu
Immersed in the City, 2011
In this series of drawings, I was trying to capture aspects of Yuri's life that continue to challenge me.
People in the movement sustain each other, it's because their spirit is so contagious. – Yuri
---
Jef Castro
From For the Free, 2014
---
This piece is a panel from I Want the Wide American Earth, an e-comic presented by the Smithsonian Asian Pacific American Center and Secret Identities.
When I grow up, I wanna be just like Yuri Kochiyama.
– Prometheus Brown of Blue Scholars
Blue Scholars. Yuri Kochiyama (Live on KEPX) from Cinematropolis, 2011
The Malcolm X movement was probably the last thing you would imagine a Japanese-American person, especially a woman, to be involved with.
– Tim Toyama
Playbill for Yuri and Malcolm X, by Tim Toyama.
Dignidad Rebelde
Yuri Kochiyama, 2013
Screenprint
---
I learned of Yuri Kochiyama's passing yesterday during my suegra's 80th birthday celebration. I was saddened and also felt her revolutionary spirit as I played with the babies and children and spent time with my parents as well. Her yearning for liberation is something that has deeply inspired me and I wish that my nieces and nephews and those yet to be born inherit that vision as reality. May the ancestors welcome you with open arms Yuri.
– Melanie Cervantes of Dignidad Rebelde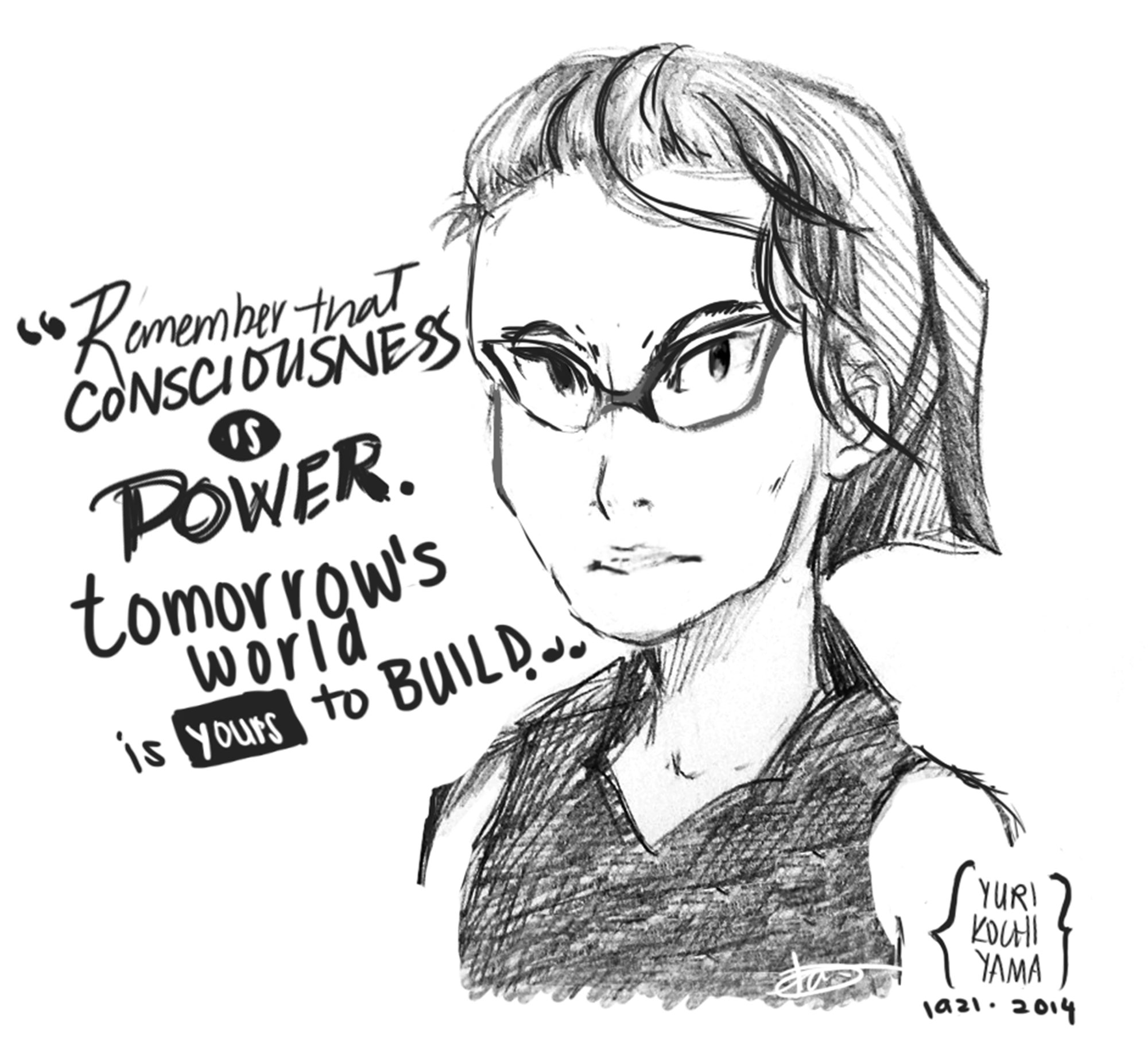 Irene Li
Unititled, 2014
Pencil & Photoshop
---
She avidly spoke, served, and advocated not only as an Asian-American, but as a passionate proponent for diversity and true interculturalism.
Thank you for your voice, your vibrant presence, and your lifetime of inspiration, Yuri Kochiyama. Rest in peace and power!
I once filmed Bill & Yuri on their return to Camp Shelby, Mississippi and Jerome, Arkansas where they first met during WWII.
Yuri also wanted to visit a teddy bear store in Hattiesburg (didn't make it into the cut, but probably the most memorable part of the trip).
– Renee Tajima-Peña
Renee Tajima-Peña. Clip from My America...or Honk if You Love Buddha, 1997. Feature-length documentary.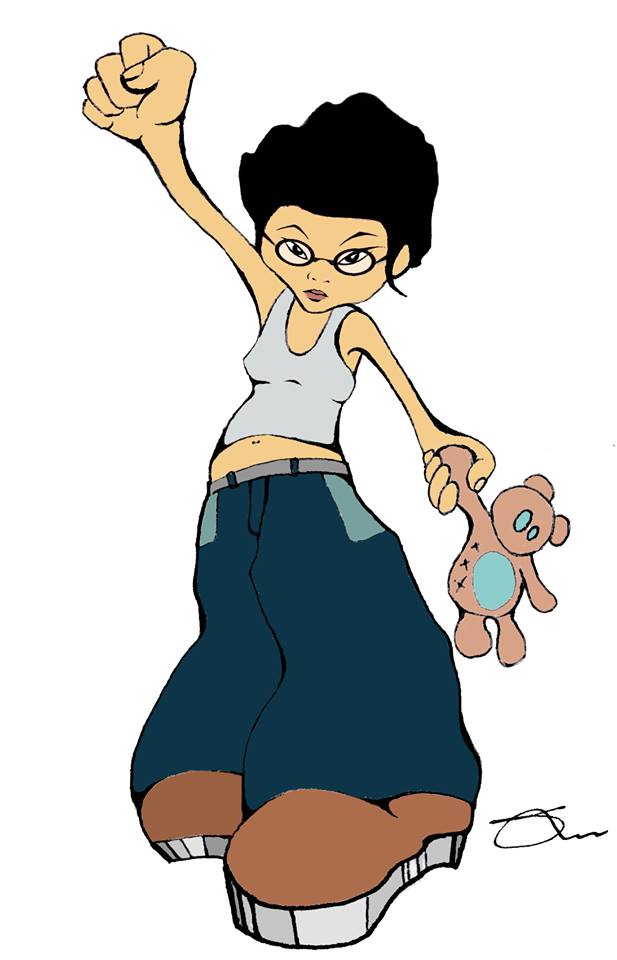 Inspired by, and dedicated to Yuri and her love for social justice and teddy bears.
Steven Yao-Chee Wong
Yuri Power, 1999
Digital print
---
This was the last in a series of 3 characters that I started in 1998 (the first was holding an AK-47, the second was holding a spray can). A college student organization "borrowed" my AK-74 image and printed t-shirts for their student org, and they presented the t-shirt to Yuri...When I first met Yuri, she was wearing the T-shirt with my image. I was surprised, honored, and a little bewildered.
Sahra Vang Nguyen
Yuri Tribute, 2014
Digital print
---
Growing up as a young Asian American activist in Boston, there weren't many examples of empowering women for me to identify with. Learning about Yuri Kochiyama was like discovering a gem in the narrative. Yuri has had a profound impact on my life, especially during my formative teenage years, by shattering stereotypes of Asian American women and inspiring me to be a fearless leader.
– Sahra Vang Nguyen
What do you say to her?
She had done so much through history, for so many different communities and people, was inspiring countless young Asian Americans and other people. And yet, she never projected a demand for respect or to be deified. She was sincere, down to earth, fierce, smart, humble, inquisitive...Yuri's great gift to us was to show by example that through all the important work she did, she remained a supportive, intelligent, warm and generous human being.
– Bao Phi
---
This testimonial and many more can be found at Because of Yuri, another tribute curated by our friends at 18 Million Rising.
---
Alex Chiu
Fist, 2011
Sketch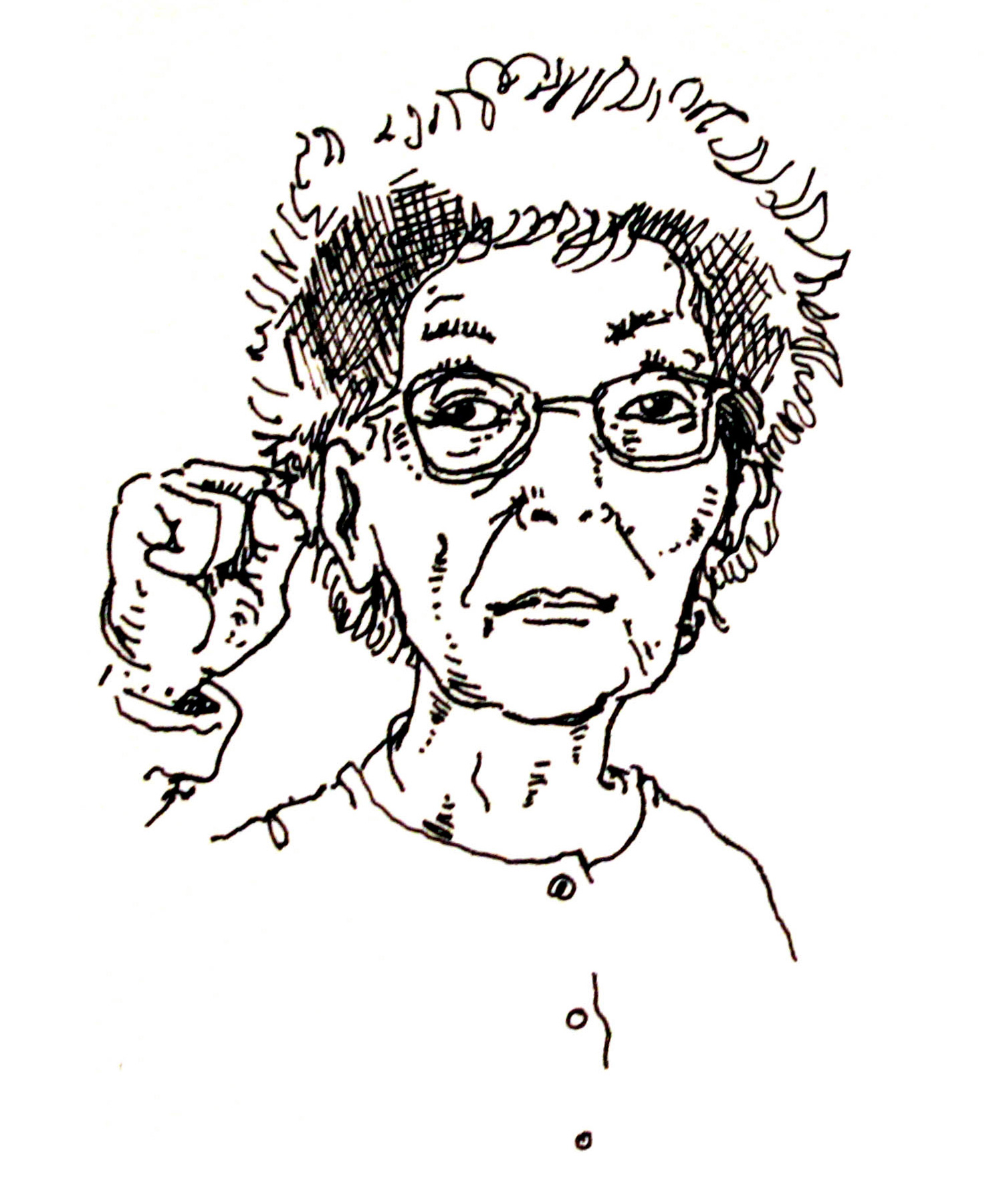 Our ultimate objective in learning about anything is to try to create and develop a more just society. –Yuri
Life is not what you alone make it...we are all part of one another. –Yuri
Nobuko Miyamoto. A Single Stone. Digital track, 2012.
---
A special thanks to the Kochiyama family and all artists involved for making this project possible.
And most of all – thanks, Yuri.