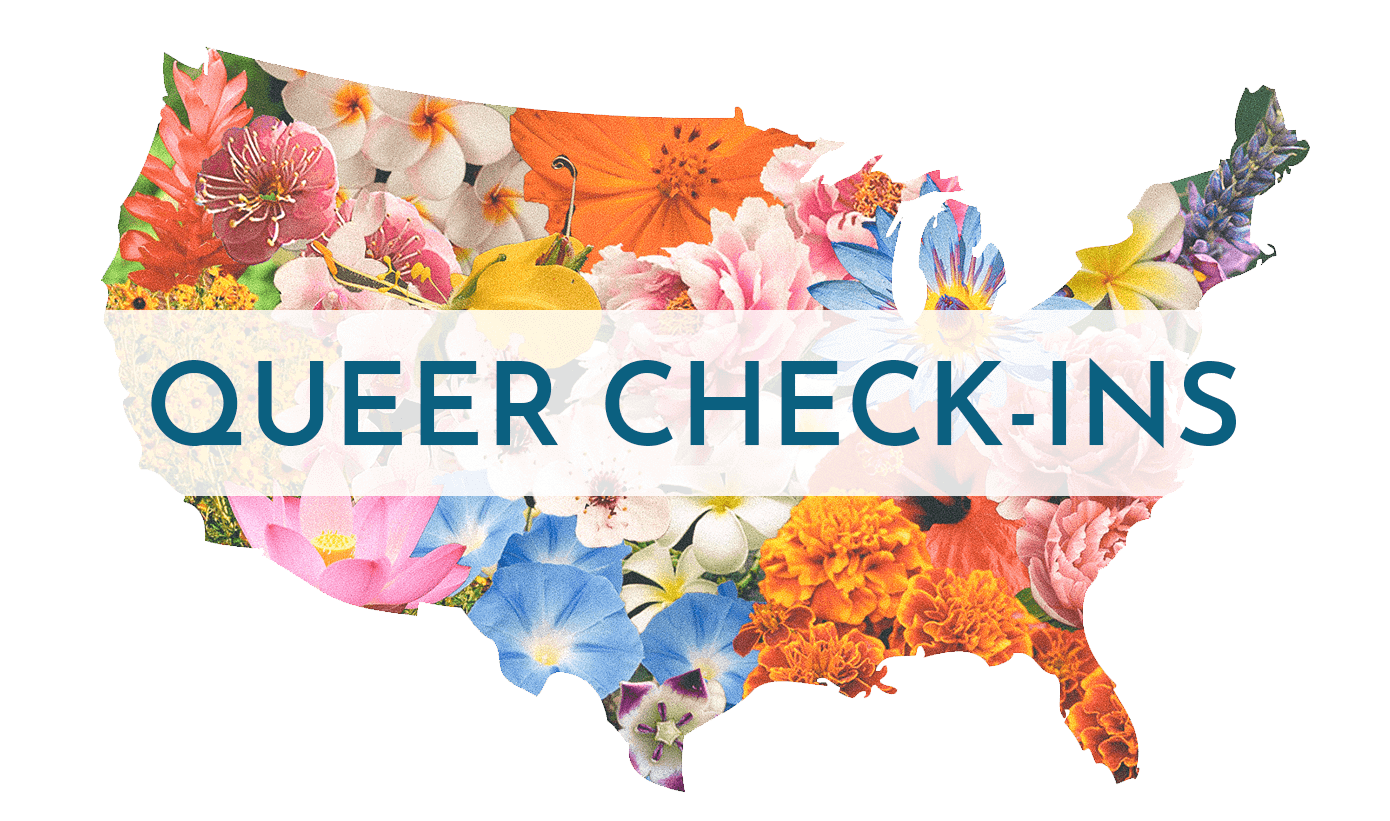 Brought to you by
Special thanks to our media partner

Are you okay?
For this set of video poems, curated by Franny Choi, 12 queer Asian and Pacific Islander diasporic poets check in and give us glimpses of queer life--okay, not okay, and in between. Video footage, shot by the poets themselves, maps out queer space across the U.S. and beyond.
Curatorial Note
It's a strange time to be strange. For those of us who are queer and trans, femme and gender non-conforming, immigrant and indigenous, every day seems to bring a new understanding of the exact precariousness of our survival. As artists, we are often making our visions for the future while being drained by loss, heartbroken by loneliness and the distances between us. But, as poet Ocean Vuong writes, "loneliness is still time spent / with the world." As curator for this project, I'm excited to gather these twelve queer voices from across the Asian and Pacific diasporas, to form a kind of collective rest stop in our travels through this America. Together, these poets meet the dark road ahead with fierce tenderness, with legends and incantations, with sharp criticism and complex dreams. Here are twelve check-ins from our extended chosen family; twelve brief glimpses into what it looks like when we stay.
- Franny Choi
Franny Choi is the author of Floating, Brilliant, Gone (Write Bloody Publishing, 2014) and the forthcoming Soft Science (Alice James Books, 2019), as well as a chapbook, Death by Sex Machine (Sibling Rivalry Press, 2017).
Kazim Ali was born in the United Kingdom to Muslim parents of Indian, Iranian and Egyptian descent. His books encompass several volumes of poetry, including Sky Ward, winner of the Ohioana Book Award in Poetry; The Far Mosque, winner of Alice James Books' New England/New York Award; The Fortieth Day; All One's Blue; and the cross-genre text Bright Felon. His novels include The Secret Room: A String Quartet, and among his books of essays is Fasting for Ramadan: Notes from a Spiritual Practice. Ali is an Associate Professor of Creative Writing and Comparative Literature at Oberlin College. His newest books are Inquisition and Silver Road: Essays, Maps & Calligraphies.
Ryka Aoki is the author of Seasonal Velocities, He Mele a Hilo (A Hilo Song), and Why Dust Shall Never Settle Upon This Soul. She has been honored by the California State Senate for her "extraordinary commitment to free speech and artistic expression, as well as the visibility and well-being of Transgender people." Ryka is a two-time Lambda Award Finalist and recipient of a University Award from the Academy of American Poets. She is a professor of English at Santa Monica College. She can be found on www.rykaryka.com.
Lauren Bullock is a queer Vietnamese and Black writer, performer, and teaching artist. Her work has appeared on AFROPUNK.com, Button Poetry, Thank You For Swallowing, and more. Currently she serves as a staff writer for pop culture web site Black Nerd Problems as well as poetry editor for literary magazine FreezeRay Poetry. When not working on writing-related activities she enjoys fighting crime as a costumed vigilante of many aliases.
Wo Chan is a non-binary poet and drag performer. Wo has received fellowships from the New York Foundation of the Arts, Kundiman, Lambda Literary, and the Asian American Writers Workshop. As a member of the Brooklyn-based drag/burlesque Switch N' Play, Wo has performed at venues including The Whitney, National Sawdust, New York Live Arts, and BAM Fisher. They were born in Macau, and are currently an MFA Candidate in Poetry at NYU. Check them out @theillustriouspearl or wo.bingo.
Joseph O. Legaspi is the author of the poetry collections Threshold and Imago, both from CavanKerry Press; and three chapbooks: Postcards (Ghost Bird Press), Aviary, Bestiary (Organic Weapon Arts), and Subways (Thrush Press). His works have appeared in POETRY, New England Review, World Literature Today, Best of the Net, and the Academy of American Poets' Poem-a-Day. He co-founded Kundiman (www.kundiman.org), a national nonprofit organization dedicated to nurturing generations of writers and readers of Asian American literature. He resides with his husband in Queens, NY.
Hieu Minh Nguyen is the author of This Way to the Sugar (Write Bloody Press, 2014) and Not Here (Coffee House Press, 2018). In 2018 Hieu was awarded the Ruth Lily and Dorothy Sargent Rosenberg Fellowship from the Poetry Foundation. He is also 2018 McKnight Writing Fellow, a Kundiman Fellow, a 2017 National Endowment for the Arts Literature Fellow, a poetry editor for Muzzle Magazine. His work has also appeared or is forthcoming in Poetry Magazine, the New York Times, Best American Poetry, the Academy of American Poets, BuzzFeed, and elsewhere. He lives in Minneapolis and attends the MFA Program for Writers at Warren Wilson College.
Shailja Patel is the author of Migritude, currently taught in over 100 universities worldwide. Her poems have been translated into 17 languages. She has written for The Guardian, BBC, and Al-Jazeera. Honors include fellowships from the Sundance Theatre Institute and Nordic Africa Institute. A founding member of Kenyans for Peace, Truth, and Justice (KPTJ), civil society coalition working for equitable democracy in Kenya, Patel was listed among Fifty Inspirational African Feminists by the African Women's Development Fund. She represented Kenya at the London Cultural Olympiad's Poetry Parnassus. Her work features in the Smithsonian Museum's groundbreaking "Beyond Bollywood" exhibition. Twitter: @shailjapatel

Soham Patel is a Kundiman fellow and an assistant editor at Fence and The Georgia Review. Her chapbooks include and nevermind the storm (Portable Press @ Yo-Yo Labs, 2013) New Weather Drafts (Portable Press @ Yo-Yo Labs, 2016), and in airplane and other poems (oxeye, 2018). She is the author also of the full-length collections to afar from afar (Writ Large, 2018) and ever really hear it (Subito, 2018), winner of the 2017 Subito Prize.

Terisa Siagatonu is an award-winning poet, arts educator, community organizer, and mental health advocate born and rooted in the Bay Area. Her presence in the poetry world as a queer Samoan woman and activist has granted her opportunities to perform in places ranging from the UN Conference on Climate Change in Paris to the White House (during the Obama Administration). A recipient of President Obama's Champions of Change Award for her activism as a poet/organizer in her Pacific Islander community, Terisa has published work in Poetry Magazine and has been featured on Button Poetry, CNN, NBCNews, NPR, Huffington Post, Everyday Feminism, The Guardian, BuzzFeed and Upworthy.

Lehua M. Taitano is a queer Chamoru writer and interdisciplinary artist from the Pacific island of Guåhan (Guam). They are the author of Inside Me an Island, A Bell Made of Stones, and the chapbooks Capacity, Sonoma, and appalachiapacific, which won the Merriam-Frontier Award. Her poetry, essays, and Pushcart Prize-nominated fiction have appeared in  Fence,  Kartika Review, Red Ink International Journal, Poetry Magazine, and numerous others. She has served as an APAture Featured Literary Artist via Kearny Street Workshop, a Kuwentuhan poet via The Poetry Center at SFSU, and as a Culture Lab visual artist for the Smithsonian Institute's Asian Pacific American Center. Taitano's  work investigates modern indigeneity, decolonization, and cultural identity in the context of diaspora.

The recipient of a Ruth Lilly & Dorothy Sargent Rosenberg Fellowship and "Discovery"/Boston Review Poetry Prize, Paul Tran is Poetry Editor at The Offing Magazine and Chancellor's Graduate Fellow in The Writing Program at Washington University in St. Louis. Their work appears in the New Yorker, Poetry Magazine, and elsewhere, including the Lionsgate movie Love Beats Rhymes, starring Azealia Banks, Common, and Jill Scott. Paul is the first Asian American since 1993 to win the Nuyorican Poets Cafe Grand Slam, placing Top 10 at the Individual World Poetry Slam and Top 2 at the National Poetry Slam.

Kitty Tsui is the author of the groundbreaking Words of a Woman Who Breathes Fire, the first book published by a Chinese American lesbian. A self-described poet-activist and activist-poet, Tsui has been included in over 90 anthologies worldwide, and her work has been translated into German, Italian and Japanese. A former bodybuilder, she won the bronze medal at Gay Games II and the gold medal at Gay Games III. In 2016, APIQWTC (Asian Pacific Islander Queer Women & Transgender Community, the largest organization of Queer API and trans folk in the country), honored her with the Phoenix Award for Lifetime Achievement. Her book Nice Chinese Girls Don't (which includes a reprint of The Words of a Woman Who Breathes Fire) will be released in 2019.

video editing by Emmanuel Mones
Emmanuel Mones (e.mones) is a queer Filipino designer and multimedia producer from Angeles City, Philippines. He earned his BFA in Intermedia at UMBC, where he studied photography, film, and design. Emmanuel has worked with the Smithsonian Asian Pacific American Center as a digital media producer and social media fellow. Creator of the brand ALT.MASC and Wonderboy Magazine, he contemplates the role of commercial art in discussing issues regarding race, gender, and mental health — thinking of ways creatives can use their skills to connect, inform, and empower marginalized communities.

ADQLAPA uses the designation "queer" to understand sexual and gender identity as often fluid and complex, while recognizing the term's histories of derogatory usage and lasting pain for some LGBTQIA folx. (For resources on LGBTQIA terminology, see these helpful glossaries at PFLAG, GLAAD, Trans Student Educational Resources and this style guide at Conscious Style Guide. For a listing of Asian American and Pacific Islander-serving LGBTQIA orgs, see NQAPIA.)