31 Mar /

Eggplant "Meatball" Vietnamese Sandwich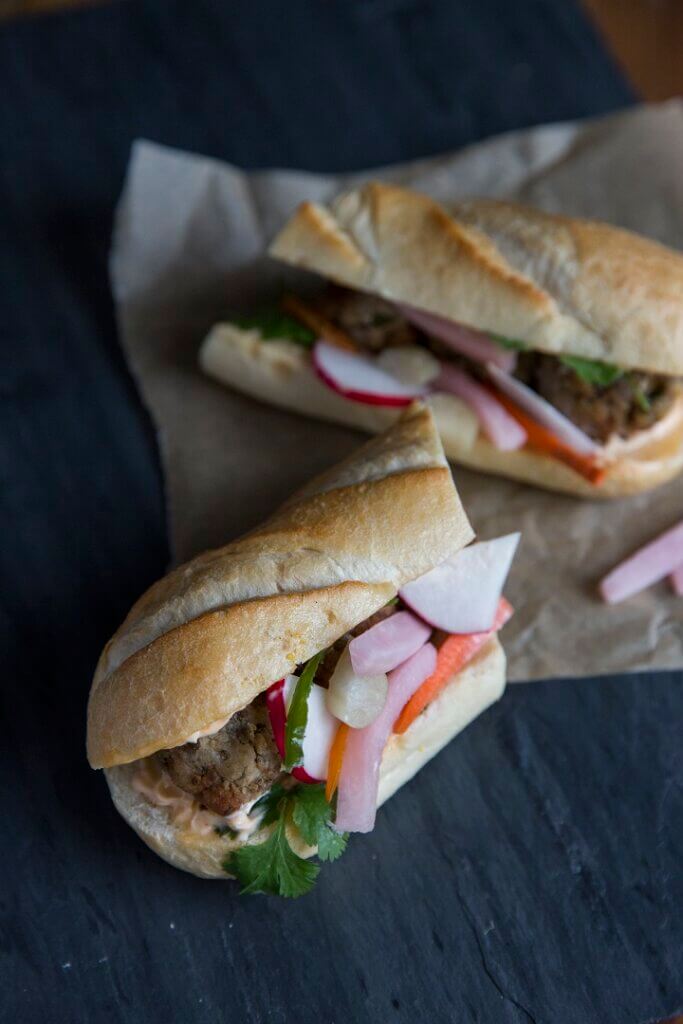 (Photo credit: Sarah Culver)
The Vietnamese sandwich or banh mi has taken the culinary world by storm. Usually filled with meat pate or pork, this eggplant "meatball" sandwich is a refreshing change from the same ole, same ole. The extras– sriracha mayo, pickles, veggies, and herbs—are just as important as the filling, creating an entire package, i.e. a unique sandwich that's fun, flavorful, crunchy and fresh-tasting. Did I hear banh mi party?
Prep Time: 30 minutes
Cook Time: 1 hour 15 minutes (15 minutes active)
Serves: 4
For the meatballs
1 medium (1 ¼ pounds/625 g) purple globe eggplant
1 teaspoon vegetable oil
1 tablespoon soy sauce
1 large egg, lightly beaten
1/4 teaspoon freshly ground black pepper
2 cloves garlic, minced (2 teaspoons)
2 tablespoons finely-chopped Thai or Italian basil (1/4 cup leaves)
2 tablespoons finely-chopped green onion (scallions), white and green parts, (1 green onion)
1 ½ cups (75 g) panko breadcrumbs
Cooking spray
Vegetable oil for frying
For the Sriracha Mayo
1/2 cup (100 g) good quality mayonnaise
1 to 2 tablespoons Sriracha or Spicy Miso
1 teaspoon freshly-squeezed lemon or lime juice
1/4 teaspoon soy sauce
For the sandwiches
4 (10-in/25-cm-long) mini baguettes or bolillos (Mexican buns), (you can also cut 2 baguettes into 4 10-in/25-cm sections)
½ cup (75 g) Radish and Carrot Pickles, drained
½ cup (50 g) thinly sliced cucumbers or radishes
¼ cup (5 g) fresh cilantro sprigs
1 jalapeño or Fresno chili cut into slices (optional)
Instructions:
Preheat your oven to 350°F (180°C).
Place the eggplant on a rimmed baking sheet and brush with the oil and prick all over with a fork. Roast for about 1 hour, until the eggplant has collapsed with grayish, wrinkly skin, and the flesh is tender (poke with a fork to test). Remove from the oven and let it rest until cool enough to handle.
Halve the eggplant lengthwise and scoop out the flesh onto a cutting board. Discard the skin. Chop with a knife until it turns mushy. Combine the eggplant puree, soy sauce, egg, pepper, garlic, basil, green onion, and panko in a large bowl. Mix together gently with a wooden spoon until well combined.
If making ahead, place the meatball mixture in a sealed container and refrigerate up to one day.
Spray a large, rimmed baking sheet with cooking spray. Scoop up 1 tablespoon of the eggplant mixture at a time and form into golf balls. Roll tightly and place on the baking sheet 1-inch apart. You should have about 20 to 24 "meatballs." Wrap with plastic wrap and refrigerate for up to 2 hours.
Pour enough oil into a large saucepan or cast-iron skillet to reach 1-inch and set over medium-high heat until the temperature reaches 375°F (190°C) on a deep-fry thermometer. (See p. XX for other visual clues.)
Gently lower the "meatballs" into the hot oil, taking care not to overcrowd the pan (you'll have to fry them in batches) and fry until golden brown on the bottom, about 2 minutes. Turn with a spatula and fry the other side until golden brown, another 2 minutes or so.
Drain on a rack over on a baking sheet or paper towel-lined plate. Raise the heat to bring the oil back up to temp and repeat until all the meatballs are cooked.
When you're ready to make the sandwiches, whisk together the mayonnaise, Sriracha sauce, lemon juice, soy sauce and green onions in a small bowl to make the Sriracha Mayo.
Split each baguette in half lengthwise. Scrape out enough soft crumbs from each half to leave a 1/2-in (1.5-cm)-thick shell. Spread Sriracha Mayo over the top and bottom halves. Arrange 4 to 5 meatballs in the well on the bottom half, followed by pickles, cucumbers, jalapeños, and cilantro. Squish the top half of the baguette on top of the bottom.
Notes:
For healthier meatballs, you can bake them. Preheat your oven to 375°F (190°C) and bake for 20 to 25 minutes until golden brown.
Cooked meatballs can be refrigerated overnight or frozen in a freezer-safe zip-top bag or freezer container for up to 3 months. To heat them up, bake in a 350°F (180°C) oven from frozen for 10 to 15 minutes.
(Excerpted from Farm to Table Asian Secrets, Tuttle Publishing, 2017)