31 Jul /

Tiananmen 1989: Our Shattered Hopes by Lun Zhang and Adrien Gombeaud, illustrated by Ameziane, translated by Edward Gauvin [in Booklist]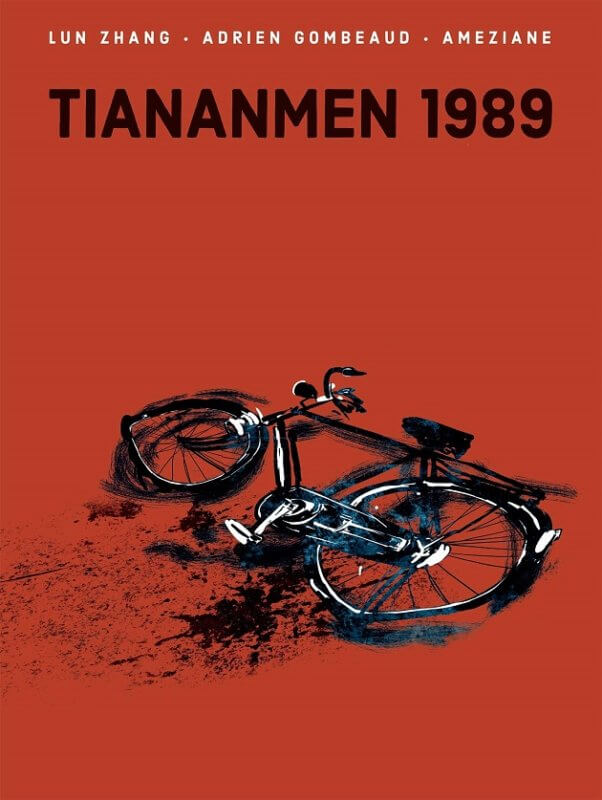 Lun Zhang was there during "the largest spontaneous gathering in all of Chinese history," surrounded by "the joys and smiles of Beijing's youth" hoping to achieve freedom and democracy. At 26, he was older than his student counterparts; he had "lived through the regime's most violent years," affording him a more cautious perspective.
During the months that culminated in the Tiananmen Square Massacre on June 4, 1989, Zhang was an insider providing "coherent organization." He escaped that night, settled in the first country that welcomed him, France, and became a university professor. "I'm not sure thirty years is enough to learn to live with survivor's guilt," he confesses, but his testimony remains essential, even dispelling misconceptions, including the iconic lone-man-in-front-of-tanks image – the photograph was taken June 5, hours after the bloodbath.
Written with Asia-specialist journalist Adrien Gombeaud with a few augmentations (BBC's Kate Adie gets a fictionalized stand-in), Zhang's account is deftly translated by prodigious Edward Gauvin. Artist Ameziane's noir-esque documentary style provides the ideal, dynamic complement to Zhang's memories. Together, the auspicious quartet bears witness to more-crucial-than-ever protest history.
YA/General Interest: The majority student-led historical movement should resonate deeply with today's teen activists.
Review: "Graphic Novels," Booklist Online, July 17, 2020
Readers: Young Adult, Adult
Published: 2020 (United States)
By Adult Readers, Chinese, French, Graphic Title/Manga/Manwha, Memoir, Nonfiction, Repost, Young Adult Readers
in
Tags > Adrien Gombaud, Ameziane, BookDragon, Booklist, Booklist Online, Civil rights, Death, Edward Gauvin, Friendship, Haves vs. have-nots, Historical, Identity, Lun Zhang, Tiananmen 1989