03 Aug /

The Flamingo by Guojing [in Shelf Awareness]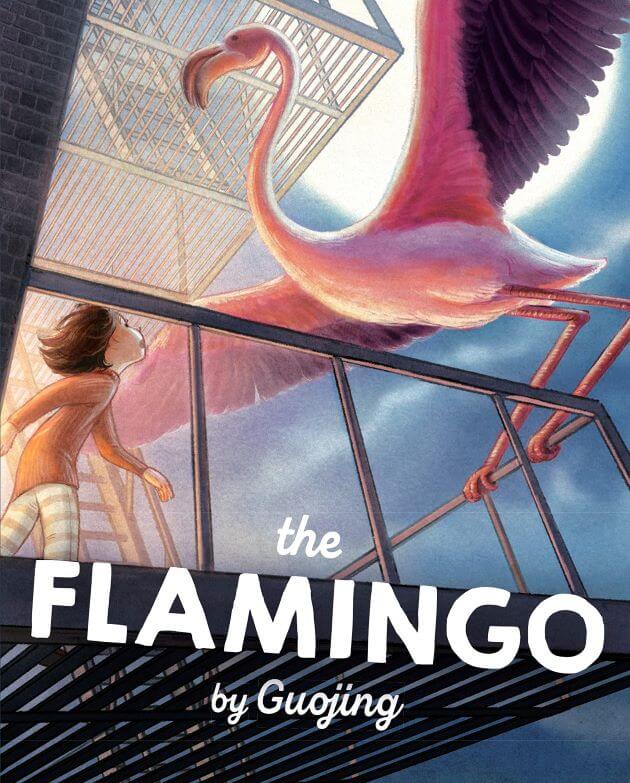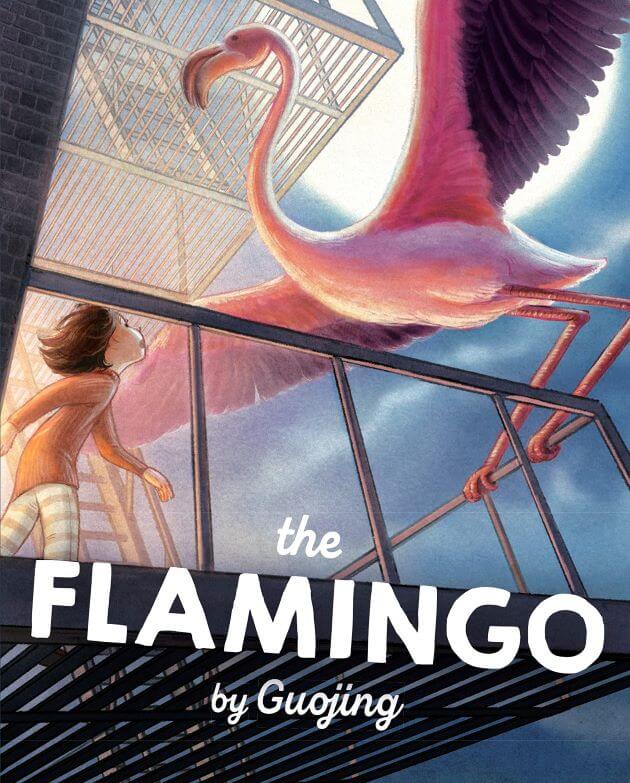 Few books deserve the "perfect" designation, but The Flamingo by Guojing arguably earns that appellation. The celebrated author of The Only Child and Stormy presents another remarkable, near-wordless story for young readers that gloriously commemorates bonds between humans and animals, enhanced here with the heartwarming relationship between a child and her grandmother.
Part one opens with "A Trip to Visit Lao Lao All on My Own." A girl in a red hat, wearing a red backpack and pulling a red suitcase, arrives at the sepia-toned airport and is claimed by her maternal grandmother, also dressed in matching red. At her grandmother's home (with a red door), the girl is fascinated by a flamingo-shaped mug in which sits a single feather with a reddish tip. In the first of a mere eight panels that contain text, the girl asks, "Can you tell me about the feather?"
Lao Lao's story turns the pages vivid as she shares a memory of a childhood bike ride with her pup along the beach and finding a lone egg washed up on shore. During granddaughter and Lao Lao's idyllic visit, in between delicious meals, flying kites, exploring, and cuddling, Lao Lao reveals how the egg hatches into a fluffy flamingo friend … who eventually must fly away.
Part two echoes that bittersweet parting – "My Turn to Fly Home" – but not before Lao Lao entrusts the precious feather to her granddaughter's open hands. Back at home, the girl, who seems alone despite a city filled with people, devises a brilliant, gorgeous, creative way to summon the cherished flamingo and reconnect with her beloved grandmother.
Guojing, who was born in China and lives in Canada, is familiar with the joys of multi-generational homecoming and the challenges of eventual, often necessary, parting. Her touching dedication poignantly encapsulates her own growing up-and-away experience: to her mother "who said I'm her flamingo," to her son "who arrived when I completed this book" and to her "grandma in heaven, who gave me the happiest childhood." Guojing exquisitely adapts that cycle of belonging-parting-reuniting by highlighting the bendable but unbreakable attachments between devoted beings, human and not. Exceptionally noteworthy are her characters' expressions, especially those of delight, discovery, and love. Every page of Guojing's art is a splendid visual feast – including her whimsical insertions of flamingo motifs (even the steamed buns!) throughout – ensuring readers a soaring, spectacular flight of fancy and imagination.
Shelf Talker: Guojing's brilliant, near-wordless picture book is a visual feast celebrating family and unlikely friends.
Review: Shelf Awareness Pro, August 3, 2022
Readers: Children, All