12 Apr /

Stormy Seas: Stories of Young Boat Refugees by Mary Beth Leatherdale, illustrated and designed by Eleanor Shakespeare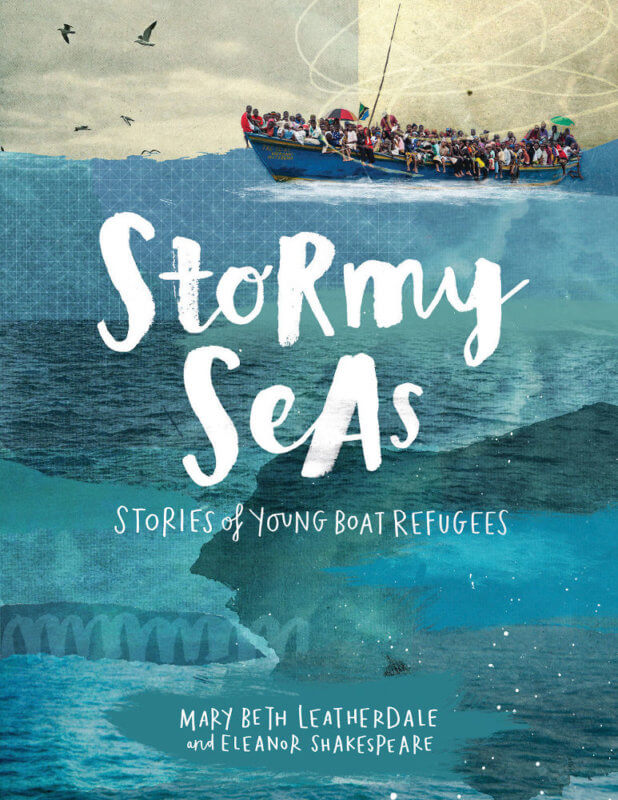 The first line speaks volumes: "If you're reading this, you – like me – have probably won the lottery. Not the giant-check, instant-millionaire kind of lottery. The other lottery win … [t]hat random, lucky break that means you were born in or immigrated to a relatively peaceful and prosperous place in the world."
Sixty-five million are less lucky: they're today's refugees fleeing their homes, most recently Syrian refugees crossing the Mediterranean. But boat refugees are not new news; that history covers a half-millenia, from French Huguenots who fled to England in 1630, to Irish Catholics who sailed to North America in 1770, to Mormon Danes U.S.-bound in 1850, to Sri Lankans and Indians arriving in Canada in 1987, and so many more.
Through interviews, and enhanced with additional contextual and historical research, award-winning Canadian writer and editor Mary Beth Leatherdale gives voice to five children: Ruth who attempted to escape Nazi Germany to Cuba, Phu who was smuggled out of Vietnam, José whose family fled Cuba seeking asylum, Najeeba and her family's odyssey from Afghanistan to Australia, Mohamed who had to rely on human traffickers to get out of the Ivory Coast. Their stories get gorgeously, affectingly enhanced by London-based artist Eleanor Shakespeare  who collages photographs with drawn art to "[bring] to the page what was whirling in my heart," Leatherdale adds.
By adding updates – in words and pictures both – about the children-now-adults' lives, Leatherdale and Shakespeare add immediacy throughout. In response to recent headlines concerning refugees, bans, detentions, and deportations, Leatherdale and Shakespeare get up-close-and-personal to show us the connected humanity in us all.
Readers: Children, Middle Grade
Published: 2017