12 Jul /

Stamped (For Kids): Racism, Antiracism, and You by Jason Reynolds and Ibram X. Kendi, adapted by Sonja Cherry-Paul [in School Library Journal]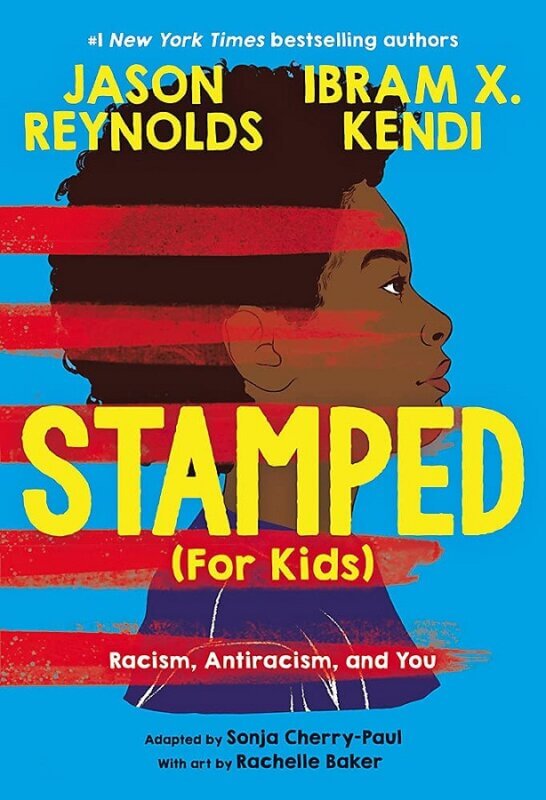 *STARRED REVIEW
First came Ibram X. Kendi's Stamped from the Beginning, awarded the 2016 National Book Award. Then Jason Reynolds with Kendi presented (and narrated) " A Remix" with 2020's Stamped: Racism, Antiracism, and You for young adults.
Middle grade audiences get their own version, distilled by educator/activist Sonja Cherry-Paul and read by Pe'Tehn Raighn-Kem Jackson, a tween phenom who began publicly performing poetry at 3. Reading since she was 18 months, her fluency is prodigious, her pacing exacting. She's especially effective in the "Let's PAUSE/Let's UNPAUSE" interstitials that offer further explication or background.
Cherry-Paul writes to draw readers into conversations, asking questions, inviting – if not out-loud answers – deep thinking and reflecting. Jackson's exceptional performance enlivens a powerful peer-to-peer exchange.
Verdict: All libraries should provide easy access to every iteration of the "Stamped" series in every medium; stock with The 1619 Project: Born on the Water to encourage and enable every age group in their anti-racist journeys.
Review: "22 Noteworthy Audiobook Adaptations of Young Readers Editions," School Library Journal, June 8, 2022
From the introduction: All the titles here are nonfiction; most feature difficult subjects including history, climate change, systemic racism. Some might ask, why expose younger readers to challenging, unpleasant, haunting truths? One of the featured writers, Hilary Beard, provides the consummate answer back in her introduction to The Burning:
"…the fact that something is upsetting to us doesn't mean that we should not engage it. Facing the truth empowers us to understand our self, our neighbors, and our world more accurately; to make appropriate choices and decisions; to heal the past and present and build a more promising future. Together."
Readers: Middle Grade
Published: 2021