09 Sep /

Perpetual West by Mesha Maren [in Shelf Awareness]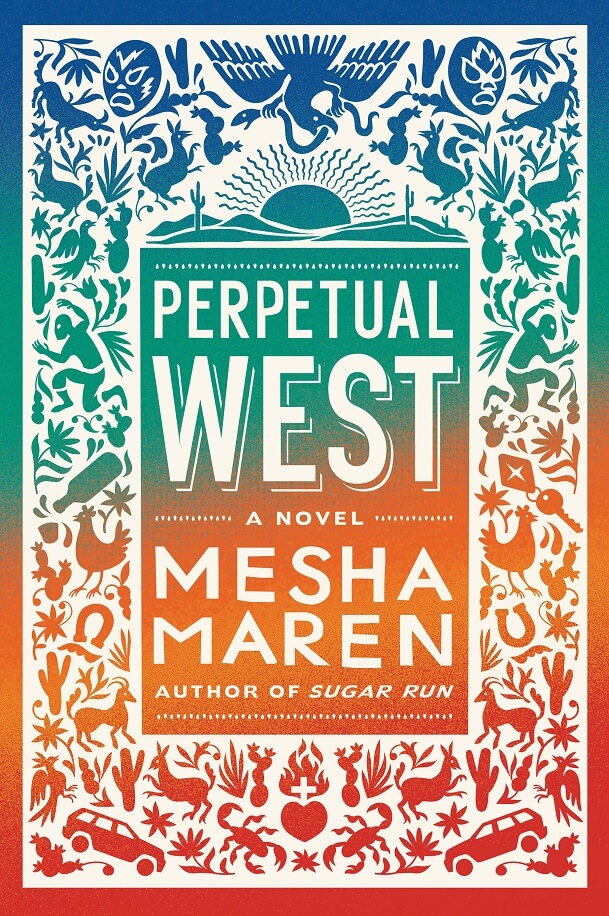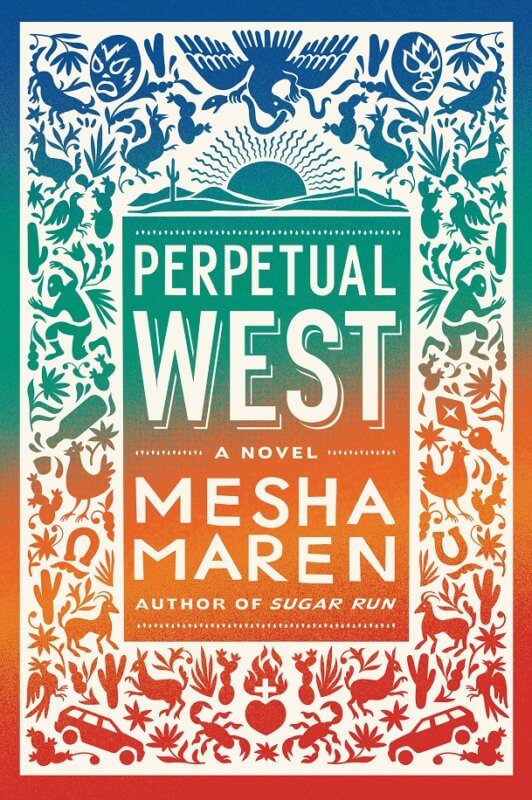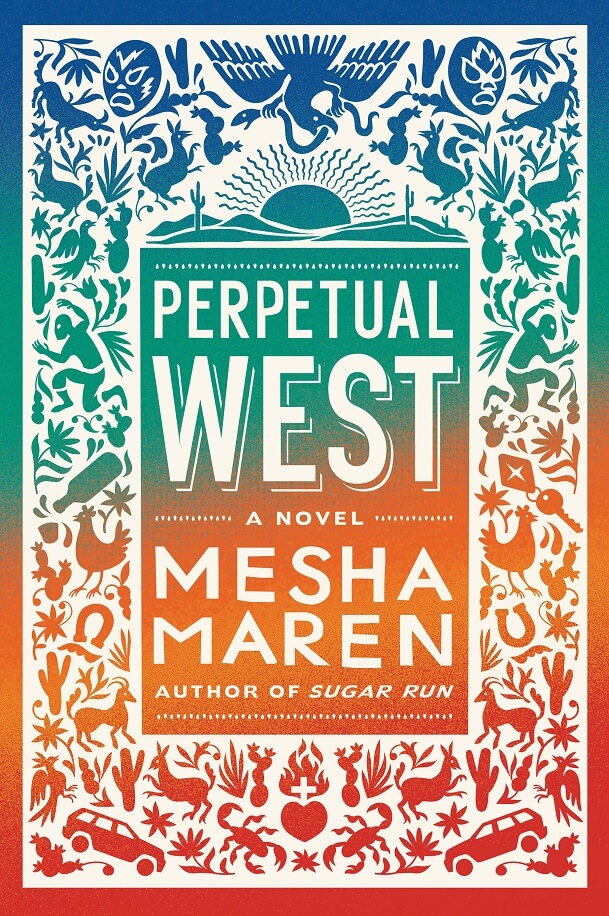 To compress Mesha Maren's exhilarating second novel, Perpetual West, into a quick description would be an injustice to her intricately plotted, unsettling narrative about two 21-year-olds unsure of who they really are. Whereas her debut, Sugar Run, had its characters return to Maren's home landscape of rural West Virginia, Perpetual West removes a young couple from their West Virginia upbringing cross-country to the El Paso/Ciudad Juárez border for startling, transforming discoveries.
Elana and Alex met at 17, when Elana was a high school junior and precocious Alex already a Hall College freshman. Elana's father, Meyer, is "an undergraduate history professor at [Hall] an unknown liberal arts college in bumf*ck Virginia." Elana was raised in rural West Virginia by her maternal grandmother after her mother died giving birth to Elana's brother, Simon; the siblings eventually reunited with Meyer. Alex was a scholarship student whose academic promise landed him a room in Meyer's home. Six months later, Elana and Alex married because Alex, a transracial adoptee from Juárez raised by Pentecostal parents, couldn't, wouldn't, have sex before marriage. Meyer's only comment? "Wow, huh, seems almost a little incestuous."
Four years later, in August 2005, Elana and Alex drive west to start their University of Texas El Paso degrees: a sociology master's for Alex, undergrad English for Elana. Initially, they try living on the Juárez side of the U.S./Mexico border. After a brief attempt to expand Alex's origin story – "tiny dark-eyed baby nestled inside the clothing donation box outside the Heart Cry Holiness Mission House of Juárez, yellow blanket, no note" – the pair settle in El Paso at Elana's urging: "Elana didn't understand why he wanted to spend so much time in Juárez when El Paso was full of people like him who looked Mexican but didn't speak perfect Spanish." Alex, understandably, wants to experience his heritage. "It was the friction that he liked, though. He couldn't pick up where he had left off as an infant, no, of course not, he would never be Mexican like that, but here in Juárez he felt like he was being etched into a more precise version of himself. Instead of carrying around with him the face of a country and people he did not know, he was joining himself here – not finding himself, that was stupid and cheesy, no, he was joining himself."
Already, Elana and Alex are diverging. Elana is skipping classes and working at Susie's Tex-Mex Café. Alex goes south at every opportunity, mostly to Kasa de Kultura, a collective house filled with anti-government activists and artists. He's recently changed his thesis topic from "the psychogeography of accountability" to lucha libre, masked Mexican wrestling both flamboyant and menacing. His adviser thinks he's genius to explore "how it's a staging ground for contradictory sociological domains: tradition and modernity, violence and security, machismo and feminism."
By December, their separation becomes literal – although initially not intentional. Elana travels to Virginia to welcome her brother, Simon, home from rehab. A month after Elana and Alex's move west, Simon, demanding cash for his next hit, threatened Meyer with a knife; Meyer had him committed. With Elana gone, Alex goes to Juárez, to Mateo, a lucha libre champion with whom he's been having an affair. Mateo is facing his own complications – his wrestling promotion agency has sold him to a ruthless cartel boss. A last-ditch escape attempt traps Alex in Mateo's dangerous vortex. When Elana returns, Alex has disappeared. From dark basements to mansion roof decks, questions multiply, answers elude her.
Maren masterfully crafts flawed yet deeply empathic protagonists unsure of how to live their own lives. Elana and Alex, despite bonding as teens, know virtually nothing about each other as adults; each presents "a prefab identity," Elana later muses. She can't tell Alex (or her father) she's quitting school. Alex has dismissed his attraction to men ever since – well, ever since he's been attracted to men. Without looming controls – Elana her family, Alex his upbringing – the pair become virtually unrecognizable. Beyond remarkable characters, Maren slyly hones seemingly minor details into narrative dominance: Simon's homecoming leads to revelations about his drug abuse enabled by a maternal uncle; the prevalence of opioid addiction; his "My Higher Power is Jesus Christ"-Narcotics Anonymous reinvention – all of which Maren will adroitly connect to white-savior syndrome, NAFTA-induced corruption, drug cartels, and religious salvation.
Enhancing her dynamic cast is Maren's remarkable ability to create a sense of place with just a few phrases and sentences: Elana's grandmother's dilapidated remote farmhouse is "too proud to crumble," still standing "among the clotheslines and cannibalized cars" guarded by a pit bull "chained with a BEWARE OF DOG sign hanging from his neck." Mateo's rented room, where Alex spends his first night away from Elana, has windows that "overlooked the pickup basketball games on Camomila, dogs snuffling through trash, an old woman sweeping her steps as she waited for the water truck; the other ones looked onto… the pink lights of Tito's Sex Shop and Playboy Disco across the way."
Maren's people, their landscapes, create an immersive experience, made memorable for all the twists and turns that never quite lead to a straightaway. A chimerical storyteller, Maren writes with candor and grit, refusing likely endings, searching for – but never promising – new beginnings.
Review: Shelf Awareness Max, August 30, 2021
Readers: Adult
Published: 2022
By Adult Readers, Fiction, Latina/o/x, Mexican, Repost
in
Tags > Adoption, Betrayal, BookDragon, Cultural exploration, Death, Drugs/Alcohol/Addiction, Family, Grandparents, Identity, LGBTQIA+, Love, Mesha Maren, Parent/child relationship, Perpetual West, Shelf Awareness, Shelf Awareness Max, Siblings, Travel