14 Sep /

Lunch from Home by Joshua David Stein with Niki Russ Federman, Ray Garcia, Preeti Mistry, Mina Park, illustrated by Jing Li [in Shelf Awareness]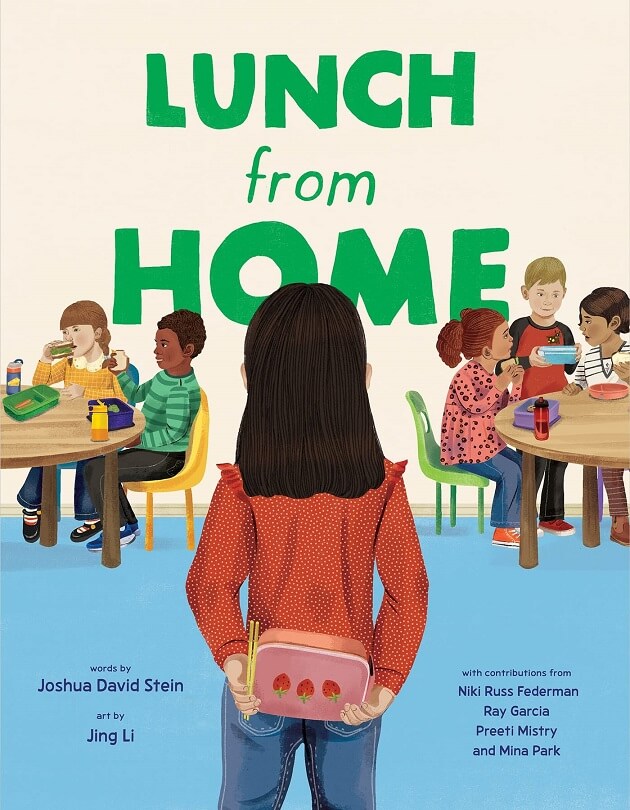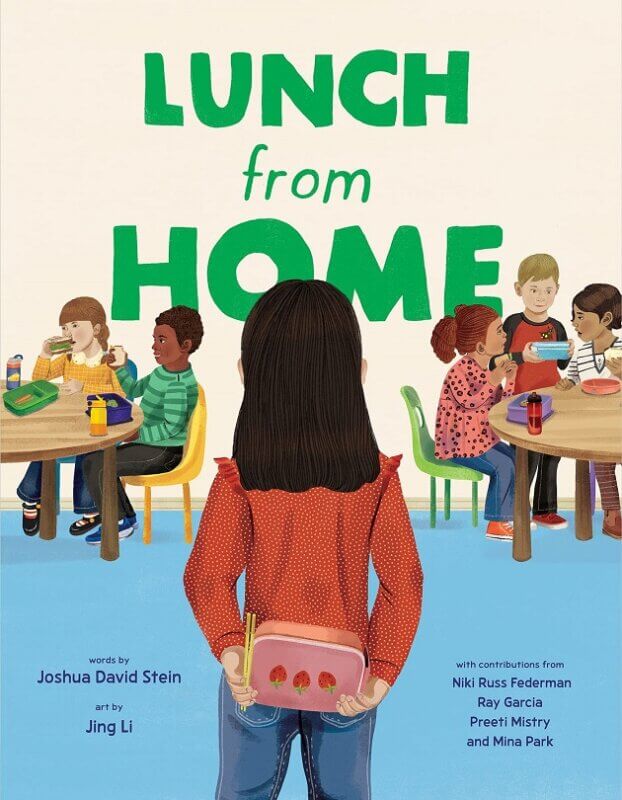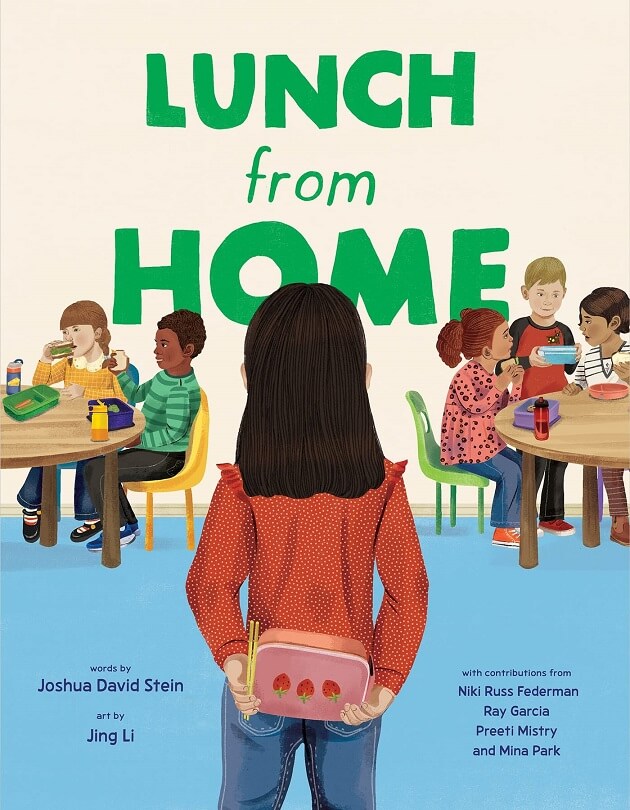 Journalist/author Joshua David Stein (Notes from a Young Black Chef) goes back to school in Lunch from Home, a delectable celebration of comfort foods with origins from all over the world that converge in a single classroom. "This story [is] based on the lives of four real kids who all grew up to be professional chefs": Niki Russ Federman, Ray Garcia, Preeti Mistry, and Mina Park. Their real-life stories are certainly relatable to every child whose lunchbox has been commented on – curiously and otherwise – and hopefully will be empowering, as well.
Sandwiches seem to be the expected, usual fare at school. When certain lunchboxes reveal something else, the reactions aren't always kind. Preeti's favorite dkhokla cake is considered "stinky"; Mina's gimbap gets an "ewww"; Niki's everything bagel is deemed "weird"; Ray's hot dog burrito dismissed with "Hot dogs belong in buns … Everyone knows that." And so menus change: "By Friday, there were only sandwiches." Mina's declaration the following Tuesday – "I'm sick of sandwiches" – finally sees a return of – and deep appreciation for – culturally specific, family-beloved fare.
Beijing-based Jing Li heightens Stein's text with strikingly detailed digital illustrations. Every double-page spread is saturated in bright colors that make even the "classic" sandwiches look good enough to devour. Her art is especially, brilliantly revealing as she cleverly depicts specific family kitchens and practices: the Korean rice cooker, Talavera pottery, Shan Foods spices, the Russ & Daughters ordering counter. Together, author and artist certainly present a toothsome delight.
Discover: The diverse contents of young students' lunch boxes are lovingly celebrated here, deliciously enhanced by vibrant illustrations.
Review: "Children's & Young Adult," Shelf Awareness, September 9, 2022
Readers: Adult
Published: 2022
By Children/Picture Books, Fiction, Indian American, Jewish, Korean American, Latina/o/x, Repost, South Asian American
in
Tags > BookDragon, Bullying, Cultural exploration, Family, Food, Friendship, Identity, Jing Li, Joshua David Stein, Lunch from Home, Mina Park, Niki Russ Federman, Parent/child relationship, Preeti Mistry, Ray Garcia, School challenges, Shelf Awareness