21 Feb /

Last Airlift: A Vietnamese Orphan's Rescue from War by Marsha Forchuk Skrypuch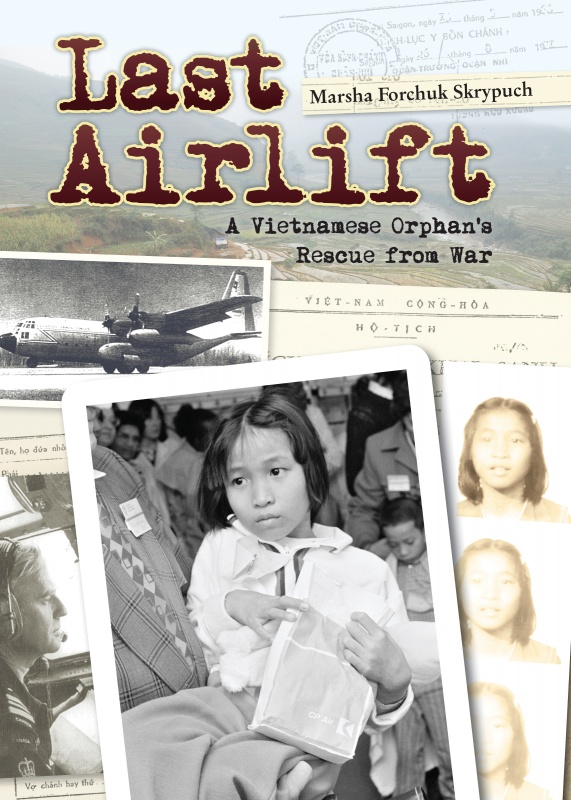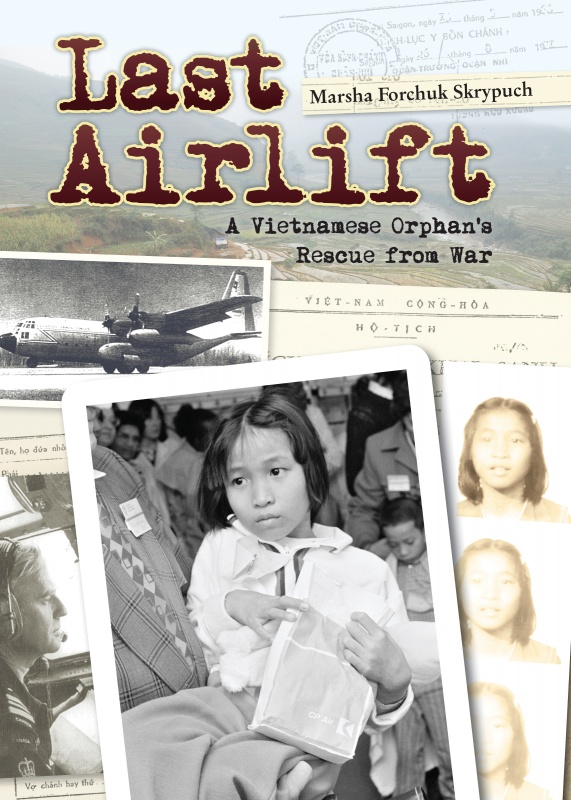 Marsha Forchuk Skrypuch is one of those mega-award-winning Canadian authors (with more than a dozen titles) who hasn't crossed over our shared border (just yet!) with the same success. She's best known for her historical novels for younger readers about what must be one of the most difficult subjects ever – children and war. Her latest, which debuted far north last fall, hits U.S. shelves next week (March already!). Airlift is Skrypuch's first narrative nonfiction, the true story of Son Thi Anh Tuyet and her last days in her native Vietnam and her first days with her Canadian family.
Tuyet can't remember life before she came to live in the Saigon orphanage with all the children, babies, and nuns. Her only memory of "outside" are occasional visits of a woman with a young boy, who may or may not have been her mother and brother. "'After a while, they stopped coming.'"
On April 11, 1975, Tuyet is frantically packed into the back of a van with babies and toddlers strapped into makeshift boxes headed to the airport. She is one of 57 children on what will turn out to be the last Canadian airlift operation to save orphans from a war-torn Saigon on the verge of collapse. As an older child of 8 with a leg weakened by polio, Tuyet is convinced she's been brought only to help care for the younger children; as long as she remains useful, perhaps she will not be sent back to the orphanage.
Her remarkable journey – filled with unfamiliar faces, words she cannot understand, a future that seems so uncertain – lands her with a family of her own. "'You are my daughter,'" her new mother assures her even before she can understand the words, "'Not my helper.'" "Grass … swing … play," her new father teaches her. And "'sister,'" her new siblings call her with comforting hugs and kisses.
Enhanced with documents and a surprising number of photographs, Airlift is a touching, multi-layered experience. The strength of Skrypuch's storytelling shows strongest in the smallest details: Tuyet's wonder at discovering that stars are real things in the sky, her knowing better than the adults that to quiet the screaming babies is to place them close together, her doubt about "dads … [who] didn't seem very real [as] she had never actually seen one."
In the ending "Author's Note," Skrypuch explains how her initially intended novel became Tuyet's narrative: " … I was going to piece together a story of one orphan based on the experiences of many. But as I recreated these experiences from my research, an interesting thing happened. In small flashes, Tuyet began to remember more. … When Last Airlift was complete, Tuyet was overwhelmed by the fact that it was, in fact, her own story that had been reclaimed."
Readers: Middle Grade, Young Adult
Published: 2012 (United States)