13 Oct /

Bring Me the Head of Quentin Tarantino: Stories by Julián Herbert, translated by Christina MacSweeney [in Shelf Awareness]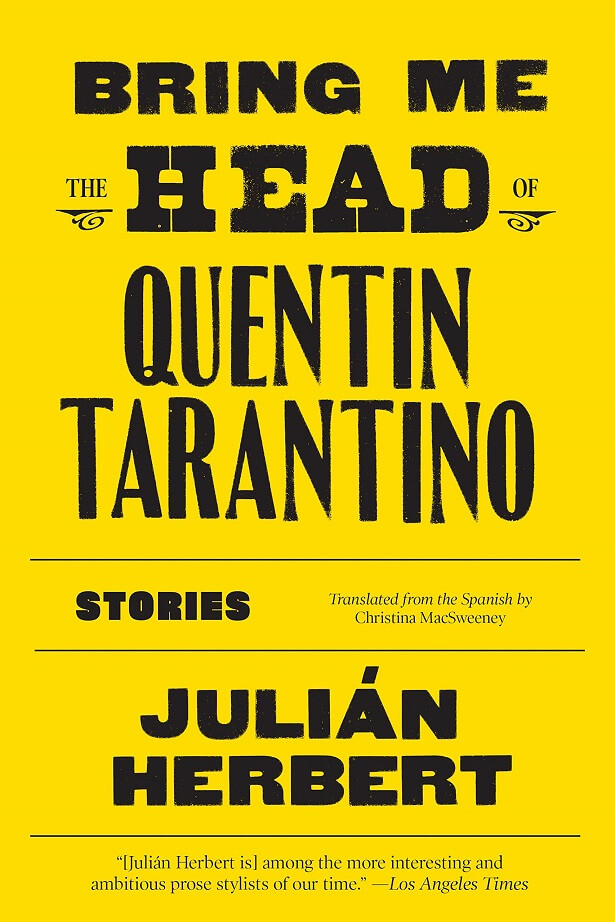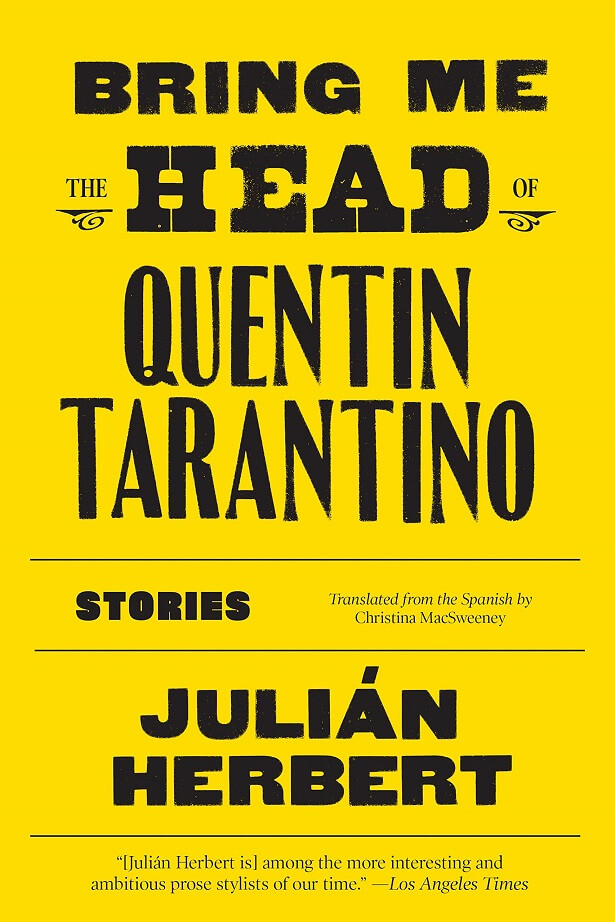 The genre-hopping, award-winning Mexican writer, poet, musician, and teacher Julián Herbert made his English-language debut with Tomb Song, an autobiographical novel focused on his relationship with his late mother, a prostitute dying of leukemia. His nonfiction The House of the Pain of Others is a hybrid exploration of the 1911 massacre of more than 300 Chinese immigrants in the Mexican city of Torreón. Violence – especially involving characters on the fringes of society – runs rampant in his latest, the electrifying fiction collection Bring Me the Head of Quentin Tarantino.
The impressive assemblage opens and closes with the same sentence: "that thing you call 'human experience' is just a massacre of onion layers." The comparative reasons are graphic, from "nothing tastes so much of blood as a dismembered onion," to additional insistently convincing similarities having to do with spray splatter and fatal crushings. In the first story, "The Ballad of Mother Teresa of Calcutta," the narrator gleefully reveals his "pleasure of depositing a little vomit on those readers who adore straightforward literature." A hack-for-hire, he's just fine with "hijacking the memories and anecdotes of certain clients" when they don't pay, most recently revealing a wayward Pemex executive's nauseating airport encounter with Mother Teresa. In the novella-length, titular last story, another writer – this time, a film critic who insists "the main function of criticism is to misread everything" – is summoned by Jacobo Montaña, "the most wanted man in Mexico," who demands "the head of that f*cking bastard" (yes, Quentin Tarantino) not only for being Montaña's unaware doppelgänger but for stealing what should have been Montaña's own celluloid life. After Montaña sends henchmen Rosendo and Gildardo to Los Angeles armed with an order for decapitation, he keeps the film critic luxuriously imprisoned to provide lessons in Hollywood auteur-ship.
In between, notable narratives are many: a "gonzo-porn-AIDS movies"-creator lauded as a significant conceptual performance artist examines his career while waiting for his HIV-positive co-star to give birth in "NEETS"; fellow Mexican literati Valeria Luiselli gets a dedication plus a nod to her dental-collecting The Story of My Teeth in "Caries," about a toothless-to-be artist. Luiselli, by the way, is not the only notable shadow: Shakespeare, Eliot, and Joyce are just a few who appear on the page, along with filmic legends Pedro Almodóvar, Akira Kurosawa, and Roland Emmerich. Beyond the death and destruction, Herbert certainly knows how to cultivate erudite narrative company.
Reunited with award-winning translator Christina MacSweeney, Herbert presents 10 stories ready to disturb, quite possibly even disgust. That said, even for the most reluctant readers, the surprisingly immersive humor and slyly playful wit make resistance futile.
Shelf Talker: Mexican literary chameleon Julián Herbert delivers 10 electrifying stories connected by violence, people on the fringe and – surprisingly – undeniable, irresistible humor.
Review: Shelf Awareness Pro, October 9, 2020
Readers: Adult
Published: 2017 (Mexico), 2020 (United States)
By Adult Readers, Fiction, Latin American, Latina/o/x, Mexican, Repost, Short Stories, Translation
in
Tags > Anthology/Collection, Betrayal, BookDragon, Bring Me the Head of Quentin Tarantino, Christina MacSweeney, Death, Friendship, Identity, Julián Herbert, Love, Murder, Parent/child relationship, Shelf Awareness