22 Oct /

Blood Scion [Blood Scion, Book 1] by Deborah Falaye [in School Library Journal]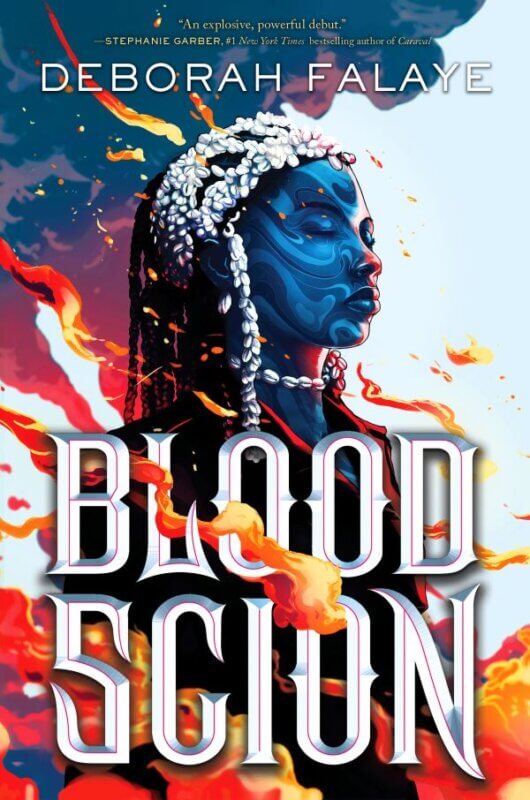 Nigerian Canadian author Deborah Falaye's Yoruban mythology-inspired debut (introducing a planned duology) presents Nagea, a nation brutalized by the genocidal Lucis. Only her grandfather has managed to keep 15-year-old Sloane safe, until she's drafted into the army. Being a Scion – "a descendent of the ancient Orisha gods" – Sloane is imbued with àse, the power of fire; the Scion are the prey of the Lucis. Hiding in plain sight, Sloane survives the murderous training that turns her monstrous, but the (rushed) shocking ending revelations will question at what personal cost.
Nigerian American actor Liz Femi's first solo narration is a 15-plus hour endurance feat of distinguishing voices from a vast cast, some more successfully: sharp Sloane, desperate Teo, sly Malachi, strengthening Izara, booming Theodus. Femi deftly slips in and out of various accents, making Lucis in power American, vicious Queen Olympia posh British.
Verdict: Femi ­shrewdly enhances Falaye's underlying ­exposé of ­colonialism, genocide, and eternal war.
Review: "22 Audiobooks Inspired by Fairy Tales and Mythology," School Library Journal, August 29, 2022
From the introduction: For the latest audio roundup, we turn to titles inspired by fairy tales and mythology, each published in 2022. Rewriting, adapting, subverting the familiar has long been a popular literary trope – who can argue with universal appeal? Cinderella, especially, continues to be an evergreen favorite, appearing in multiple stories, often in surprising permutations. Read (and listen) on!
Readers: Young Adult
Published: 2022
By African, Audio, Black/African American, Canadian, Fiction, Nigerian, Nigerian American, Repost, Young Adult Readers
in
Tags > Betrayal, Blood Scion, BookDragon, Civil rights, Death, Deborah Falaye, Family, Folklore/Legend/Myth, Girl power, Grandparents, Liz Femi, Love, Mother/daughter relationship, Murder, Politics, School Library Journal, Series, Series: Blood Scion, War