19 Nov /

A Teaspoon of Earth and Sea by Dina Nayeri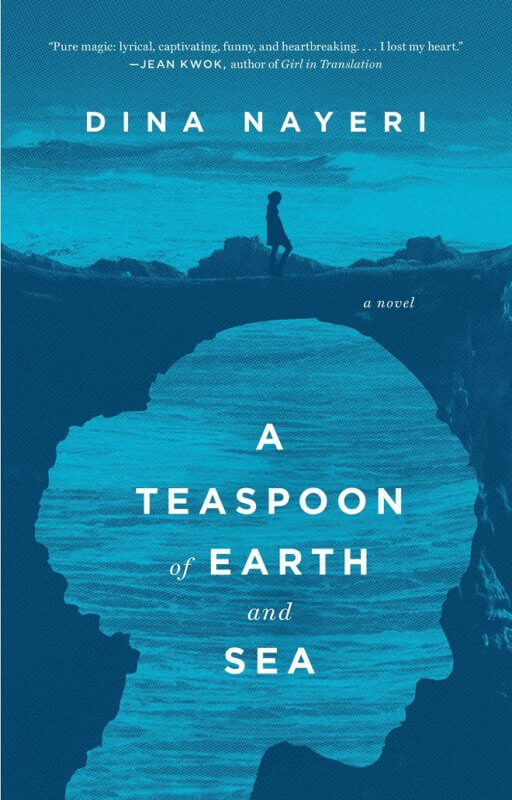 Before she is even a teenager, Saba Hafezi reveals herself to be quite the unreliable narrator. Telling stories, however, is what will save her youthful soul … and many of those around her. "This is the sum of all that Saba Hafezi remembers from the day her mother and twin sister flew away forever, maybe to America, maybe to somewhere even farther out of reach," Dina Nayeri's ambitious, sprawling debut novel opens.
At 11, Saba and her father are irrevocably separated from her beloved mother and twin. Father and daughter quietly settle in a remote northern Iranian village on the Caspian Sea, where a coven of local women raise Saba, feeding her, chiding her, nurturing her, loving her. She is one of an inseparable threesome – the beautiful Ponneh and the desirable Reza whose mother regularly interrupts Saba's tales with her own. Being only half a family, growing up deprived of her other half, Saba seems to live only half her own life. To compensate, she imagines what Mahtab and their maman might be experiencing on the other side of the world as she carefully constructs their faraway lives based on her obsessions with pirated copies of American television shows and films, and illicit copies of English-language books.
But in spite of her daydreams of (im)possibility, Saba's must accept some semblance of immediate normalcy. She matures into young womanhood, agrees to an arranged marriage to a much older man who welcomes her with kind gentleness … until she asks for what he deems as too much. She witnesses the controlling, violent, murderous injustices happening all around her, always encroaching closer to home. Safety can no longer be ensured, and both father and daughter realize they must invent a new narrative to guarantee Saba's future.
"I am an Iranian exile," Nayeri writes in her ending "Author's Note." "This story is my dream of Iran … Saba longs to visit the America on television as I long to visit an Iran that has now disappeared." Just as Saba feeds her assumptions and dreams, Nayeri had an international team of willing friends, family, colleagues who "helped [her] research this book from the United States, France, and Holland." It takes the world to create a village these days, especially one that no longer exists.
Twenty years after Saba's last memory of her departing mother and sister (recounted over 420 pages or 15.5 hours if you choose to have Sneha Mathan lull you into imaginary worlds), nothing – and absolutely everything – will have changed: "I must stop telling myself stories, but it is too much in my nature," Saba ponders on the final page. Even at book's end with so much revealed, we remain too mesmerized not to continue to believe.
Readers: Adult
Published: 2013