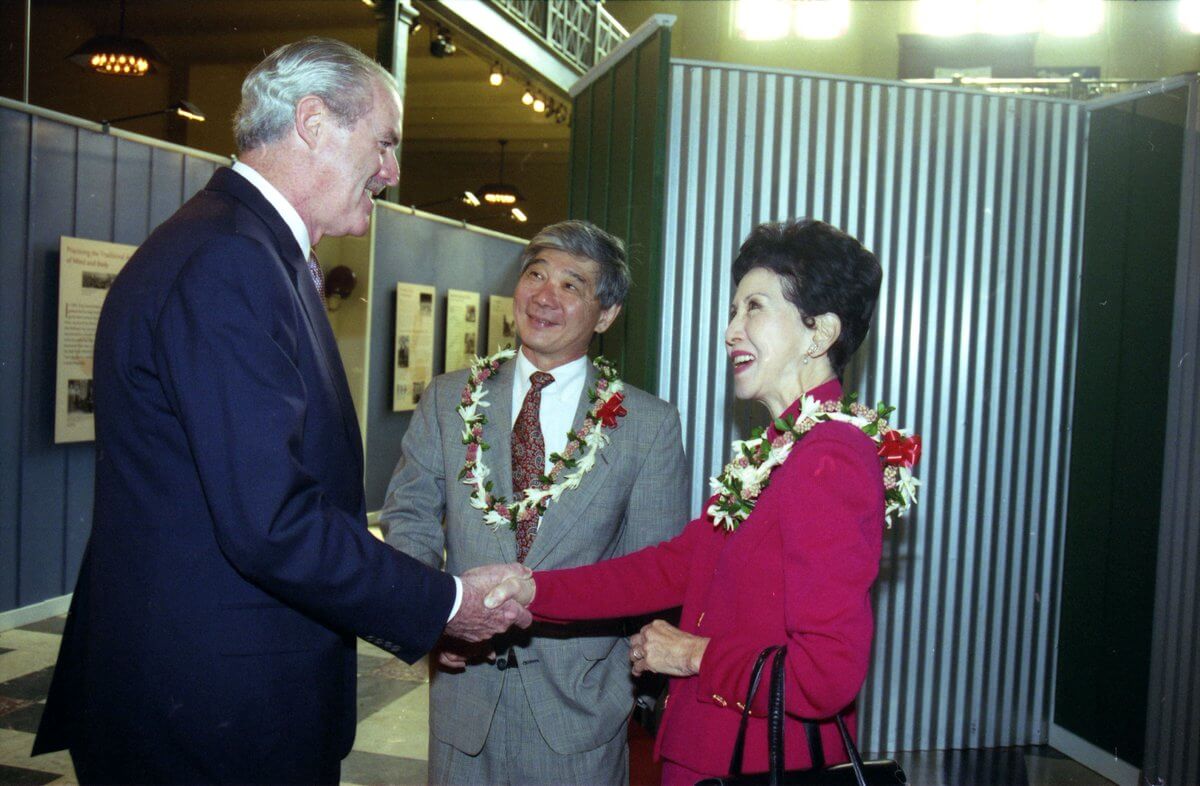 Franklin Odo, Director, Smithsonian Asian Pacific American Program, 1997-2010, at the press preview for "From Bento to Mixed Plate: Americans of Japanese Ancestry in Multicultural Hawai'i" exhibition in the Arts and Industries Building, May 20, 1999, by Richard W. Strauss, Color negative, Accession 11-009: Smithsonian Photographic Services, Photographic Collection, 1971-2006, Smithsonian Institution Archives, neg. no. 99-1132-03.
Dr. Franklin Odo, the Smithsonian Asian Pacific American Center's founding director, passed away Sept. 28.
He laid much of the foundation for how Asian American and Pacific Islander arts, history, and culture are preserved and shared at the Smithsonian.
Born in 1939, Odo grew up on a farm in Honolulu, Hawai'i. He was the first graduate of Kaimukī High School to attend Princeton University, where he also earned his Ph.D. in 1975 in Japanese history after completing his M.A. in East Asian Regional Studies at Harvard University. As a student and emerging scholar, he became involved in the movement to create Asian American Studies programs in the late 60s and early 70s, co-editing Roots: An Asian American Reader, the first published reader for the field. It would be the first of many important works on Asian American history throughout his career, including No Sword to Bury: Japanese Americans in Hawai'i During World War II (2003) and Voices from the Canefields: Folksongs from Japanese Immigrant Workers in Hawai'i (2013). 
Prior to joining the Smithsonian Asian Pacific American Program (now Center) as its founding director in 1997, Odo was an established scholar, president of the Association for Asian American Studies, and the first Asian American curator at the Smithsonian National Museum of American History. During his tenure at the Smithsonian, Odo uplifted AAPI history, culture, and arts throughout the institution, and organized several influential exhibitions, including "Exit Saigon, Enter Little Saigon," a project that sought to tell the story of Vietnamese American communities after the 30th anniversary of the Vietnam War.
Odo also mentored innumerable students, faculty, and community members; supporting careers, scholarship, and activism for 5 decades at several institutions, most recently at Amherst College where he served as the John Woodruff Simpson Lecturer in American Studies.
Odo's memory lives on in the field of scholarship he helped inaugurate, the many organizations he helped grow and shape, the vast web of artists, scholars, students, cultural practitioners, and museum professionals he guided and mentored, and the investments in justice he passes down. The thoughts of those of us at the Smithsonian Asian Pacific American Center are with Odo's family, friends, and community.